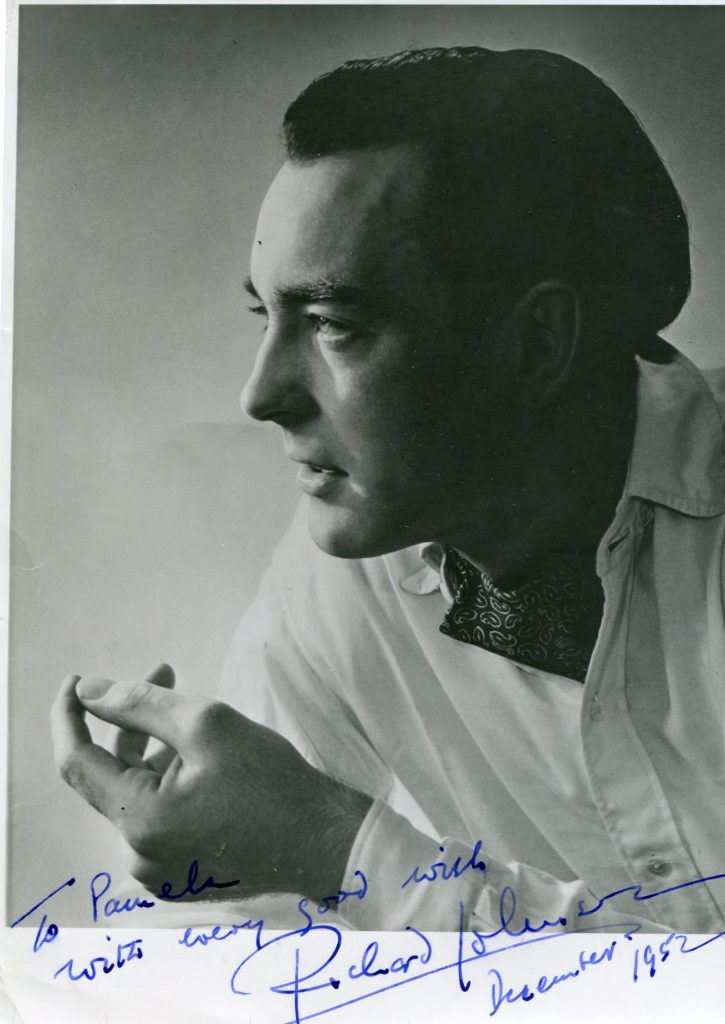 Richard Johnson was born in Upminister, London in 1927. He has had a distinguished career on stage, film and television. His film debut was in 1951 in "Captain Horatio Hornblower R.N. with Gregory Peck and Virginia Mayo. His other films include "Saadia", "Never So Few" which he made in Hollywood with Frank Sinatra,Gina Lollobrigida and Steve McQueen and "The Amorous Adventures of Moll Flanders" in 1965 with Kim Novak and Angela Lansbury. He and Kim Novak were married for a time in the mid 1960's. Still active on the boards, he was recently a guest star on the TV series "Lewis".  He died in 2015.
Michael Coveney's obituary of Richard Johnson in "The Guardian":
Richard Johnson, who has died aged 87, was an MGM contract star and an associate artist at the Royal Shakespeare Company from its inception in 1960. In a career of astonishing range and variety, he was a handsome leading man – a 1958 Romeo, for instance, with Dorothy Tutin as Juliet – an action hero in wartime movies, a character actor, a producer, writer, lecturer and hotelier. He also turned down the role of James Bond in the first film of the series.
And yet he was not associated with any one role in particular, apart from Shakespeare's Mark Antony, whom he played in both Julius Caesar and Antony and Cleopatra for the RSC in Trevor Nunn's 1973 cycle of the Roman plays, with Janet Suzman as his feline Cleopatra.
He appeared in Graham Greene's The Complaisant Lover on Broadway (1961); in the film of The Amorous Adventures of Moll Flanders (1965) opposite Kim Novak, who briefly became his second wife; and as Charles Condomine in Noël Coward's Blithe Spirit in a definitive revival by his friend, Harold Pinter, at the National Theatre (1976). He made respectability, even dullness, interesting.
A tall man, with ideal deportment and a rich, not fruity, baritone voice, he was always a very "still" actor – authoritative, calm and compelling. He had been at Stratford-upon-Avon since 1957, so his presence – as well as that of Peggy Ashcroft, Ian Holm, Tutin and Diana Rigg – in Peter Hall's announcement of the launch of the RSC there in 1959, and in London the following year, was crucial to the project's success. Hall himself said that without Johnson's commitment to the script of John Whiting's The Devils of Loudon (after Aldous Huxley's novel The Devils of Loudun), the first new play presented by the RSC at the Aldwych, his artistic policy would have fallen at the first fence.
But Johnson's career was full of surprises, too. He spoofed James Bond, having spurned him, in three popular but critically reviled movies: Seth Holt's Danger Route (1967), Ralph Thomas's sexy and sadistic Deadlier Than the Male (1967) and a sequel, Some Girls Do (1969). He produced John Aubrey's Brief Lives, starring Roy Dotrice, directed by Patrick Garland, at the Criterion (1969). And he co-produced (and appeared in) the films Turtle Diary (1985) starring Glenda Jackson and Ben Kingsley, and then Jack Clayton's The Lonely Passion of Judith Hearne (1987) starring Maggie Smith at her tragic peak.
His last radio series was the comedy hit BBC Radio 4 show Bleak Expectations (2007-12) which took the irreverent rrise out of Charles Dickens and all Victorian costume drama; Johnson played the main hero of the narrative, Sir Philip ("Pip") Bin. And in 2014, he claimed what he called "the best role of my career" as a disgustingly decrepit Cumbrian cottage-dweller in Tom Browne's heartbreaking Radiator, which premiered at last year's London Film Festival and goes on general release later this year.
Johnson, born in Upminster, Essex, was one of four sons of Keith, a businessman, and his wife Frances (nee Tweed). He was educated at Felsted school, Essex, and trained for the stage at Rada. Either side of war service in the Royal Navy (1945-48), he appeared in rep at Perth; also before his time in the navy he was with John Gielgud's company at the Theatre Royal, Haymarket (1944-45), where he played small roles in Congreve's Love for Love, Somerset Maugham's The Circle and Webster's The Duchess of Malfi.
While he was developing radio and TV work in the 1950s, theatre roles included Warwick in Jean Anouilh's The Lark at the Lyric, Hammersmith, Laertes to Paul Scofield's Hamlet, directed by Peter Brook, at the Phoenix and on tour to Russia, and Jack Absolute in Sheridan's The Rivals at the Saville. Roles at Stratford, when it was still the Memorial Theatre, were Orlando in As You Like It, Leonatus in Cymbeline, Ferdinand in The Tempest, Aguecheek in Twelfth Night and the title role in Tony Richardson's production of Pericles.
He made his film debut with MGM in John Sturges's Never So Few (1959) with Frank Sinatra and Gina Lollobrigida, but his first major success was as a psychic researcher in a haunted mansion in Robert Wise's The Haunting (1963), with Julie Harris and Claire Bloom. He was Anne Bancroft's cuckolded husband in Clayton's The Pumpkin Eater (1964, scripted by Pinter) and an imposing colonel in Basil Deardon's Khartoum (1966) with Laurence Olivier and Charlton Heston.
And in 1968 he appeared in both the aquatic wartime thriller A Twist of Sand, co-starring Honor Blackman, and as Creon in Philip Saville's Oedipus the King, with Christopher Plummer in the title role, Lilli Palmer as Jocasta and Orson Welles as the blind prophet Tireisias. He co-produced and appeared in The Beloved (1971) with Raquel Welch and starred in Jack Gold's Aces High (1976), adapted by Howard Barker from RC Sherriff's first world war classic Journey's End and co-starring Malcolm McDowell, Peter Firth, Gielgud, Trevor Howard and Simon Ward.
Having helped Hall establish the RSC, he also helped him launch the new National Theatre on the South Bank. A string of major performances between 1976 and 1978 included a suspiciously romantic soldier in Frank Marcus's version of Ferenc Molnár's The Guardsman, a grown-up sex comedy with Rigg; a powerful Pontius Pilate in Tony Harrison's The Mysteries; and a mean cuckold with Albert Finney in Hall's one and only Restoration comedy production, Wycherley's scabrous The Country Wife.
With Finney and others he founded United British Artists in 1982 but, although he stayed as CEO until 1990, the Hollywood-style consortium achieved little. He suddenly tapped into the cult film market as a harassed doctor trying to stem an epidemic of the undead in Lucio Fulcil's Zombi 2 (1979, later known as Zombie Flesh Eaters), but regained his equilibrium by producing a TV docudrama about the death of Steve Biko and a revival of John Arden's masterpiece Serjeant Musgrave's Dance at the Old Vic (1984).
He twice worked with director Jonathan Kent at the Almeida Theatre: as a rival East End criminal to Peter Bowles in Gangster No 1 (1995) by first-time writers Louis Mellis and David Scinto; and as a wonderfully laconic ambassador in a West End revival (the Almeida colonised the Albery) of David Hare's Plenty starring Cate Blanchett (1999). At the Young Vic in 1996 he was well cast, too, as the vestigially good-looking but ruined actor James Tyrone in Laurence Boswell's revival of Eugene O'Neill's Long Day's Journey Into Night, opposite a wistfully demented Penelope Wilton as his wife Mary. His latter stage appearances included a gravely melancholic Dr Dorn in Chekhov's The Seagull at the Swan at Stratford (where there was a backstage fire on opening night just as one character remarked that it was getting "a bit cold") in 2000; a marvellous, crusty old brothel-chain manager in an MCC tie and tweed jacket in Shaw's Mrs Warren's Profession at the Strand in 2002 (Peter Hall directed his daughter, Rebecca Hall, in her debut as Vivie Warren); and finally, in 2012, an acclaimed UK tour of On Golden Pond with Stefanie Powers as his other half in a spryly unsentimental look at the ageing process.
More recent films saw him slip down the billing in Lara Croft: Tomb Raider (2001) starring Angelina Jolie, and Mark Herman's touching prison camp drama The Boy in the Striped Pyjamas (200
He was a long-standing environmentalist, co-founding It's a Green World, a compendium of green-friendly hotels, and even acquiring such a hotel himself in the Savernake forest, Wiltshire, growing all his own produce for the kitchen on site.
Johnson was married four times: to the actor Sheila Sweet in 1957, to Novak in 1965, to the model Marie-Louise Norlund in 1982 and to the fashion designer Lynne Gurney in 2004. The first three marriages ended in divorce.
He is survived by Lynne, four children – Suki and Jervis from his first marriage, Jennifer from his third, and Nicholas from a relationship with the actor Françoise Pascal between his second and third marriages – and by seven grandchildren.
• Richard Keith Johnson, actor and producer, born 30 July 1927; died 5 June 2015
 The above "Guardian" obituary can also be accessed online
here.