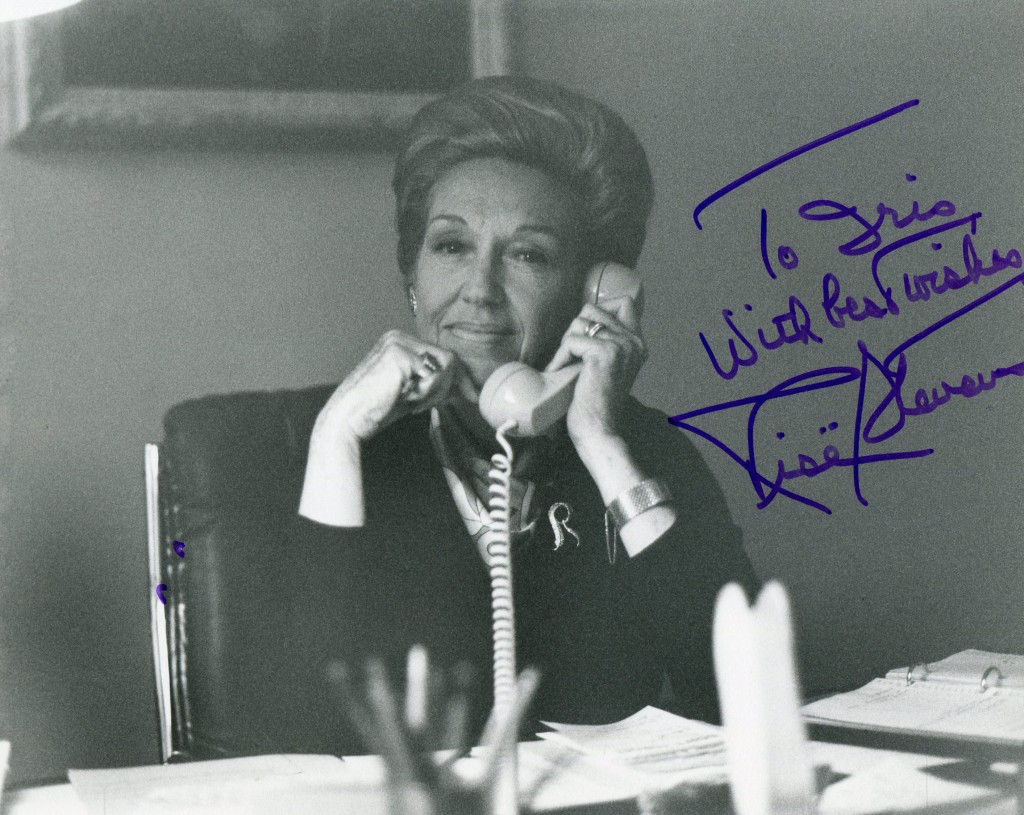 Rise Stevens is a reknowned mezzo-soprano who was born in New York City in 1913. She has had a lenghty career in opera and in concert. In the 1940's she branched out into some Hollywood films including "The Chocolate Soldier" with Nelson Eddy in 1941 and "Going My Way" with Bing Crosby and Barry Fitzgerald in 1944. Her son is the actor Nicolas Surovy. She died in 2013 in her 100th year.
Tribute in "Huffington Post" by Susanne Mentzer :
The first eleven years of my life were spent in suburban Philadelphia in Springfield, Delaware County, to be exact. We were one of the working class families living in the numerous identical, small, brick houses of the cul-de-sac. In our living room we had a rather wide, two door, dark wood console that housed a black and white TV. Remember the kind that took forever to warm up starting with a small white dot that slowly grew into the picture? There was also a turntable that rolled out with space underneath for LPs. The one and only opera LP we owned was the RCA 33 1/3 rpm long-playing Bizet's Carmen– black-covered and about one half inch thick. The sultry Risë Stevens was the seductress, facing the camera posed in a sort of feline crouch ready to pounce any minute. Until my late teens this was all I knew of opera. I am sure mom wore out the grooves listening to the overture, and the arias "Habañera" and "Séguidilla". I knew these, too, by osmosis. (I have written here about some other memories from back then. See "My Mother's Voice").
My mother always raved about Risë Stevens. In my mind this singer was larger than life and possessed a voluptuous sexy sound. She was an amazing beauty too and had a really exotic name. As far I knew, she was the only opera singer in the world even though Robert Merrill and Jan Pierce were also on the recording. Mom, being a mezzo/contralto only spoke of Risë Stevens. I cannot help but think this early exposure influenced my choice of being a mezzo with high notes.
Many years later, I sang the trouser role of Octavian in Richard Strauss' Der Rosenkavalierat the Met. (Mezzo's often are cast as young men or boys in certain operas. A former classmate at a high school reunion once said, "It is a tough job but someone's got to do it.") There was an evening on which there was a small gathering at the Opera Club at the Met honoring artists who had sung this role. Little did I know I would be in the company of Jarmila Novotná (another legend) and the one and only Risë Stevens. In my ignorance I somehow never imagined Miss Stevens singing anything other than Carmen and the news that she had been Octavian — the role of a young nobleman in love with two women — knocked me flat. Moreover, she sang the role exclusively for a period of ten years. There was an era at the Met when a singer famous for a particular role would be the only person to sing that role over a long period of time. Not only that, here was this petite woman, older but still stunningly beautiful, with a New York accent and low speaking voice, who in my mind, as I mentioned above, was larger than life and the epitome of female sexuality. It was an experience I will never forget. She was so generous and warm to me. I have a photo to remember that evening. I only wish I could have heard her live and really known her. She accomplished far more than her operatic career, later being a leader in the arts.
Risë Stevens died last week at the age of 99. For many of my generation — whether into opera or not — it is the passing of a legend. Although many younger people might have no idea who she is, she was once a household name on Gibbons Road in Springfield, Delaware County, PA. and beyond.
The above "Huffington Post" tribute can be accessed also online
here.