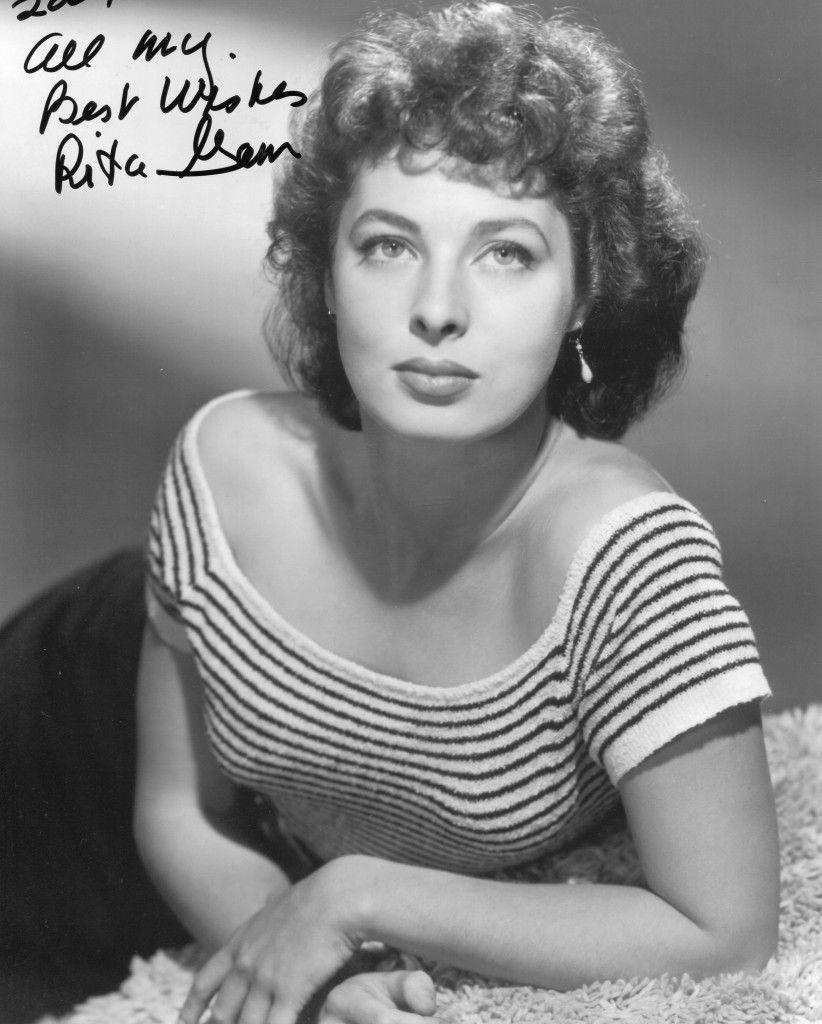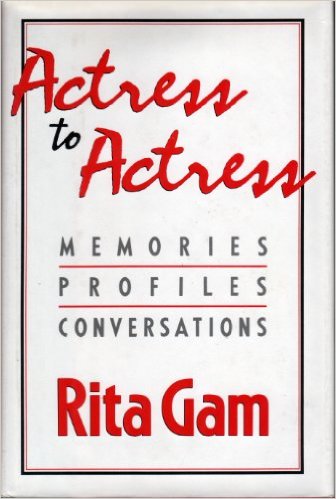 Rita Gam was born in 1928 in Pittsburgh. She made her film debut in 1952 with Ray Milland in "The Thief". She went on to make "Night People" with Gregory Peck and "King of Kings" with Jeffrey Hunter. She died at the age of 88 in 2016.
"New York Times" obituary:
Rita Gam, who made her eye-catching Hollywood debut without saying a word and played a real-life bridesmaid at the fairy-tale wedding of her former roommate Grace Kelly, died on Tuesday in Los Angeles. She was 88.
The cause was respiratory failure, said Nancy Willen, a spokeswoman for the family. Ms. Gam, who was once married to the film director Sidney Lumet, made her Broadway debut in Ben Hecht's 1946 play "A Flag Is Born" and, after three more Broadway roles, made her first movie six years later, opposite Ray Milland in "The Thief," a suspense film without dialogue. Life magazine featured her on its cover that year as a "silent and sexy" star who "can express herself eloquently without words." In just a few moments on the screen, the magazine said, Ms. Gam "makes a striking movie debut without uttering a word." She also appeared in two movies with Gregory Peck, "Night People" (1954) and "Shoot Out"(1971); "Sign of the Pagan" (1954), with Jack Palance and Jeff Chandler; "Hannibal" (1959), with Victor Mature; "King of Kings" (1961), in which she played Queen Herodias; and "Klute" (1971), with Jane Fonda and Donald Sutherland.
Ms. Gam won a Silver Bear as best actress at the 1962 Berlin Film Festival for her performance in Tad Danielewski's adaptation of Jean-Paul Sartre's play "No Exit." She also acted on television and in regional theater and produced two documentary series, "World of Film" and "World of Beauty."
Rita Eleanore Mackay was born in Pittsburgh on April 2, 1927, to Milton A. Mackay, a native of Alsace-Lorraine who died when she was 4, and the former Belle Fately, who was born in Romania.
She took the name of her stepfather, Benjamin J. Gam, a dress manufacturer, who was born in Russia. (As a synonym for glamorous legs, "gams" predates her film career.)
Raised in Manhattan, she attended the private Fieldston School in the Bronx and at 17 ran away from home (about 25 blocks, to a Midtown hotel), finding work modeling hats and selling stuffed pandas while pursuing an acting career.
She was married and divorced twice, first to Mr. Lumet (from 1949 to 1955) and then to Thomas Guinzburg (1956-63), a book publisher and co-founder of The Paris Review. She is survived by her daughter, Kate Guinzburg, a film producer; her son, Michael Guinzburg, a novelist; and two granddaughters. Thomas Guinzburg died in 2010 and Sidney Lumet in 2011.
As an actress, Ms. Gam befriended and roomed with Grace Kelly and was a bridesmaid at her wedding to Prince Rainier of Monaco in 1956, a union of European aristocracy and Hollywood glamour that was one of the biggest social events of the decade.
An early participant at the Actors Studio, Ms. Gam also played a leading role, along with Hume Cronyn, Jessica Tandy, Zoe Caldwell and others, with the Minnesota Theater Company in 1963 during the opening season of the Guthrie Theater in Minneapolis.
After generally being typecast in supporting roles in two dozen films for what Life described as "her sultry face and insinuating voice," she recalled in 1992, "I looked into the black pit at 40 and wondered, what do I do for an encore?"
Before producing documentaries, she learned to type and wrote two books: "Actress to Actress" (1986), which included a chapter on Grace Kelly, and "Actors: A Celebration" (1988).
'Telegraph' obituary in 2016
Rita Gam, who has died aged 88, was a tall, exotic, raven-haired beauty who enjoyed a successful film, television and stage career spanning almost six decades.
Rita MacKay (she later took the surname of her stepfather Benjamin Gam) was born in Pittsburgh on April 2 1927, but later moved with her parents to New York City where she graduated from high school with her eye on a career in the arts.
She started out working as a model before landing a role in A Flag is Born on Broadway in 1946. Directed by Luther Adler, and starring Marlon Brando, A Flag is Born was produced by the American League for a Free Palestine, some of whose members later formed the Actors Studio, of which she became a founder member.
Her next Broadway play, A Temporary Island (1946), failed to impress critics and closed after only six performances. The Insect Comedy (1947) starring José Ferrer at the City Centre Theatre did not fair much better either, closing after a fortnight.
In 1949 Rita Gam married Sidney Lumet, then an aspiring young director. Soon after she befriended Grace Kelly whose move to Hollywood inspired Rita Gam to do the same. In 1952, after screen testing with MGM, she traveled to Los Angeles where she was given a long-term contract with the studio.
After making her film debut in the crime drama The Thief (1952), starring Ray Milland, Rita Gam was given the female lead in Saadia (1953), in which she played a strange Arab girl whose life has been dominated by a local sorceress who has convinced her she has the evil eye and will bring disaster to all those who come in contact with her. Her other screen roles included Night People (1954), with Gregory Peck and Broderick Crawford, the action adventure Sign of Pagan (1954), starring Jack Palance as Attila the Hun, and director William Dieterle's Magic Fire (1955).
In May 1955 Rita Gam received a call from Grace Kelly, "giddy with excitement" and inviting her to "meet my prince". "He was no Clark Gable or Robert Taylor," Rita Gam later recalled, "but he was charming and well educated." A few months later Grace Kelly asked her friend to be one of her bridesmaids, an occasion which Rita Gam would later recall as "the fairytale affair the media described". Also in 1955, however, Rita Gam and Sidney Lumet divorced. The following year they were both remarried; he to the socialite Gloria Vanderbilt and she to Thomas Guinzburg, who was the first managing editor of The Paris Review and president of Viking Press.
By the late 1950s, Rita Gam's career was suffering. Having been dropped from MGM she began freelancing with other studios, but her career was not gravitating in the direction she wanted it to.
There were some positive performances, including the western, Sierra Baron (1956), after which she travelled to Italy, to play the female lead, Rita Elmont, in director Vittorio Sala's comedy Costa Azzurra, and Sylvia in the epic Hannibal (both 1959), with Victor Mature in the title role.
She then returned to California, where she appeared in Nicholas Ray's King of Kings (1961) with Jeffrey Hunter and Siobhan McKenna. Scenes of the crucifixion had to be re-shot later because a preview audience was offended at Jesus having a hairy chest.
In 1962 she travelled to Berlin, sharing the Silver Bear at the 1962 International Film Festival with Viveca Lindfors for their roles as the women in the hotel room in Tad Danielewski's No Exit, based on the play by Jean-Paul Sartre. The following year, she and Guinzburg divorced.
Combining a second career as a celebrity journalist, Rita Gam divided her time between film, television and the stage, returning to Broadway in 1967 to star in the hit comedy, There's a Girl in My Soup at the Music Box Theatre.
Her later film roles included the Gregory Peck Western, Shootout (both 1971), and Garden of Death (1974), starring Joe Dallesandro as a sinister landscape gardener who turns into a tree and learns to communicate with his fellow plants, while killing off his previous employers. She joined Piper Laurie in the thriller Distortions (1987) and played Iris Biglow in Rowing Through (1996).
After Grace Kelly's death in 1982, Rita Gam recalled a rather different version of the actress than the one reflected in the media. Grace Kelly, she explained was not a fashionista at all, rather she was more at home wearing simple shirts and skirts. "Her palace closets," she said in 2012, "were packed with old sweaters".
Rita Gam published her autobiography, Actress to Actress, in 1986. Two years later she wrote Actors: A Celebration, which included interviews with stars such as Jack Lemmon, Jeremy Irons and Derek Jacobi. More recently, she produced the Broadway play Fortune's Fool (2002), which was set in 19th-century Russia and starred Alan Bates and Frank Langella. She also produced the documentary series World of Film, which examined the movie business around the world.
She is survived by her daughter, the film producer Kate Guinzburg, and her son, the novelist Michael Guinzburg