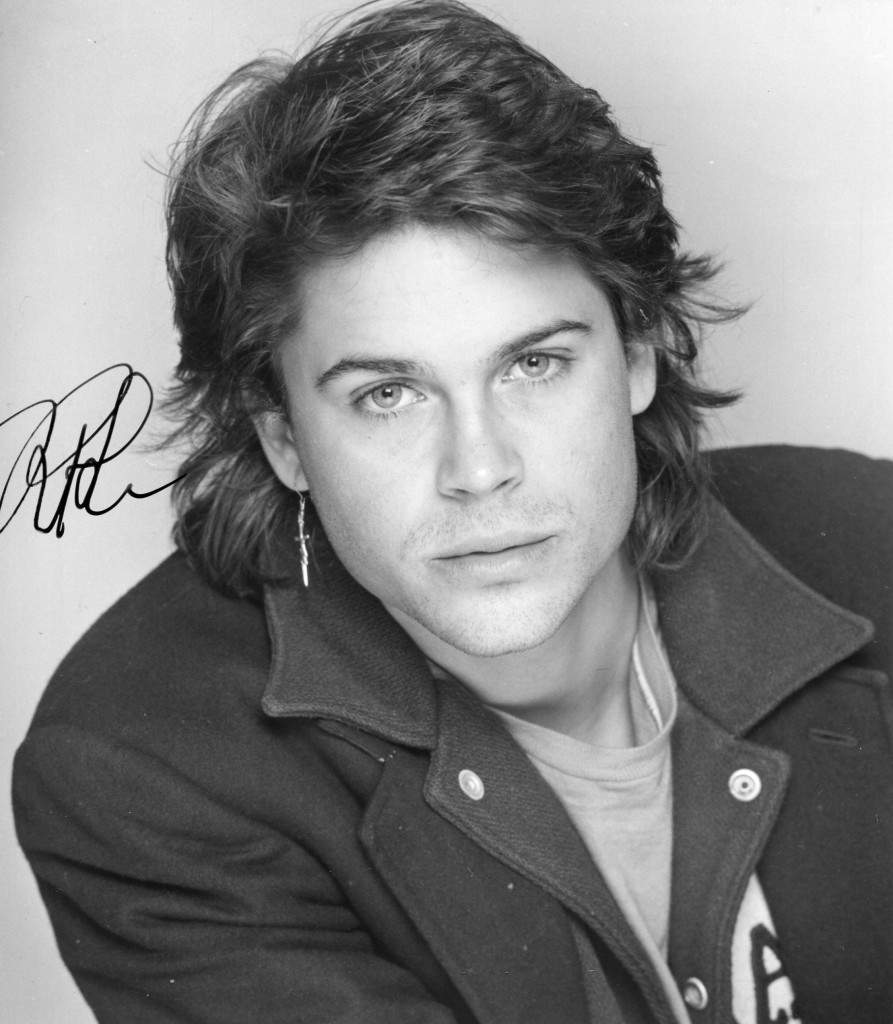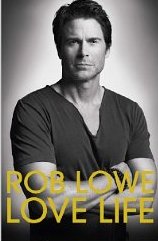 Rob Lowe was born in 1964 in Charlottesville, Virginia.   He made his film debut in "Schoolboy Father" and then went on to make "Class", "The Outsiders", "About Last Night" and "Mannequin".   He was one of the stars of the hughly popular television series "The West Wing".
TCM Overview:
One of the better-known survivors of teen stardom, actor Rob Lowe managed to put his heartthrob status behind him as well as survive a sex tape scandal that might have ended a less charming actor's career. Lowe made his initial impact in teen-oriented movies, flashing his toothpaste commercial smile and essaying a sort of untrustworthy charm in "The Outsiders" (1983) and "St. Elmo's Fire" (1985). But in only a few short years, Lowe took his position as a young, handsome womanizer across the line and his career came to a screeching halt in the wake of a sex tape scandal involving an underage girl. But Lowe rebounded from that seeming career-ender and laid the groundwork for a dramatic career with a number of well-received cable TV movies before enjoying consistent critical and popular success on the Emmy darling "The West Wing" (NBC, 1999-2006). While never regaining the box office status of his Brat Pack days, Lowe made some memorable comedic appearances in "Wayne's World" (1992), and in the Golden Globe-nominated "Thank You For Smoking" (2006), though his steadiest work continued to be primetime roles in "Brothers and Sisters" (ABC, 2006- ), TV movies and miniseries that generally cast him as an earnest hero battling inner, or in the case of his Stephen King offerings, outer demons.
Born March 17, 1964, in Charlottesville, VA, Lowe was living in Dayton, OH, at the age of ten when he was first inspired to become an actor by a live production of "Oliver!" After his parents' divorce, he and younger brother Chad moved to Los Angeles with their mother, and Lowe embarked on his career with appearances in TV commercials before landing the plum role of Eileen Brennan's son on the short-lived ABC sitcom "A New Kind of Family" (1979-1980). After a spell of failed pilots and "Afterschool Specials," the newcomer earned a Golden Globe nomination for playing a young patient awaiting a heart transplant in the CBS TV movie, "Thursday's Child" (1983). But it was his role in "The Outsiders" (1983) as Sodapop Curtis, one of a group of working-class teens engaged in a dangerous class war in post-war, small-town middle America, that transformed Lowe (and his co-stars) into a teen heartthrob. Lowe was soon lumped in with fellow greasers C. Thomas Howell, Patrick Swayze, Emilio Estevez, and a host of other young adult actors and actresses who dominated 1980s teen films and were collectively referred to as the Brat Pack. While Lowe seemed a bit deer-in-the-headlights in "The Outsiders," he established the doltish, smarmy, charm that would become his early trademark with his role as a prep school student whose mother (Jacqueline Bisset) engages in an affair with his roommate (fellow Brat Packer Andrew McCarthy) in "Class" (1983).
Despite having displayed little in the way of actual acting chops in his first big screen outings, Lowe was featured opposite proven thesp Jodie Foster in the film adaptation of John Irving's "The Hotel New Hampshire" (1984), which brought the young actor attention for his affair with co-star Nastassja Kinski, though he was at the time in a very public relationship with the prim "Half-Pint" Melissa Gilbert, of "Little House on the Prairie" fame. He followed with a similar role, playing a smooth-talking, slightly suspect charmer who chases a love interest overseas in "Oxford Blues" (1984). In another Brat Pack offering, Lowe won a Razzie Award for his unconvincing portrayal of a devil-may-care musician who is forever toting around a saxophone and breaking hearts in the unintentional comedy, "St. Elmo's Fire" (1985). That ensemble film that counted Estevez, McCarthy, Demi Moore, Judd Nelson, and Ally Sheedy among its cast was followed by Lowe's pairing with Moore in the romantic comedy "About Last Night" (1986), which banked on both actors' reputations as fast-living types. Lowe's pairing with Swayze in the physique-focused hockey drama "Youngblood" in 1986 was the last of his Brat Pack projects. He went on to earn a Golden Globe nomination for his turn as a mentally-challenged Texan in the NBC TV movie, "Square Dance" (1986).
Lowe acquitted himself well in the romantic thriller "Masquerade" (1988), but following a starring role in Peter Bogdanovich's dreadful romantic comedy "Illegally Yours" (1988) it was becoming apparent that the former teen star's status was plunging quickly. That dive was accelerated by the surfacing of a videotape showing Lowe engaged in sexual activity with two women in an Atlanta hotel during the Democratic National Convention of 1988. As if that were not scandal enough at the time, one of the women turned out to be 16 years old. Rather than face prosecution, Lowe agreed to perform 20 hours of community service, but the damage was done and the actor found himself Hollywood poison, having crossed the line from notorious lothario to alleged sexual criminal. The actor entered treatment for drug and sex addiction and laid low, surfacing only to make an ill-advised appearance on the 1989 Academy Awards telecast where his rendition of "Proud Mary," sung to a faux Snow White, failed to do anything but make him that much bigger a joke. He did, however, begin to regain some ground with an appearance on "Saturday Night Live" (NBC, 1975- ) where Dana Carvey's Church Lady paddled him for his indiscretions. For his return to film several years after the scandal, Lowe aligned himself with his public image and positioned himself as a villain in Curtis Hanson's "Bad Influence" (1990), a thriller that paired him with James Spader as a law-abiding friend cajoled into unlawful behavior by the charismatic Lowe.
A well-publicized marriage in 1991 sent out the signal that Lowe was a reformed man, and the following year he made his Broadway debut in an ironic role as a virginal philosophy student in the National Actors Theatre staging of "A Little Hotel on the Side." His screen roles improved as Lowe poked fun at his own sleazy image with a comedic turn as a likewise sleazy TV mogul in "Wayne's World" (1992). He showcased improved acting chops in the small screen remake of "Suddenly Last Summer" (PBS, 1993), holding his own against powerhouse actors Natasha Richardson and Maggie Smith. For his portrayal of a deaf mute in the ABC miniseries "Stephen King's The Stand" (1994), Lowe received some of his best reviews. Television offered the most opportunities to the fallen movie star, and he produced and co-starred with Bill Paxton in the Western "Frank and Jesse" (HBO, 1995), and wrote and directed the short film "Desert's Edge" for Showtime (1997). His next cineplex appearance was a solid supporting turn as a right-wing Christian leader in the sci-fi blockbuster "Contact" (1997), followed by a comedic performance that showcased his Robert Wagner impersonation as Young Number Two in "Austin Powers: The Spy Who Shagged Me" (1999).
Lowe returned to series television for the first time since 1979 when he was cast on the NBC drama "The West Wing" (NBC, 1999-2006). Lowe was featured in the ensemble of the White House-set series as lothario Sam Seaborn, deputy communications director for the U.S. President (Martin Sheen), a role that made the most of the former pretty boy's newly distinguished good looks, while at the same time exhibited his magnetic presence. The topical, well-written series was a critical and ratings favorite right out of the gate, and for his part, the real-life Republican Lowe received an Emmy and two Golden Globe nominations. But after four seasons on the series, which marked the undisputed high point of Lowe's checkered career, disagreements over salary and screen time led to the actor's announcement that he would leave the show. Lowe's character was famously written off the top-rated series, and he exited in February of 2003, immediately going on to star in two failed series, NBC's legal ensemble "Lyon's Den" (2003) and the self-explanatory "Dr. Vegas" (CBS, 2004). A pair of cable TV miniseries followed, with Lowe starring as a journalist whose childhood town has been overrun by vampires in Stephen King's "Salem's Lot" (TNT, 2004), and taking a more earnest role as a widowed father reflecting on life in Lifetime's earnest "Beach Girls" (Lifetime, 2005).
In 2006, Lowe set aside his differences with his former producers and reprised his role as Sam Seaborn in two of the final four episodes of the perennial favorite "The West Wing." Lowe returned to theaters alongside Aaron Eckhart in Jason Reitman's satirical "Thank You for Smoking" (2006), which earned a Golden Globe nomination for Best Motion Picture – Musical or Comedy. That fall, Lowe was cast in a recurring role on ABC's "Brothers & Sisters" (2006-09), a drama about a multi-generational California family that runs a food business. Lowe was initially billed as a guest for his appearances as a Republican senator with a romantic interest in family character Kitty (Calista Flockhart), but the show's strong ratings led to a longer run for Lowe, who eventually married into the family and remained a prominent character. Meanwhile, Lowe starred as a traumatized Iraq War veteran in the Sci Fi Channel movie, "Stir of Echoes" (2007), and found himself in the tabloids again over a number of lawsuits filed by him and several former domestic employees who accused Lowe of abusive behavior, sexual harassment and labor code violations. Both parties' numerous claims were eventually dismissed in court, and Lowe's next round of press was considerably more welcome, as it was in promotion of his supporting role in "The Invention of Lying" (2009), a comedy feature about an alternate universe where lying does not exist until it is discovered by the smooth-talking Ricky Gervais. In 2010, Lowe joined the cast of "Parks and Recreation" (NBC 2009- ) during its second season, playing new city manager Chris Traeger. A fitness fanatic who constantly sees the positive side of any situation, the optimistic Traeger quickly became one of the show's most popular characters. In July 2013, it was announced that Lowe and Rashida Jones, who played Chris's on-again, off-again girlfriend Ann Perkins, would be leaving the series halfway through its sixth season. While honing his comedy chops on "Parks and Recreation," Lowe explored darker roles in a series of made for television movies based on real events, including the title role in "Drew Peterson: Untouchable" (2012), "Prosecuting Casey Anthony" (2013) and Steven Soderbergh's seriocomic Liberace biopic "Behind the Candelabra," in which Lowe played the pianist's personal plastic surgeon.