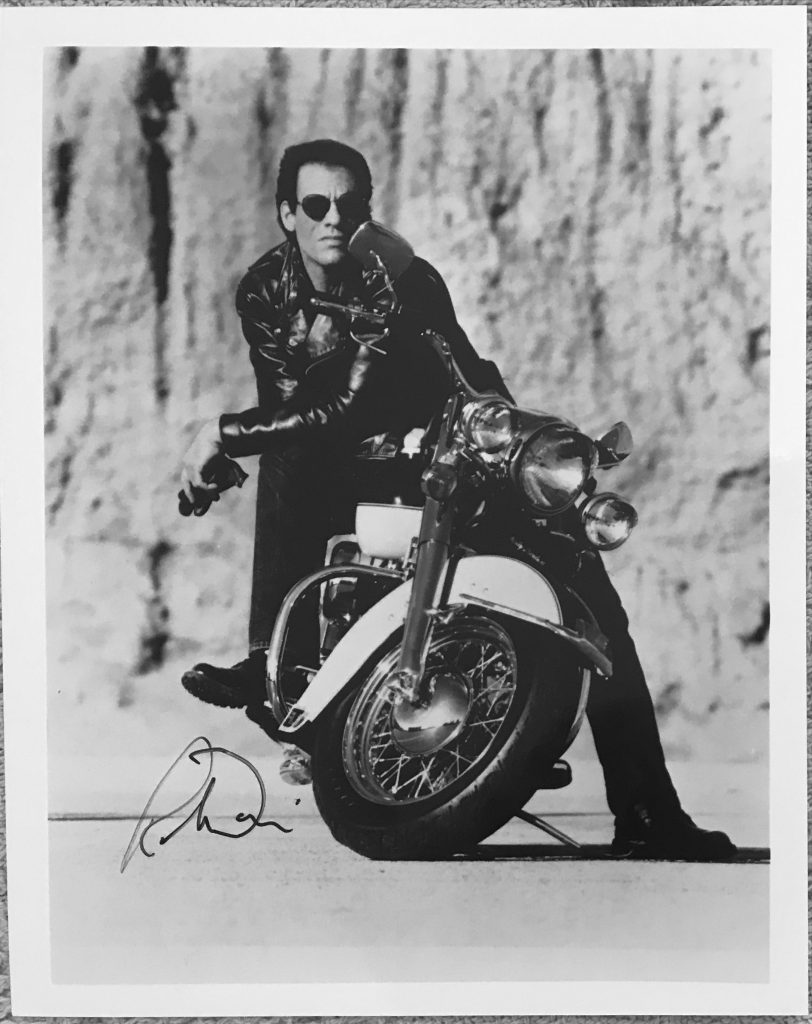 Robert Davi was born in Astoria, Queens, New York in 1953 of Italian heritage. He made his film debut in "Contract on Cherry Street" which starred Frank Sinatra in 1977. He achieved internaional prominence with his role as the arch villian in the James Bond thriller "Licence to Kill" in 1989. He is an active member of the Republican Party.
TCM Overview:
Although rough-hewn Italian-American actor Robert Davi became known primarily for his portrayals of menacing tough guys, his range as a performer often surprised audiences when given a chance. Having briefly entertained a career in opera, Davi made his onscreen debut with a small role opposite his lifelong idol Frank Sinatra in the crime-drama "Contract on Cherry Street" (NBC, 1977). After toiling away for most of a decade, the actor gained notice for two vastly different roles in the fan favorite films "The Goonies" (1985) and "Die Hard" (1988). A starring turn in the made-for-TV movie "Terrorist on Trial: The United States vs. Salim Ajami" (CBS, 1988) led to Davi's being cast as brutal drug baron Franz Sanchez opposite Timothy Dalton's James Bond in "License to Kill" (1989). While work in such box-office fiascos like the notorious sexploitation movie "Showgirls" (1995) did little to improve his standing, he courted a broader audience as one of the good guys on the crime series "Profiler" (NBC, 1996-2000), where Davi played F.B.I. Agent Bailey Malone. Davi later embraced his love of classic popular music with his debut as a director for the crime comedy "The Dukes" (2007) then parlayed that experience into a recording career with the CD Davi Sings Sinatra – On the Road to Romance. Never away from tough guy roles for long, Davi continued to appear in such gritty fare as the based-on-fact crime-thriller "The Iceman" (2012), proving he was one of the more dependable character actors in the business.
Born on June 26, 1953 in Astoria, Queens, NY, Robert John Davi was one of three children and the only son born to Maria Rulli and Sal Davi, an Italian immigrant. While still young, Davi moved with his tight-knit family to a suburb of Long Island where he attended Catholic grade school prior to entering Seton Hall Catholic High School. It was there that the 9th grader – who had already performed well as an athlete – began to take an interest in acting, portraying Macbeth in one Seton Hall production. Both career opportunities were nearly sidetracked after a nun at the Catholic school overheard Davi singing to himself one day and, suitably impressed, encouraged him to join the glee club. From high school, he continued on to New York's Hofstra University on a drama scholarship and entered its prestigious Shakespeare program, noted for its theater in the round productions. After leaving Hofstra, Davi moved to Manhattan, where he eventually studied acting with the legendary drama coaches Stella Adler and Lee Strasberg. During this period, the talented performer divided his time between dramatic work and endeavors as a member of the start-up Lyric Opera Company in Long Island. Eventually, strained vocal chords and limited opportunities in the world of opera refocused Davi's energies into his nascent acting career.
In what must have surely seemed like a portentous turn of events, Davi made his screen debut alongside his family's idol, Frank Sinatra, when he played Mickey Sinardos, a Greek underworld figure in the well-received crime drama "Contract on Cherry Street" (NBC, 1977). With this first taste of success, the young actor moved to Los Angeles and never looked back. Over the course of the next decade Davi appeared with regularity in small roles on various popular series and in made-for-TV movies, never as the lead, but gradually familiarizing audiences with his rugged face, usually in the role of an intimidating tough guy. Eventually Davi began to make the transition into feature film, first with the Clint Eastwood-Burt Reynolds crime comedy "City Heat" (1984) and most notably in the Richard Donner-directed teen adventure "The Goonies" (1985) as Jake Fratelli, a member of a dysfunctional family of crooks out to score a fortune in lost treasure. Similar work came his way in roles like that of a mob enforcer in the Arnold Schwarzenegger actioner "Raw Deal" (1986).
Soon after, Davi landed a breakout role as the eponymous Middle Eastern radical, kidnapped and brought to the U.S. to face charges of terrorism in the political drama "Terrorist on Trial: The United States vs. Salim Ajami" (CBS, 1988), opposite Sam Waterston and Ron Leibman. In addition to garnering strong reviews from critics, his intense portrayal of the accused PLO terrorist was brought to the attention of James Bond producer Albert 'Cubby' Broccoli, who would soon make Davi an offer he could not refuse. In the meantime, moviegoers got to know the actor a bit more as an overly confident F.B.I. agent out of his depth in the Bruce Willis action blockbuster "Die Hard" (1988). Riding high off the success of that hit film, Davi reappeared in what would be one of his most recognizable roles, that of Latin American drug kingpin Franz Sanchez, the latest addition to the pantheon of villains pitted against James Bond (Timothy Dalton) in "License to Kill" (1989). As with most Bond villains, Sanchez's gruesome demise precluded Davi's returning for any future 007 adventures, however, his suave yet menacing performance upped his Hollywood standing considerably.
Although he had successfully made the transition to feature films, Davi picked up another meaty part late in the run of the acclaimed crime series "Wiseguy" (CBS, 1987-1990) as mob boss Albert Cerrico. For Davi, the decade of the 1990s was peppered with several regrettable efforts, among them "Christopher Columbus: The Discovery" (1992), the big-budget historical debacle, co-starring Marlon Brando and directed by frequent 007 helmer John Glen. That critical and commercial disaster was followed in quick succession by a series of less-than-memorable projects, including the failed franchise revival "Son of the Pink Panther" (1993) and the joyless Chevy Chase comedy "Cops and Robbersons" (1994). More notorious than notable was the instant camp classic "Showgirls" (1995), which featured Davi as a sleazy and vaguely menacing club owner opposite the film's under-clothed star, Elizabeth Berkley.
After nearly 20 years as a Hollywood heavy, Davi found himself back on television, where he enjoyed the rare opportunity to play a hero rather than the bad guy on the F.B.I. procedural "Profiler" (NBC, 1996-2000). Cast opposite series star Ally Walker, Davi played her partner and mentor in the violent crimes task force, Agent Bailey Malone. Davi kept busy with a steady combination of film and TV work in the years that immediately followed "Profiler" before making his debut as a writer-director of the feature film "The Dukes" (2007). A crime comedy about a washed up doo-wop duo who pull an ill-advised heist in an effort to score some fast cash, it co-starred Davi, Chazz Palminteri and Peter Bogdanovich and allowed Davi the opportunity to show off a bit of his singing acumen. Before, during and after the production, the actor continued to work on other projects, including a recurring role as Commander Acastus Kolya throughout the run of the sci-fi spin-off series "Stargate: Atlantis" (syndicated, 2004-09).
Perhaps inspired by the positive reaction to his vocal work in "The Dukes," Davi returned to his love of song and the music of his childhood idol to record the tribute album Davi Sings Sinatra – On the Road to Romance in 2011. Surprising listeners with his remarkably accomplished take on such standards as "Witchcraft" and "The Best is Yet to Come," Davi further impressed audiences with a lengthy run of live performances in front of a 30-piece orchestra at The Venetian Resort Hotel in Las Vegas. Still in high demand as a tough guy, he was seen that year as mob assassin Ray Ferritto, the man who finally succeeded in taking out flamboyant Cleveland racketeer Danny Greene (Ray Stevenson) in the biopic "Kill the Irishman" (2011). Davi revisited similar thematic territory in "The Iceman" (2012), another based-on-fact crime thriller covering the life and career of sociopathic hitman Richard Kuklinski (Michael Shannon).
By Bryce Coleman
The above TCM overview can also be accessed online here.