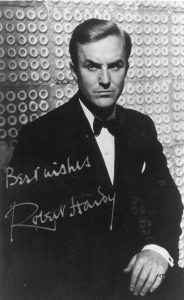 Robert Hardy was born in Cheltleham in 1925. He is perhaps best remembered for his role in the long running television series "All Creatures Great and Small" which ran from 1978 until 1990. His films include "Torpedo Run" in 1959,"Psychomania" in 1971 and "Young Winston".
IMDB entry:
One of England's most enduringly successful character actors, Robert Hardy is noted for his versatility and depth. Born in Cheltenham in 1925, he studied at Oxford University and, in 1949, he joined the Shakespeare Memorial Theatre at Stratford-upon-Avon. Television viewers most fondly remember him as the overbearing Siegfried Farnon in All Creatures Great and Small (1978) but his most critically acclaimed performance was as the title character of Winston Churchill: The Wilderness Years (1981). His portrayal of Britain's wartime leader was so accurately observed that, in the following years, he was called on to reprise the role in such productions as The Woman He Loved (1988) and War and Remembrance (1988).
Unlike some British character actors, Hardy has never been recognized by Hollywood and his work in films has therefore been restricted to appearances in predominantly British-based productions such as The Spy Who Came in from the Cold (1965), Frankenstein(1994) and Sense and Sensibility (1995). He has been awarded the CBE for services to acting.
– IMDb Mini Biography By: anonymous
The above IMDB entry can also be accessed online here.