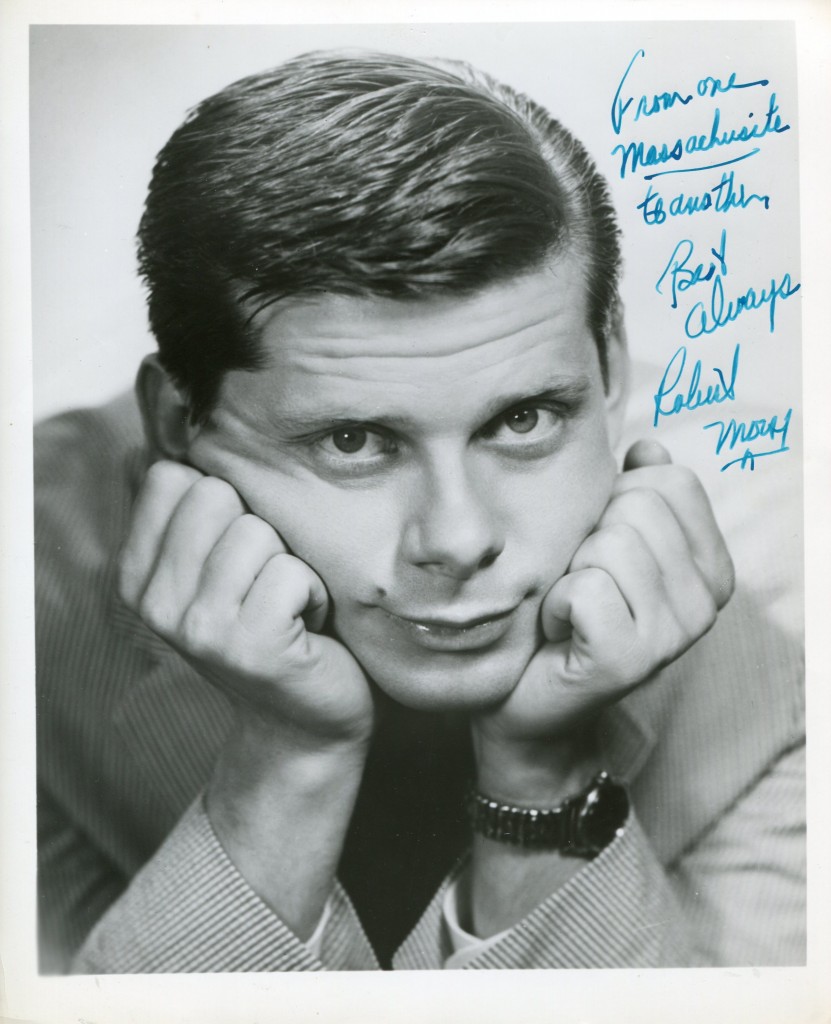 Robert Morse was born in 1931 in Newton, Massachusetts.   He is a celebrated stage performer who has also acted in film.   His movies include "The Cardinal" in 1963 with Tom Tryon and Romy Schneider, "How to Succeed in Business Without Really Trying", "Quick Before It Melts" with George Maharis and "Where Were You When the Lights Went Out" with Doris Day in 1968.
Gary Brumburgh's entry:
With that impish, gap-toothed grin, nervous bundle of energy, Robert Morse could never be contained long enough to become a film star. The live stage would be his calling. He made his debut with the musical, "On the Town", in 1949, and trained with Lee Strasberg, before making his inauspicious film debut in The Proud and Profane (1956), but movie offers were few. Instead, he brightened up the lights of Broadway as "Barnaby Tucker" in "The Matchmaker" (and in the film version of The Matchmaker (1958)), in "Say, Darling" (Tony nomination in 1958), "Take Me Along" (Tony nomination in 1959) and his best-known role as the ever-ambitious "J. Pierpont Finch" in "How to Succeed in Business Without Really Trying", in which he finally won the Tony, in 1961, while singing his signature song, "I Believe in You", to himself in the mirror. He took that role to film, How to Succeed in Business Without Really Trying (1967), six years later.
His best movie roles also came in the 60s, as a Britisher arranging his uncle's funeral in the cult favorite, The Loved One (1965), and as Walter Matthau's philandering buddy/advisor in A Guide for the Married Man (1967). His offbeat musical talents were used for the intriguing experimental James Thurber-like TV series, That's Life (1968), with E.J. Peaker, which combined sketches, monologues and musical interludes, but the show lasted only one season. Overall, Bobby's work has never been less than interesting with no gray areas in his performances — ranging from bizarre to irritating, from frenzied to fascinating. After earning acclaim and another Tony-nomination as the cross-dressing musician on the lam in "Sugar", a Broadway musical version of Some Like It Hot (1959), Morse appeared less and less — his eccentricities proving both difficult to cast and to deal with. Following an unfulfilling stint on the daytime soap, All My Children (1970), he came back in grand style in the one-man tour de farce, American Playhouse: Tru (1992), based on the life of the equally-eccentric Truman Capote – a perfect fit, if ever there was one, between actor and role. With this role, Bobby became one of the choice few to ever win Tony awards for both a musical and dramatic part. He continues to be seen in odd roles from time to time, such as "Grandpa" in the revamped TV movie, Here Come the Munsters (1995). Married twice, his daughters are actresses Andrea Doven, Hilary Morseand Robin Morse.
– IMDb Mini Biography By: Gary Brumburgh / gr-home@pacbell.net