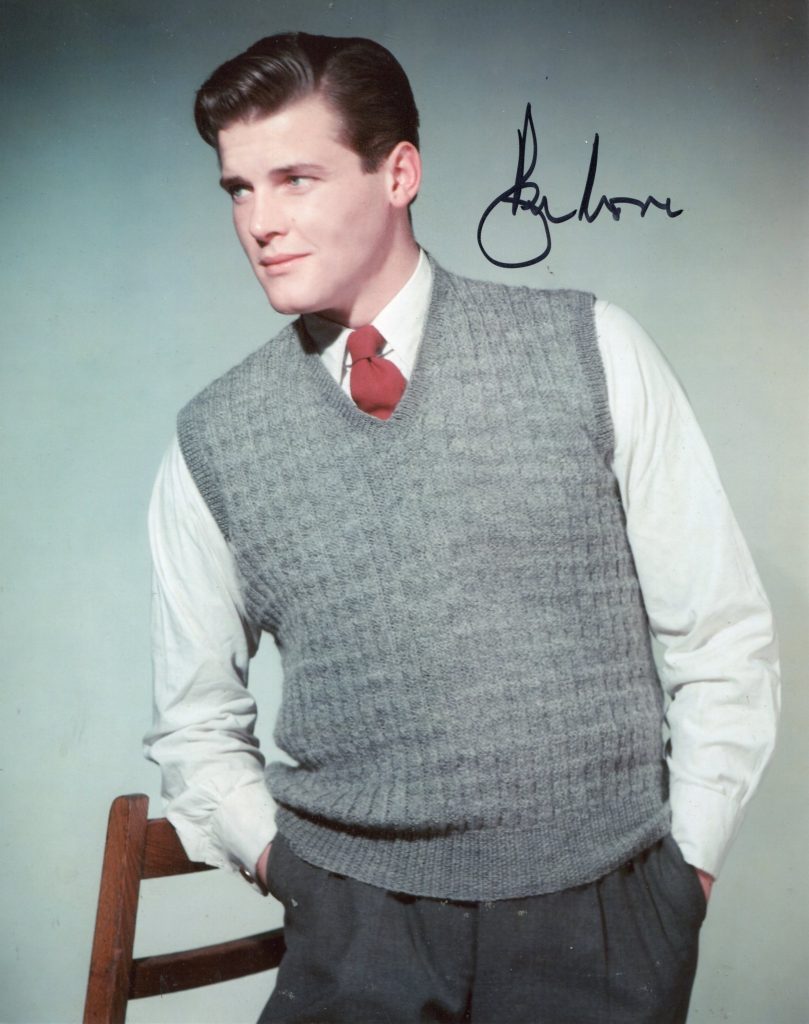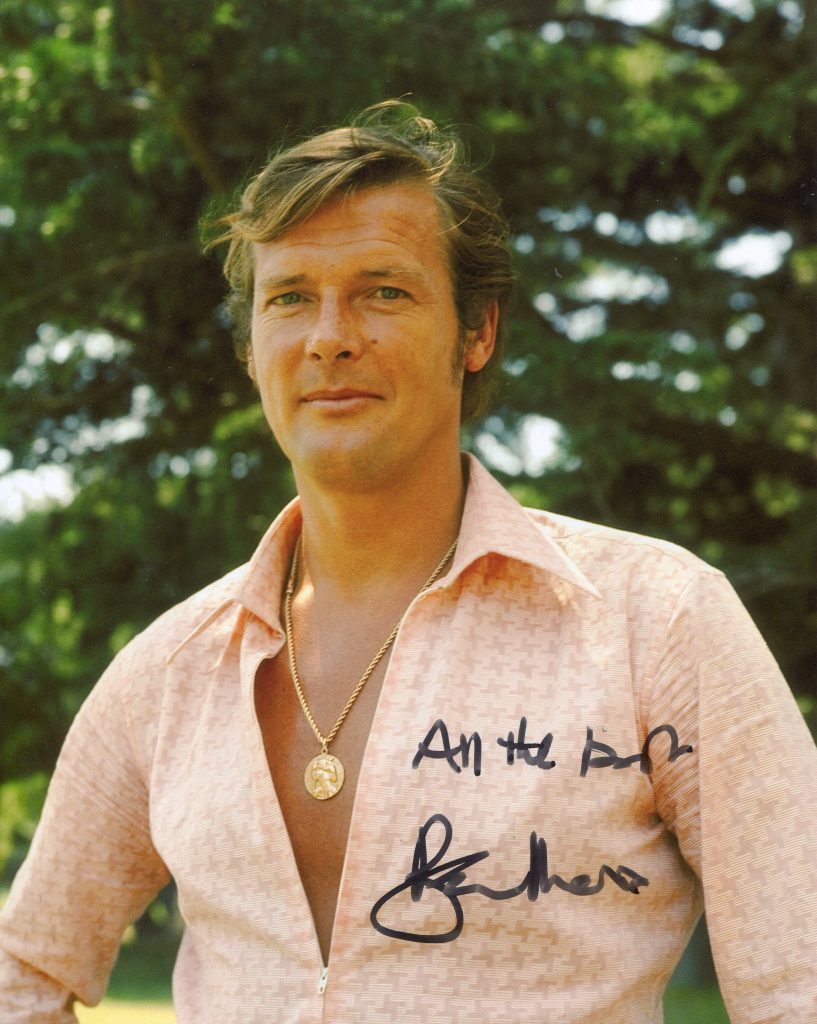 Roger Moore obituary in "The Independent" in 2017.
More than any other actor of his generation, Roger Moore, one of the most instantly recognised stars, personified British sangfroid. Though he will be remembered for his action roles, typified by James Bond and Simon Templar in The Saint, Moore arguably had much more in common with the likes of Cary Grant and David Niven, light sophisticated film comedians. His approach, even with Bond, was to look for the humour first and worry about the dramatics second. To world audiences throughout the Sixties, Seventies and Eighties, he was the epitome of the perfect English gentleman.
Roger George Moore was born in 1927 in Stockwell, south London, the only child of George Moore, a police constable at Bow Street, and his wife Lily, the daughter of an Army Sergeant Major. Educated at Battersea Grammar school, upon leaving at the age of 15 in 1943 Roger Moore got a job as an apprentice cartoonist with an animation film company. One visitor to the studio was Lt-Col David Niven, there to give technical advice on a film. In later life the two men were to become great friends and co-star together in three films. Niven was also Ian Fleming's personal choice of actor for the role of Bond.
Though he showed flair as a cartoonist, Moore was sacked when he made a mistake over some animation cells. By his late teens, he had developed from a rather podgy child into a tall (6ft 2in) broad-shouldered, blond-haired hunk and a friend suggested he try his luck as a film extra on Caesar and Cleopatra, then in production at Denham studios. The thought of acting had never before occurred to Moore, despite his father being an avid devotee of amateur dramatics.
He landed the job of a spear-carrying Roman soldier and was spotted by the director Brian Desmond Hurst, not for any acting qualities but for the multitude of female admirers he managed to attract off-camera. Sensing some kind of potential, Hurst offered to pay Moore's fees at the Royal Academy of Dramatic Art.
It was during his three terms at Rada (where one of his classmates was Lois Maxwell, the future Miss Moneypenny) that Moore began to cultivate the accent and demeanour, that relaxed, devil-may-care, mid-Atlantic style, which later became his screen trademarks. Doing his National Service as a commissioned officer with the Combined Services Entertainment Section, he earned the nickname "The Duchess" for his immaculate and cultivated appearance. He was also continually reprimanded for having his army mates call him "Rog" instead of Sir.
While at Rada, Moore fell in love and married an ice skater called Doorn van Steyn. He was just 19. Their time together was beset by professional and financial difficulties as both struggled to establish their careers and the marriage soon foundered. Moore himself could only find a few acting jobs and to supplement his income worked as a waiter, dishwasher, street salesman and male model, famously appearing in knitting books modelling sweaters, something which caused him great embarrassment in later years.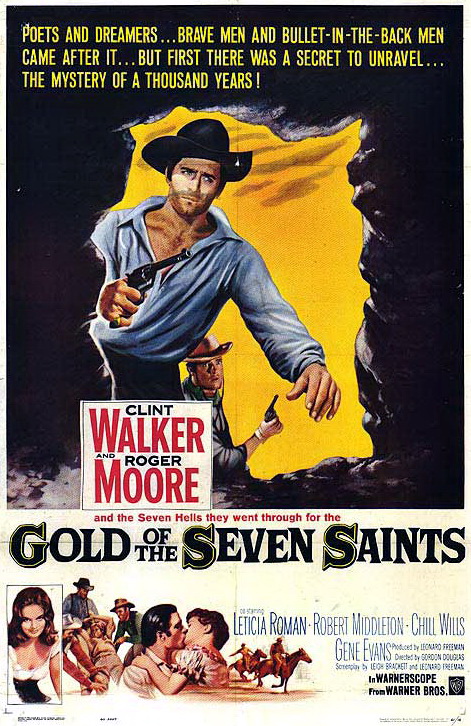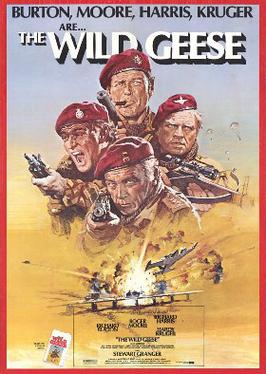 In 1952 Moore met one of Britain's most popular singers Dorothy Squires (12 years his senior), and the couple were soon an item. He travelled with Squires to America, where his charm and good looks won him some film roles, notably opposite the screen divas Elizabeth Taylor in The Last Time I Saw Paris (1954) and Lana Turner in Diane (1956).
On his return to Britain, Moore became one of the first television stars, in 1958 taking the title role in the adventure serial Ivanhoe. Other TV series followed, this time made in Hollywood, The Alaskans (1959-60) and Maverick (1960-61). But his film career was going nowhere, summed up by turkeys like The Rape of the Sabine Women (1961). Made in Rome, it did little to further Moore's dreams of movie stardom, but had a profound effect upon his personal life. On set he met and fell in love with the Italian actress Luisa Mattioli. He was refused a divorce by Dorothy Squires, but he and Mattioli lived together until finally being allowed to marry in 1969.
Moore was finally rescued from oblivion in 1962 when he won the coveted lead role in The Saint, which he went on to play for six years. The series was shown in over 60 countries, turning Moore into an internationally recognised figure and the first British actor to become a millionaire through television. After dropping his halo, Moore yet again pursued a film career, with haphazard results, and in 1971 was forced to make another television series, despite having sworn never to do so.
It was called The Persuaders! and was again the brainchild of Lew Grade, the man responsible for The Saint. Grade had craftily already sold the concept of the show to America on the strength of Moore's name. At a meeting Moore queried the legality of what Grade had done. The cigar-chomping tycoon replied, "The country needs the money, Roger. Think of the Queen."
The Persuaders! was about a pair of wealthy playboys and part-time adventurers. Glitzy and chic, with its South of France locations, the show is chiefly remembered today for the marvellous chemistry between Moore and his co-star Tony Curtis, though in real life the two men did not hit it off. Although a huge success in Europe, crucially The Persuaders! flopped in America and was cancelled, leaving Moore free to take on the role that he will be forever remembered – James Bond.
Moore had in fact been one of the original choices for 007 back in 1962, but had been deemed not tough enough. Because Moore lacked Sean Connery's animal presence and killer instinct, the filmmakers instead played to his very different strengths, a sophisticated wit and gentlemanly charm, and the Bond films grew more tongue in cheek as a result.
Moore himself refused to take the role especially seriously. "Bond has nothing to do with the real spying world," he once said. "I mean, what sort of spy is recognised in every bar in town?" His self-mocking approach did not find favour with the critics, although some claimed he was much closer to Fleming's original concept of Bond than Connery, much more the Etonian drop-out, but the public was won over and Moore's seven-film reign as Bond raked in a billion dollars at the global box office.
Moore also began to establish himself as a film star with a string of popular hits like the action adventure Shout at the Devil (1976), the Boy's Own war drama The Wild Geese (1978), with Richard Burton, and the all-star car comedy The Cannonball Run (1981). By the late Seventies he was the most bankable British film personality and had joined those other superstar tax exiles (Sean Connery, Michael Caine, Richard Burton) in leaving the country in order to evade the Labour government's punitive tax rates, moving to Switzerland where he could also indulge his love of skiing.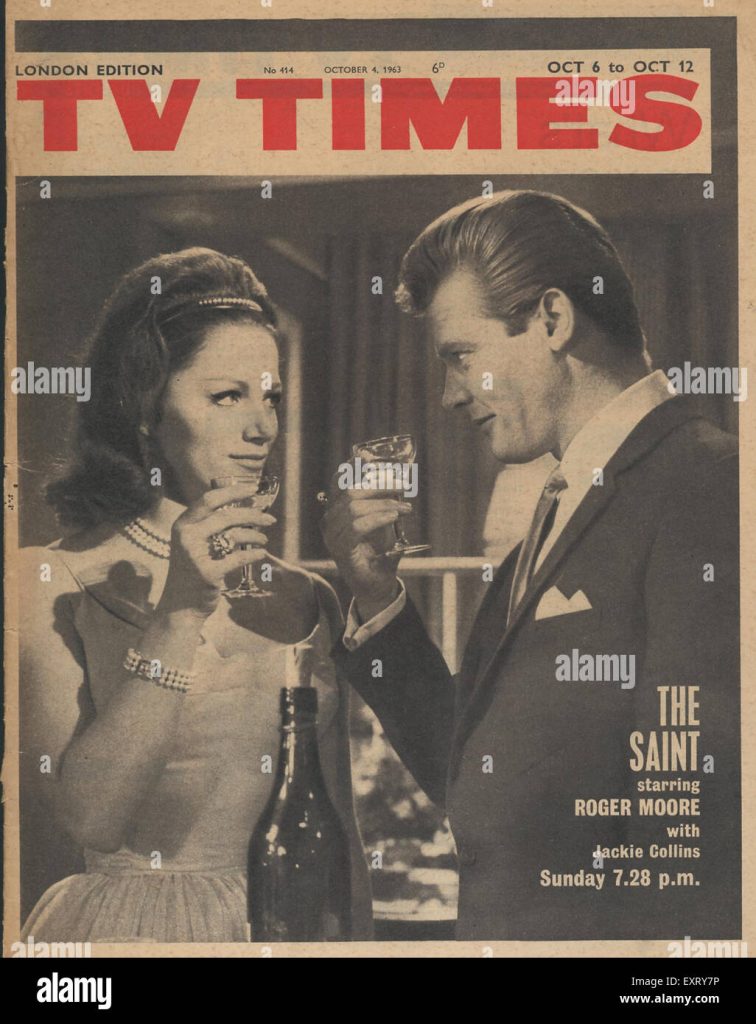 After A View to a Kill in 1985, Moore, then 57, left the Bond stable and all but retired from cinema, returning sporadically in films that showed either a lazy approach to his craft or just plain bad taste, stiffs like Spice World (1997) and Boat Trip (2002). He appeared most frequently on television chat shows and in European gossip magazines. Especially when his marriage, considered by many to be one of Hollywood's most rock-solid, broke up in 1994 when he fell in love with a close family friend, the Swedish-born socialite Kristina Tholstrup.
Moore will never be remembered for being one of cinema's most versatile actors. And to be fair, Moore himself made something of a career out of underestimating his own talent. But those who worked with him loved him. On set he liked to keep a jovial and happy working atmosphere and often indulged his schoolboyish sense of humour by playing practical jokes on his co-stars.
He took great pride in 1991 in succeeding Audrey Hepburn as Goodwill Ambassador for Unicef, raising funds for children in underdeveloped countries. His work for Unicef took him to countries such as Brazil and India that he had visited with the Bond films, but the second time around, he was able to see them through different eyes, noticing the poverty and suffering. Such generous and selfless work earned Moore appointment as CBE in 1999 and in 2003 he was knighted.
Sir Roger George Moore, actor: born London 14 October 1927; died Switzerland 23 May 2017