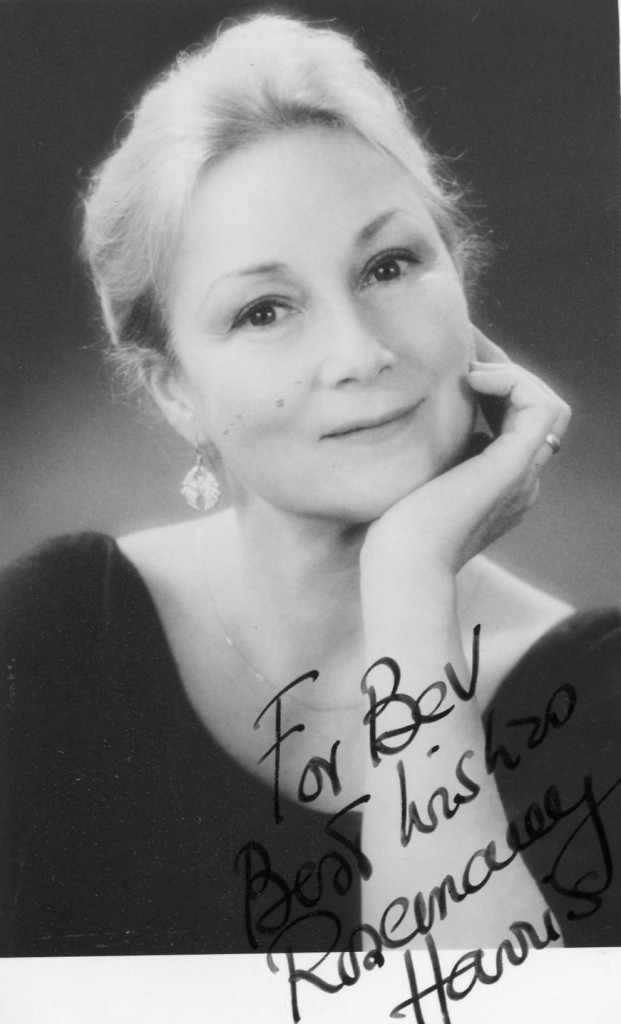 Rosemary Harris. TCM Overview.
Rosemary Harris was born in 1927 in Leicestershire. She is a very accomplished stage actress. Among her movies are "Beau Brummel" in 1954, "The Shiralee", "The Boys from Brazil" in 1978, "The Ploughman's Lunch" and "Spiderman".
TCM Overview:
This sensitive, expressive leading and supporting player is best known for her stellar stage work and occasional yet indelible film and TV appearances. Rosemary Harris frequently played secure, formidable women; strong adversaries or staunch supporters. Her delicate features and petite frame belied a fiercely determined, fully evolved persona. After growing up in India and preparing for a career in nursing, she changed course and began acting studies at London's prestigious Royal Academy of Dramatic Art. Harris made her stage debut in NYC in the Broadway production of Moss Hart's "Climate of Eden" (1951) and then returned to her native England where she debuted on the West End in the British premiere of "The Seven Year Itch" (1952).
Harris proved an enormously popular and versatile player on both sides of the Atlantic and a succession of classical and modern roles followed. Over the course of her distinguished career, she had the good fortune to act opposite some of the most important figures in the theater including Richard Burton ("Othello" 1955), Jason Robards ("The Disenchanted" 1958), Laurence Olivier ("Uncle Vanya" 1963), Peter O'Toole ("Hamlet" 1964), Rex Harrison ("Heartbreak House" 1984) and John Gielgud ("The Best of Friends" 1987). She has been nominated eight times for Broadway's Tony Award, taking home the prize in 1966 for creating the role of Eleanor of Aquitaine in James Goldman's "The Lion in Winter" in 1966. Other highlights of her stage career include her strong-willed Anna in Harold Pinter's "Old Times" (1971), the Ethel Barrymore-like actress in "The Royal Family" (1975), the plain English housewife who discovers her neighbors are spies in "Pack of Lies" (1985), the mother of a diabetic in "Steel Magnolias" (1991), the iron-willed grandmother in Neil Simon's "Lost in Yonkers" (1992), a troubled wife in "An Inspector Calls" (1994),the smug Agnes of Edward Albee's "A Delicate Balance" (1996) and a aging stage diva in "Waiting in the Wings" (1999-2000).
On the small screen, Harris has graced a number of TV productions since the mid-1950s, including playing Olivia in an adaptation of "Twelfth Night" (NBC, 1957). She went on to play the rich wife whose husband plots her murder in "Dial M For Murder" (NBC, 1958), the romantic Cathy to Richard Burton's Heathcliff in "Wuthering Heights" (NBC, 1958) and the beleaguered second wife in "Blithe Spirit" (NBC, 1966). She won a justly deserved Emmy Award for her brilliantly crafted portrait of the flamboyant French novelist George Sand in the drama series "Notorious Woman" (PBS, 1975) and offered an equally fine performance as the heroine Mrs. Ramsay in a 1984 adaptation of Virginia Woolf's novel "To the Lighthouse". Harris is perhaps best remembered for her appearances as matriarchs in two well-received miniseries: "Holocaust" (NBC, 1978), playing the aristocratic head of a Jewish family, and "The Chisolms" (CBS, 1979), as the wife and mother of a pioneering Virginia family in 1844.
Harris made a striking film debut as the unrequited love interest of Stewart Granger as "Beau Brummell" (1954) but rejected Hollywood offers of seven-year contracts to pursue her first love–the theater. Consequently, her film appearances have been infrequent. She did not make another film for some 14 years, turning up in the poorly received "A Flea in Her Ear" (1968), which also marked her US debut. Ten years later she gave memorable support in the thriller "The Boys From Brazil" (1978) and subsequently co-starred in the political drama "The Ploughman's Lunch" (1983). Harris gave a strong, volatile performance as T S Eliot's iron-willed mother-in-law in "Tom & Viv" (1994), which garnered her an Oscar nomination for Best Supporting Actress. Kenneth Branagh tapped her to play the Player Queen to Charlton Heston's Player King in a full-length version of "Hamlet" (1996). Harris then essayed yet another strong-willed matriarch, this time of a Scottish family in "My Life So Far" (1999). She and her daughter, actress Jennifer Ehle, shared the pivotal role of Valerie Sonnenshein Sors in Istvan Szabo's epic "Sunshine" (1999). Ehle portrayed the youthful, headstrong Valerie while Harris lent dignity and grace to the older Valerie who lives through the Holocaust and the 1956 Hungarian Revolution.
A role as psychic Cate Blanchett's grandmother in "The Gift" (2000) marked her first collaboration with director Sam Raimi, who next cast her in the pivotal role of Peter Parker's elderly Aunt May in the blockbuster comic book adapatation "Spider-Man" (2002), a role she reprised with greater prominence in the 2004 sequel "Spider-Man 2."
The above TCM overview can also be accessed online here.