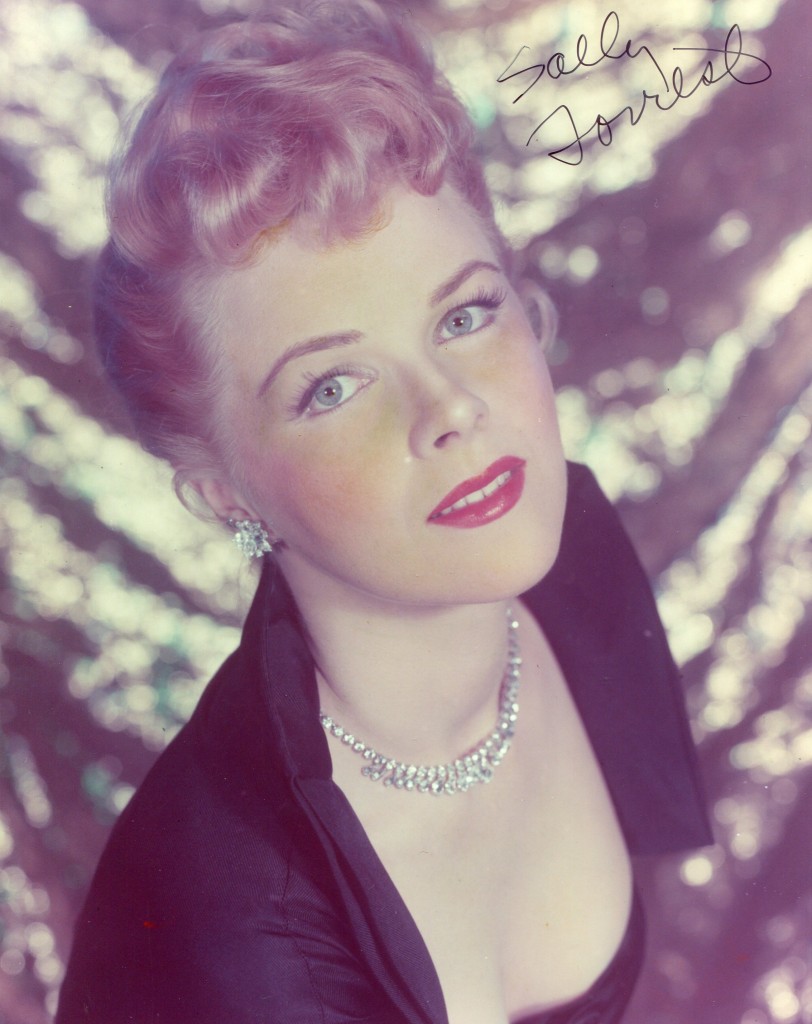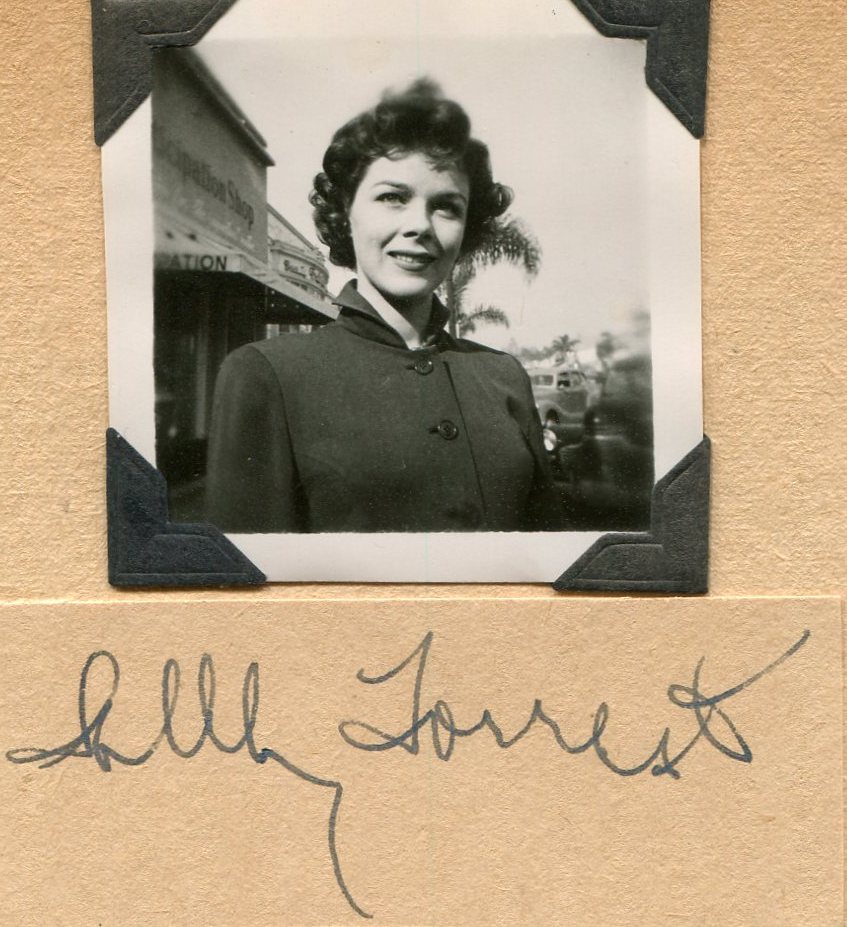 Sally Forrest was born in 1928 in San Diego, California.   Her first film was in 1946 in "Till the Clouds Roll By".   She went on to make "Dancing in the Dark", "Mystery Street" and "While the City Sleeps" in 1956.
IMDB entry here:
Sally's parents were both amateur ballroom dancers, so it was no surprise when Sally developed an interest in dancing. She entered dance classes by the first grade and was signed by MGM upon her graduation from high school. In 1945, she moved with her parents to Hollywood, where Sally worked on the dances used in the films Till the Clouds Roll By (1946) and The Kissing Bandit (1948). Soon unemployed, she worked in small roles until she teamed with Ida Lupino, who was producing and directing small films at the time, and Sally was cast in the lead role of Not Wanted (1949). The picture was a critical and commercial success, and Sally also received critical acclaim for her role. After appearing in a few more Lupino movies, including Never Fear (1949), Sally returned to MGM, where she was cast in movies with stars such as Boris Karloff and Red Skelton. When her husband, Milo O. Frank Jr., moved to New York, she went with him. There, she worked in summer stock and on Broadway in the stage play "The Seven Year Itch". Sally appeared in only a couple of movies after that, but she again worked with Ida Lupino inWhile the City Sleeps (1956).   She died in 2015.
– IMDb Mini Biography By: Tony Fontana <tony.fontana@spacebbs.com>
The above IMDB entry can also be accessed online here.
"Guardian" obituary:
Sally Forrest, who has died of cancer aged 86, was a pretty blonde movie ingénue who played "nice girls", reserving her sexiness for her vivacious and versatile dancing. Moreover, had it not been for Ida Lupino, she would not have had the chance to demonstrate her acting skills. Lupino, one of the few female directors who were around in the 1950s, plucked Forrest from the obscurity of the chorus to star in three of her low budget dramas.
Born in San Diego, California, as Katherine Feeney, the daughter of ballroom dancers, Forrest started dancing at a young age. When the family moved to Los Angeles, MGM signed her as an assistant choreographer and dancer (often uncredited) in several musicals, including Easter Parade (1948) with Fred Astaire.
Lupino, who was producing and writing Not Wanted (1949), cast Forrest, who resembled her, in the lead as a young woman who has a baby out of wedlock, gives it up for adoption and then regrets it. A bold subject for the time, it postulates the primacy of motherhood. (It was to have been directed by Elmer Clifton, but he suffered a heart attack and died a short while into filming. Although Lupino completed the film, she allowed Clifton the director's credit.)
Forrest proved herself adept in the emotionally wrought role, the sort that had made Lupino's name as an actor. In Never Fear (1949), Forrest was again put through the wringer as a promising dancer who finds out she has contracted polio. Hard, Fast and Beautiful (1951), a surprisingly non-feminist picture, featured Forrest as a tennis champion driven on by her domineering mother (Claire Trevor), when all she wants is a home, a husband and a child. It was one of six films in which Forrest appeared in 1951, while decorating the covers of movie fan magazines, and marrying the agent Milo Frank. In Vengeance Valley, opposite Burt Lancaster, she again played an unwed mother, the father being the baddie Robert Walker.
She was the comedian Red Skelton's sweetheart in Excuse My Dust in which, although set in 1895, Forrest performs an anachronistic swing dance number, Desire by the Docks. In The Strip (as in Sunset), she has another splendid dance routine, accompanied by Louis Armstrong in a nightclub, to the delight of Mickey Rooney. In The Strange Door, she was an endangered beauty in an old dark house inhabited by Boris Karloff and Charles Laughton.
Forrest then spent more than a year on Broadway as "The Girl" in George Axelrod's play The Seven Year Itch (the role portrayed by Marilyn Monroe in the 1955 film), before returning to films in the Howard Hughes production Son of Sinbad (1955). In this Technicolor Arabian Nights bit of entertaining nonsense, Forrest, in an extremely scanty costume, as a member of a harem, does an exotic, erotic dance, her ponytail bobbing, before falling into the arms of Dale Robertsonin the title role. (The number was clipped by the censors in the US.)
Her final film, Fritz Lang's film noir While the City Sleeps (1956), was one of her best. In this searing exposé of the media, Forrest plays the fiancee of a newspaperman (Dana Andrews), who happily acts as "bait" for a serial sex killer.
After a few guest-starring roles on tele-vision, such as Rawhide, Forrest retired until, in 1984, then in her 60s, she was seen tapping away in a production of the musical No, No Nanette in her hometown of San Diego.
Her husband died in 2004.
• Sally Forrest (Katherine Feeney), actor and dancer, born 28 May 1928; died 15 March 2015
The above "Guardian" obituary can also be accessed online here.