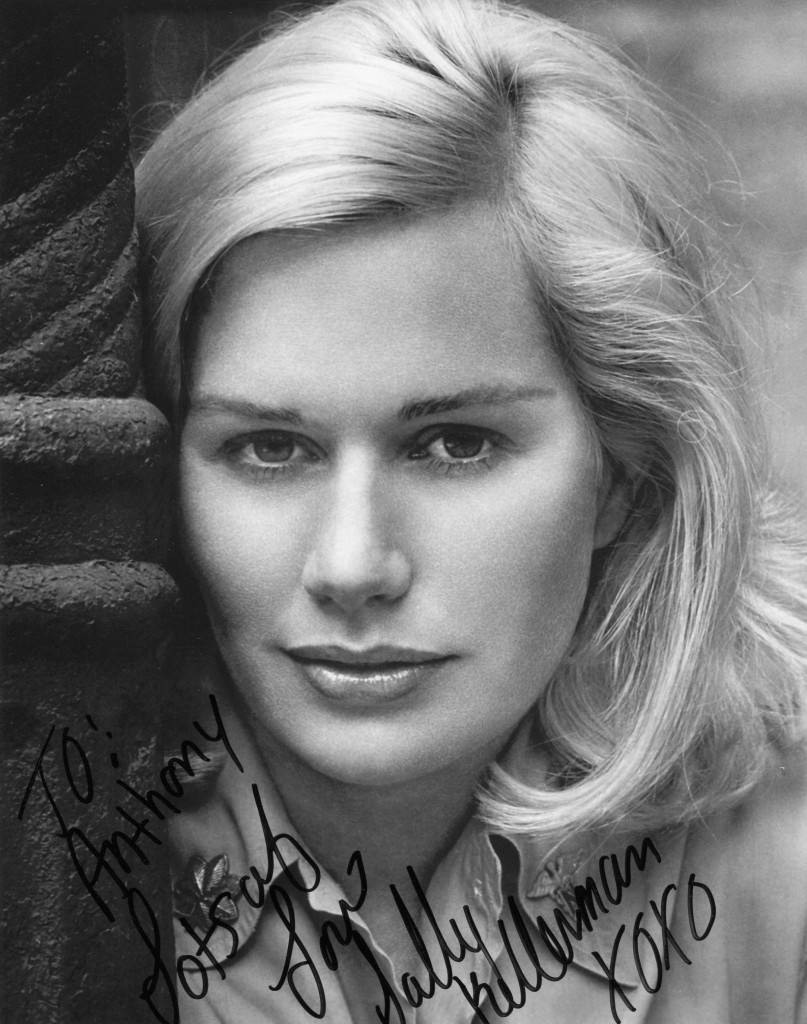 Sally Kellerman was born in 1937 in Long Beach, California.   Studied at the Actor's Studio in New York and worked extensively on television during the 1960's.   Her breakthrough role came with the film "Mash" as 'Hot Lips Houlihan' in 1970.   Her other films included "Lost Horizon" in 1973, "Brewster McCloud", "S.O.B." and "Pret-A-Porter_ in 1994.
Gary Brumburgh's entry:
Sally Kellerman arrived quite young on the late 1950s film and TV scene with a fresh and distinctively weird, misfit presence. It is this same uniqueness that continues to makes her such an attractively offbeat performer today. The willowy, swan-necked, flaxen-haired actress shot to film comedy fame after toiling nearly a decade and a half in the business, and is still most brazenly remembered for her career-maker — the irreverent hit MASH(1970), for which she received supporting Oscar and Golden Globe nominations. From there she went on to enjoy a number of other hallmark moments as both an actress and a vocalist.
California native Sally Clare Kellerman was born on June 2, 1937, in Long Beach to John Helm Kellerman and Edith Baine (née Vaughn) Kellerman. Raised along with her sister in the San Fernando Valley area, Sally was attracted to the performing arts after seeingMarlon Brando star in the film Viva Zapata! (1952). Attending the renowned Hollywood High School as a teenager, she sang in musical productions while there, including a version of "Meet Me in St. Louis". Following graduation, she enrolled at Los Angeles City College but left after a year when enticed by acting guru Jeff Corey's classes.
Initially inhibited by her height (5'10"), noticeably gawky and slinky frame and wide slash of a mouth, Sally proved difficult to cast at first but finally found herself up for the lead role in Otto Preminger's "A"-level film Saint Joan (1957). She lost out in the end, however, when Preminger finally decided to give the role of Joan of Arc to fellow newcomer Jean Seberg. Hardly compensation, 20-year-old Sally made her film debut that same year as a girls' reformatory inmate who threatens the titular leading lady in the cult "C" juvenile delinquent drama Reform School Girl (1957) starring "good girl" Gloria Castillo and "bad guy" Edd Byrnes of "777 Sunset Strip" teen idol fame, an actor she met and was dating after attending Corey's workshops. Directed by infamous lowbudget horror film Samuel Z. Arkoff, her secondary part in the film did little in the way of advancing her career. At the same time Sally pursued a singing career, earning a recording contract with Verve Records.
The 1960s was an uneventful but growing period for Kellerman, finding spurts of quirky TV roles in both comedies ("Bachelor Father," "My Three Sons," "Dobie Gillis" and "Ozzie and Harriet") and dramas ("Lock Up," "Surfside 6," "Cheyenne," "The Outer Limits," "The Rogues," "Slattery's People" and the second pilot of "Star Trek"). Sally's sophomore film was just as campy as the first but her part was even smaller. As an ill-fated victim of theHands of a Stranger (1962), the oft-told horror story of a concert pianist whose transplanted hands become deadly, the film came and went without much fanfare. Studying later at Los Angeles' Actors' Studio (West), Sally's roles increased toward the end of the 1960s with featured parts in more quality filming, including The Third Day(1965), The Boston Strangler (1968) (as a target for killer Tony Curtis) and The April Fools (1969).
Sally's monumental break came, of course, via director Robert Altman when he hired her for, and she created a dusky-voiced sensation out of, the aggressively irritating character Major Margaret ("Kiss My 'Hot Lips'") Houlihan. Her highlighting naked-shower scene in the groundbreaking cinematic comedy MASH (1970) had audiences ultimately laughing and gasping at the same time. Both she and the film were a spectacular success with Sally the sole actor to earn an Oscar nomination for her marvelous work here. She shouldn't have lost but did to the overly spunky veteran Helen Hayes in Airport (1970).
Becoming extremely good friends with Altman during the movie shoot, Sally went on to film a couple more of the famed director's more winning and prestigious films of the 1970s, beginning with her wildly crazed "angelic" role in Brewster McCloud (1970), and finishing up brilliantly as a man-hungry real estate agent in his Welcome to L.A. (1976), directed by Alan Rudolph. Sally later regretted not taking the Karen Black singing showcase role in one of Altman's best-embraced films, Nashville (1975), when originally offered.
Putting out her first album, "Roll With the Feelin'" for Decca Records around this time (1972), Sally continued to be a quirky comedy treasure in both co-star and top supporting roles of the 1970s. She was well cast neurotically opposite Alan Arkin in the Neil Simoncomedy Last of the Red Hot Lovers (1972) and again alongside ex-con James Caan as a sexy but loony delight in Slither (1973), a precursor to the Coen Bros.' darkly comic films. She also co-starred and contributed a song ("Reflections") to the Burt Bacharach/Hal David soundtrack of the Utopian film Lost Horizon (1973), a musical picture that proved lifeless at the box office.
More impressive work came with the movies A Little Romance (1979) as young Diane Lane's quirky mom; Foxes (1980) as Jodie Foster's confronting mother; Serial (1980), a California comedy satire starring Martin Mull; That's Life! (1986), a social comedy withJack Lemmon and Julie Andrews; and Back to School (1986), comic Rodney Dangerfield's raucous vehicle hit.
Kellerman's films from the 1980s on have been pretty much a mixed bag. While some, such as the low-grade Moving Violations (1985), Meatballs III: Summer Job (1986),Doppelganger (1993) Live Virgin (1999) and Women of the Night (2001) have been completely unworthy of her talents, her presence in others have been, at the very least, catchy such as her Natasha Fatale opposite Dave Thomas' Boris Badenov in Boris and Natasha (1992); director Percy Adlon's inventive Younger and Younger (1993), which reunited her with MASH co-star Donald Sutherland, and in Robert Altman's rather disjointed, ill-received all-star effort Prêt-à-Porter (1994) in which she plays a fashion magazine editor.
When her quality film output faltered in later years, Sally lent a fine focus back to her singing career and made a musical dent as a deep-voiced blues and jazz artist. She started hitting the Los Angeles and New York club circuits with solo acts. In 2009, Kellerman released her first album since "Roll With The Feelin'" simply titled "Sally," a jazz and blues-fused album. Along those same lines, Sally played a nightclub singer in the comedy Limit Up (1989) and later co-starred in the movie Night Club (2011) where friends and residents start a club in a retirement home. Sally's seductively throaty voice has also put her in good standing as a voice-over artist of commercials, feature films and TV.
Divorced in the 1970s from TV writer/director Rick Edelstein, Sally later married Jonathan D. Krane. She has three adopted children.
– IMDb Mini Biography By: Gary Brumburgh / gr-home@pacbell.net
TCM Overview:
A tall willowy blonde leading lady and character actress, Sally Kellerman possesses an assertive, forthright presence that can convey both easy earnestness and prominent paranoia. Although she made her film debut at age 20 in a bit role in "Reform School Girl" (1957), she first conquered TV in the mid-1960s with striking performances on shows including "The Outer Limits" and "Star Trek". She came to prominence in film in the 1970s, notably as Major 'Hot Lips' Houlihan in Robert Altman's "M*A*S*H" (1970), for which she received an Oscar nomination as Best Supporting Actress. Not standard leading lady material, Kellerman has not always been easy to cast, and many of her films have been minor items. But she kept busy with off-beat roles in "The Last of the Red Hot Lovers" (1972), "Welcome to L.A." (1976), "A Little Romance" (1979), "Back to School" (1986) and "Happily Ever After" (1990). Her richly modulated, seductively velvety voice has also been put to good use in much voice-over work as well and she has enjoyed a secondary career as a nightclub performer as well.