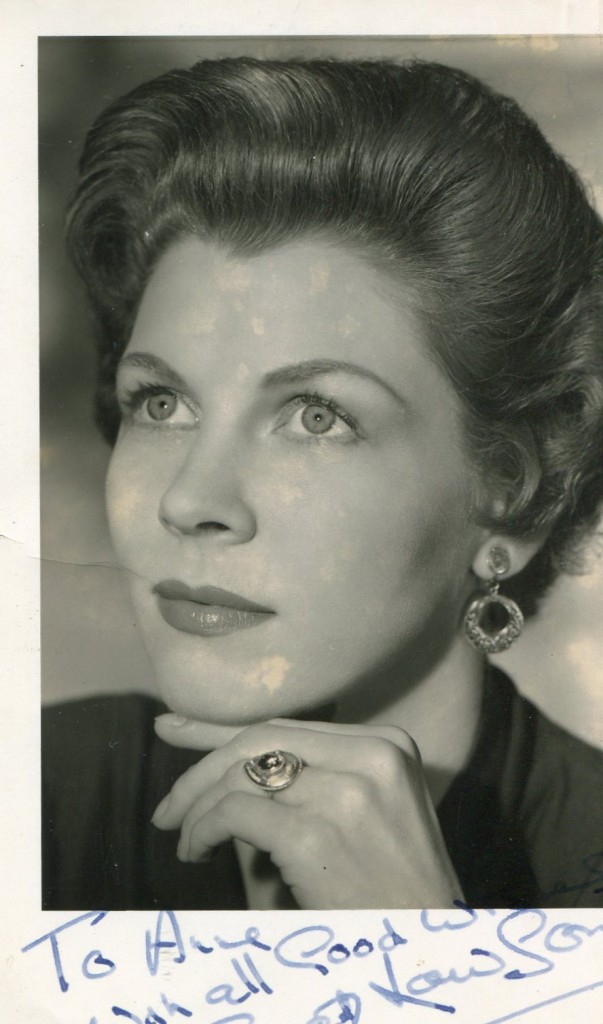 Sarah Lawson was born in 1928 in London. She trained at the Webber Douglas Academy of Dramatic Art. Her films include "The Browning Version" in 1951, "The World Ten Times Over" and "The Devil Rides Out" in 1968. She replaced Googie Withers as the star of "Within These Walls". She was married to Patrick Allen until his death.
Wikipedia entry:
Lawson is the youngest of three children born to Edith (née Monteith) and Noel John Charles Lawson (1887–1964), a naval officer who is of Irish Heritage.
Lawson trained at Webber Douglas Academy of Dramatic Art then worked in Perth, Ipswich, Felixstowe and London's West End. Films have included The Browning Version (1951), The Devil Rides Out, and The World Ten Times Over. Radio work included The Hostage, Inspector West, and Kind Sir.
Television work included, Time and the Conways, An Ideal Husband, Rupert of Hentzau, Corridors of Power, The White Guard, The Odd Man, The Trollenberg Terror and Zero One.
She made guest appearances on such series as The Avengers, The Saint, Gideon's Way and The Professionals and Danger Man. Her most significant TV work was in the Granada TV series "The Odd Man" starring Edwin Richfield and written by Scottish TV writer, Edward Boyd. "The Odd man" subsequently gave rise to "Inspector Rose" starring William Mervynas the eponymous Inspector. She also appeared as Russian spy Flo Mayhew in two episodes of the series Callan, starring Edward Woodward.
Among her most memorable film appearances was as Marie Eaton in Hammer's The Devil Rides Out (1968), in which her husband provided the dubbing for Australian actor Leon Greene. She and Allen also starred together in the science fiction thriller Night of the Big Heat (1966).
The above Wikipedia entry can also be accessed online here.