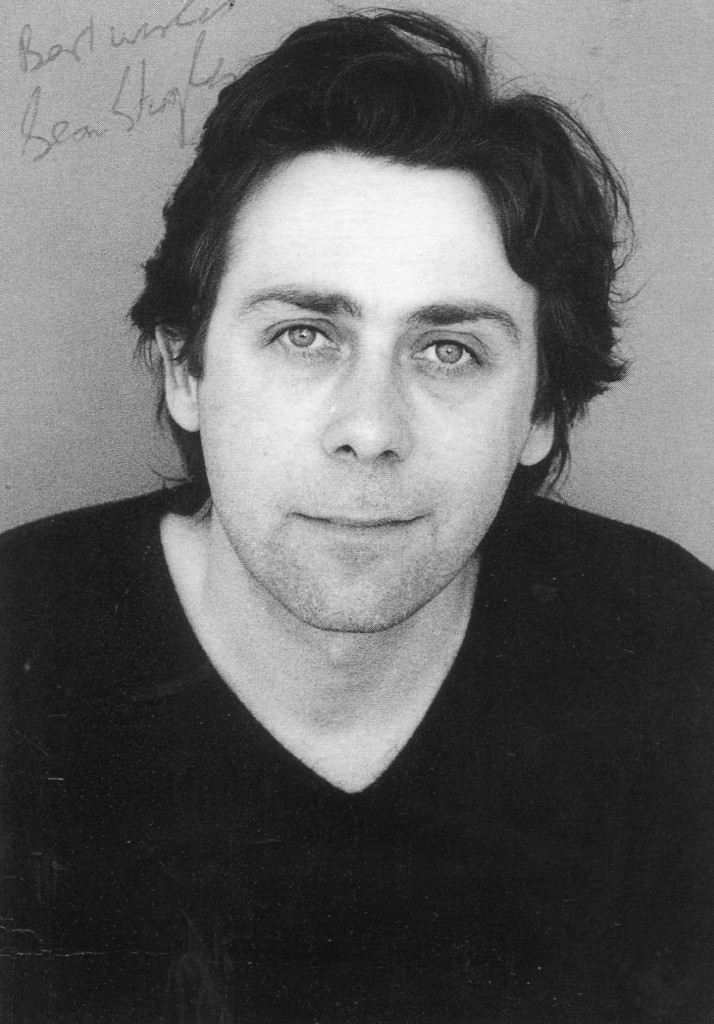 Sean HughesSean Hughes was born in London in 1965.   He was brought up in Dublin.   He won the Perrier Comedy Award as a rising young comedian.   He was seen in Alan Parker's 1991 film about Dublin bands "The Commitments".   His other films include "The Butcher Boy", "Fast Food" and "Puckoon".   On television he has starred in "The Last Detective" and also did a stint in "Coronation Street" in 2007.
"Guardian" interview from 2012:
"It horrifies me to say this," says Sean Hughes, "but my dad came to see a show I did years ago and fell asleep due to drunkenness." The relationship between father and son wasn't cosy – "We used to high-five each other in the middle ground of self-hatred," he says. But nearly two years after Sean senior died of leukaemia, aged 72, the comedian is tackling his father's illness and death head-on, through his new stage show, Life Becomes Noises.
"Just don't use the C-word," he says, hunched over a coffee in a cafe, his face fuller in middle age.
The C-word? "Cathartic," he says.
Hughes, who was the youngest winner of the Perrier award for comedy in 1990, rates this show as his best work. "I feel I'm doing something good."
He says he has his father to thank for this new vitality. "I've said before that my father never gave me any support, but there was a weird rough justice in him dying. He gave me the inspiration to write this show, against his will, and it made me grow up. It pushed me towards the next phase of my life. If there is a 'presence', I just hope he knows he's been extremely helpful, because I think he'd have been proud of what I've done. I find that a solace."
Hughes's father was a driving instructor – at a time when drink-driving wasn't illegal, he points out. He was also keen on the horses and Hughes makes his stage entrance dressed as a jockey. Surely his father wasn't hoping he'd take up racing as a career? "He would have been delighted. He didn't want much in life."
This was the result, he assumes, of his father's own thwarted ambitions – disappointments later masked by drink. That generation didn't analyse their lives in the way Hughes's own north London neighbours might these days. "It wasn't a thing you did, especially in a working-class environment, so he muddled along."
The show, which combines laugh-out-loud humour, world-weary indignation and poignant anecdotes is set between his father's hospital bed and the family hearth in Dublin. Hughes zig-zags through his feelings about healthcare for the terminally ill, his family dynamics and whether we take death too seriously.
He started thinking about writing it on the way home from his father's funeral. No sentimentality was his first rule. He showed the script to his two brothers, aware that his version of events wasn't necessarily theirs. "I was a bit sheepish … my younger brother, Martin, found it very hard to read but was aware that I'd taken poetic licence. My older brother, Alan, was a bit taken aback – positively so. I'm so glad they didn't go, 'You can't say that.'"
He didn't consult his mother. "She wouldn't understand and I don't want to hurt her. What I do is an alien world to her and she'd be wondering why I'm saying those things about our family to other people. Of course, I'm terribly disappointed – I'd love my mum to be the biggest champion of [my work], but I accepted years ago that it wasn't going to happen.
"I harboured a lot of resentment in my youth. I had no support when I was going into a creative career. I had a part-time job in a supermarket and my mum and dad would have been delighted if they'd given me a full-time job. That was their ambition for me. That hurts. They weren't being hurtful but it made me quite hard towards them, which was probably unfair.
"One reason I haven't got children is that I'm too selfish, but I think each generation looks to their parents' faults to make them better people."
Hughes was born in London but the family moved back to Dublin when he was six, where he was sent to a new school at the height of the Troubles sporting the provocative combination of a bow-tie and a Cockney accent. "Dad's best joke … I looked and sounded like Tommy Steele."
Hughes left for England at the earliest opportunity, after which, he says, "we weren't very good on the phone".
He has tried to avoid being mawkish in writing about his father. "A few comics have talked about their fathers dying and they've been tributes. It doesn't ring true to me. I wanted it to be more deep, and real. Things weren't great, but let's celebrate that. There are positives to be taken out of traumas."
Our attitude to death is too serious, he says. "It should be more like seeing someone off on a great adventure. But there are too many set rules. The priest saying the words doesn't really know the person. They should be beautiful occasions and they are not."
He wonders why the doctors couldn't have made it clear that his dad wouldn't get better. "He was too old and weak to survive, but they don't tell you that. I guess it's the whole Catholic thing of miracles, that you could get better, which is bullshit. And when you look at the shitty bed they die on … It sounds flippant when I say cancer wards should be jolly. But they should be like children's wards. There should be colours, not dark shapes."
Sometimes major events are life-changing for a while, then you revert to type, says Hughes, who was caught up in the 2004 tsunami, in Sri Lanka. "I'm lucky to be alive – but it changes you for two days, then you're back watching Neighbours at lunchtime.
"My philosophy is that you can't force change. I matured very late in life. The idea of not drinking five years ago would have been alien to me. I was blocking things out with drink. You realise that when you're dealing with a death you can't block it out. But you have to come to all these places on your own. Once you realise that, you become a more rounded person."
Being thrust into grief has lowered his expectations of life without admitting defeat, which he says is a good thing. It has made him more generous – up to a point. "As you get older, you want more quality time and that means putting yourself out. I try not to be so judgmental, to show people more love. I can't give you a list. It's a general state. Having said that, I'm probably still too controlling … and I don't suffer fools. I got that from my father. That will never change."
Marriage and children are not on his agenda: "I like to be on my own. I can deal with that."
Hughes is able to distance himself from the personal content of the show – which received warm reviews on its Edinburgh Fringe debut run – and see it as an acting job. "It's not necessarily about my father any more. It's about how it affects the audience. If you're telling the truth, you're pretty much telling everyone's truth.
"The reaction I wanted was the same reaction that I had after I saw Death of a Salesman. I wanted people to go out and cherish their relationships."
Over the year before his father's death, Hughes and his father reached an accommodation. "If I look at it coldly, if someone's not going to get better, I'd rather they died quickly. But that time allowed us not to fix our relationship but to amend it. They were quite cherished times. It was kind of beautiful when I used to do insignificant things with him – go to the shops, get some bread, you know …"
He checks himself. "I'm not going to romanticise it. It wasn't like running through a field of daisies."
To illustrate his point, he recalls a trip to Kilmainham Gaol museum in Dublin, where leaders of the 1916 Easter Rising were executed by the British. "My parents lived in a self-imposed Catholic prison so what I tried to do near the end was take them out. I love history and Kilmainham is amazing. I was delighted that my dad was having a good time and asked if he was enjoying himself. He went: 'Yeah, but your brother Alan would have enjoyed it more because he likes history.""
It may be a cliche but Hughes – now 46, and a non-smoking, vegetarian teetotaller – admits that the process of losing his father has changed him. He would get drunk to sit at his bedside and tell him how he felt, or to warn his father that news about his recovery prospects would one day be negative.
Gradually, it dawned on him that it was kinder to be less brutally honest. Towards the end, when his father asked, "Nothing's going to happen to me, is it?", he was able to say no, to make his father feel safe.
"He wasn't a brilliant man but he did make me feel safe and I should have respected him more for that. That was my way of thanking him, telling him 'I love you' because I didn't say it enough."
The above "Guardian" obituary can be accessed online here.