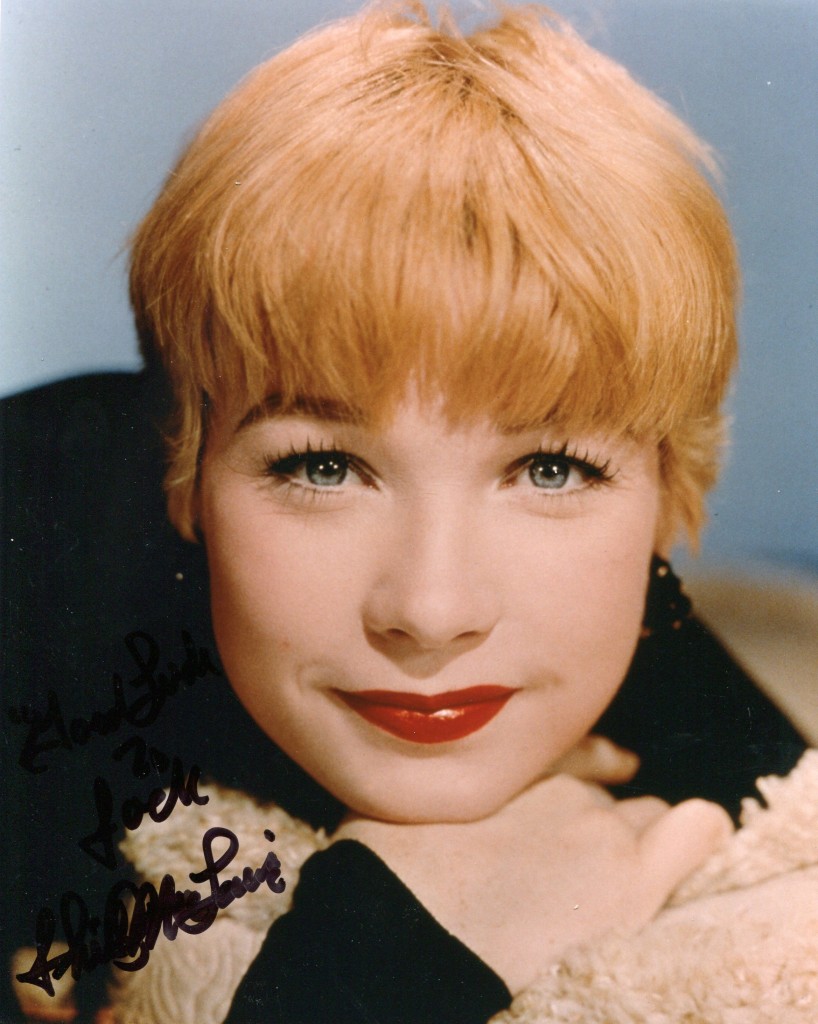 Shirley MacLaine has had a long and varied career. She was born in Virginia in 1934. She made her film debut for Alfred Hitchcock in 1955 in The Trouble With Harry". Among her films are "Around the World in 80 Days", "Ask Any Girl", "Some Came Running", "The Apartment", "Irma La Douce", "Sweet Charity"£, "Can Can", "Terms of Endearment" and "Steel Magnolias".
TCM Overview|:
Broadway hoofer, dramatic talent, spiritual eccentric, activist, Oscar winner… Over the course of a varied and distinguished career, actress Shirley MacLaine earned these titles many times over. A former ballerina hopeful-turned-chorus girl, she rose to fame in the early 1950s after Hollywood producers noticed her in Broadway's "Pajama Game." She made the transition to features in a series of roles that emphasized her quirkiness and heartbreaking vulnerability, most notably in "Some Came Running" (1960), "The Apartment" (1960) and "Irma La Douce" (1963). The redheaded pixie dropped out of features in the late 1960s – watching her brother Warren Beatty rise to fame at that time -but reemerged in the late 1970s with several acclaimed performances in such films as "The Turning Point" (1977), "Being There" (1979) and "Terms of Endearment" (1983), the latter of which brought her a long-overdue Oscar for Best Actress. She remained a vital presence in efforts like "Steel Magnolias" (1989), "Postcards from the Edge" (1990) and "Guarding Tess" (1994), while extolling alternative beliefs in reincarnation and extraterrestrials that occasionally earned derision from pundits. Well into her seventies, the actress continued to command attention in acclaimed projects, ranging from the biopic "Coco Chanel" (Lifetime, 2008) to the black comedy "Bernie" (2012). Not that the validation was necessary, but an AFI Life Achievement Award merely punctuated the fact that MacLaine remained among the most gifted of Hollywood and stage performers for over 40 years – a distinction that she continued to earn well into the new millennium.
Born Shirley MacLaine Beaty on April 24, 1934, she was the daughter of teachers Ira Owen Beaty and Kathrine Corrine MacLean, who also raised a son, Warren, later a major Hollywood talent in his own right. MacLaine was born in Richmond, VA, but the family moved to several locations in the state throughout her childhood before settling in Waverly. MacLaine's most fervent desire was to become a dancer, which she had begun to train for at the age of two; by four, she had made her public debut and would appear on the professional stage just eight years later. So great was her desire to dance that while warming up before a performance of "Cinderella," she snapped her ankle. Not wishing to bow out, she bound her feet and went through with the production, after which she was dispatched in an ambulance. Eventually, the rigors of ballet proved too great for MacLaine to pursue in earnest, so she shifted her attention to acting. Just one summer shy of high school graduation, she lit out for New York in 1950 to audition for musicals and landed a part in the chorus for a revival of "Oklahoma!" She went back to Virginia to earn her diploma, after which she returned to the Great White Way to seek her fortune. Billed as Shirley MacLaine, she worked as a model while auditioning for musicals, eventually serving as Carol Haney's understudy in the Broadway production of "The Pajama Game."
In 1952, MacLaine had her big break in an amusingly showbiz way; Haney, who had garnered a reputation for never missing a performance, broke her ankle before curtain call. MacLaine was called in to replace her. The debut was a rough one, but MacLaine held her own. Three months later, Haney was again forced to miss a show, and MacLaine – now more familiar with the intricacies of the part – stepped in again. This time, director-producer Hal B. Wallis was in the audience and was charmed by her boundless energy. The veteran showman signed her to a five-year contract at Warner Bros., which commenced with "The Trouble with Harry" (1955) for no less than legendary director, Alfred Hitchcock. Though not one of the great filmmaker's biggest hits, the black comedy helped to establish MacLaine's screen persona: bubbly, irreverent and unquestionably alluring. She later belied that perception by showing a feistier side while engaging in and winning a highly publicized contract dispute with Wallis. She soon balanced light features like "Artists and Models" (1955) and "Around the World in Eighty Days" (1956) with more dramatic fare, which proved her to be among the more versatile actresses of the period. Most notable among the latter was "Some Came Running" (1960), in which she captivated as a small-town girl who overcomes her bad reputation in an attempt to find true love with Frank Sinatra's cynical war vet. Critics and audiences responded favorably to the turn, which netted MacLaine Academy Award and Golden Globe nominations. Her participation in the film, which co-starred Dean Martin, made her an unofficial member – some said, sole female mascot – of Sinatra's Rat Pack, an allegiance that was solidified with her uncredited cameo as a tipsy woman in the group's iconic heist film, "Ocean's Eleven" (1960).
MacLaine hit her stride in movies during the early 1960s, where she divided her time equally between straight drama, light comedies, and her roots in musical theater. She received perhaps her best early showcase as the vulnerable young elevator operator who beguiles Jack Lemmon's salary man in Billy Wilder's "The Apartment" (1960). Her performance, alternately winning and heartbreaking, earned her a second Oscar nod and wins from BAFTA and the Golden Globes. She played variations on that role in "Two for the Seesaw" (1962) with Robert Mitchum, "The Yellow Rolls-Royce" (1964) as a moll for gangster George C. Scott, and "What a Way to Go" (1964), as the seemingly "cursed" widow of Dean Martin, Dick Van Dyke, Paul Newman and Robert Mitchum, among others. She also reunited with Wilder to once again entice Jack Lemmon as the French prostitute "Irma La Douce" (1963), which brought her a third Academy Award nomination and second Golden Globe. However, by the mid-1960s, MacLaine's career seemed to be in a rut. Musicals had faded as a money-making genre for studios, and executives seemed to have little idea of how to cast MacLaine as anything but the offbeat romantic lead in such largely unremarkable efforts as "Gambit" (1966) and "Woman Times Seven" (1967), in which director Vittorio De Sica had her tackle seven different roles. She continued to land Golden Globe nominations for her work, but the projects were simply not up to the standards of her past projects. She managed to land one final musical with 1969's "Sweet Charity" for director Bob Fosse. The project turned out to be a miserable failure, though it did leave MacLaine with a signature song, "If They Could See Me Now," which would later become a highlight of her singing engagements and TV specials.
MacLaine was largely off the screen for much of the late 1960s and early 1970s, preferring instead to work in other capacities. She was frequently on television during the decade, both as the star of her own short-lived sitcom "Shirley's World" (ABC, 1971-72) and as the star of several well-received TV specials that highlighted her song and dance talents, beginning with 1974's Emmy-winning "Shirley MacLaine: If They Could See Me Now" for CBS. MacLaine also defied her "kooky" screen persona by becoming deeply involved in politics; first as a delegate from California for Robert F. Kennedy and later, as a campaigner for George McGovern in 1972. The following year, MacLaine toured mainland China and recounted her experiences in a book, You Can Get There from Here, as well as in a documentary, "The Other Half of the Sky: A China Memoir" (1975), which earned her an Oscar nomination (shared with Claudia Weill) for Best Documentary. MacLaine also penned the first of several candid memoirs, Don't Fall Off the Mountain in 1973, and mounted an impressive return to Broadway with a one-woman show, "Gypsy in My Soul" in 1976.
Her feature film career began to rebuild itself in the mid-1970s with an Oscar-nominated turn as a former ballerina who locks horns with a longtime competitor (Anne Bancroft) in "The Turning Point" (1977). She matched this success with a sexually charged turn as the long-neglected wife of a powerful businessman who attempts to find relief from Peter Sellers' kindly gardener in Hal Ashby's "Being There" (1979). Both films helped to put an older but no less spunky MacLaine back on the Hollywood map. But her greatest screen triumph would come four years later with James Brooks' "Terms of Endearment" (1983). MacLaine unleashed the full brunt of her dramatic talents as the high-maintenance Aurora Greenway, who puts aside her differences with daughter Emma (Debra Winger) to care for her while she endures a terminal illness. The performance was hard-fought; MacLaine quit the production midway through, only to return for its completion, and reports from the set detailed numerous squabbles between the veteran actress and up-and-comer Winger, but it ultimately yielded her an Oscar which she famously won over her onscreen daughter.
Some of the goodwill and buzz generated by the Academy Award win was deflated by the release of MacLaine's memoir Out on a Limb (1983). The bestseller detailed her ongoing fascination with spirituality, including out-of-body experiences and multiple reincarnations. The decidedly unusual subject matter helped to brand MacLaine as a bit of an eccentric, a label she handled with remarkable good humor, as noted by her appearance as an afterlife version of herself in Albert Brooks' comedy "Defending Your Life" (1991). MacLaine was off the big screen for about four years after the release of Out on a Limb, during which she appeared as herself in an Emmy-nominated TV adaptation of the book for ABC in 1987. She also penned three similarly-themed follow-ups, Dancing in the Light (1986), It's All in the Playing (1987) and Going Within (1989); even releasing her own spiritual workout video, "Shirley MacLaine's Inner Workout" in 1989. She also played to adoring crowds in her second one-woman show on Broadway, "Shirley MacLaine on Broadway," in 1984.
MacLaine returned to movies with a vengeance in the late 1980s, starting with her Golden Globe win as an eccentric piano teacher in John Schlesinger's "Madame Sousatzska" (1988). She essayed numerous formidable matrons during this period, most notably Ouiser Boudreaux in the all-star adaptation of "Steel Magnolias" (1989), and a thinly veiled version of Debbie Reynolds in Mike Nichols' adaptation of Carrie Fisher's "Postcards from the Edge" (1990), both of which earned BAFTA nominations. Less acclaimed, but no less well played, were Golden Globe-nominated turns as a Jewish mother in "Used People" (1992) and as a flinty First Lady in "Guarding Tess" (1994). MacLaine also returned to Aurora Greenway for "The Evening Star" (1997), the long-awaited sequel to "Terms of Endearment," but the results paled by comparison to its predecessor, largely due to the absence of Debra Winger and their unique onscreen rapport. In 1998, her considerable body of work in film, television and stage was honored by the Academy with the Cecil B. DeMille Award. MacLaine's busy schedule in the late 1990s and early 2000s included several returns to made-for-TV efforts; among the most high-profile of these was the Carrie Fisher-penned "These Old Broads" (ABC, 2001), which pitted her against the equally iconic lineup of Elizabeth Taylor, Debbie Reynolds and Joan Collins. MacLaine also tackled makeup maven Mary Kay Ash in "The Battle of Mary Kay" (CBS, 2002) and lent her star power to a supporting role in Joseph Sargeant's "Salem Witch Trials" (CBS, 2003). She also made her solo directorial debut with "Bruno" (2000), an unusual indie drama about a young boy with a taste for cross-dressing.
As she approached her seventh decade, MacLaine's rarefied talents remained in demand for features, and she was showcased in a trio of high-profile supporting performances in 2005. She offered a deliciously arch Endora to rival even Agnes Moorhead's original in Nora Ephron's big-screen version of "Bewitched," then dropped the glam to play the sympathetic grandmother to rival sisters Cameron Diaz and Toni Collette in Curtis Hanson's "In Her Shoes." Her comic skills were also given a workout as Jennifer Aniston's grandmother, who may have been the inspiration for Mrs. Robinson in "The Graduate" (1967), in Rob Reiner's "Rumor Has It." MacLaine received strong notices for each picture, earning her umpteenth Golden Globe nomination for "In Her Sh s." She then starred in "Coco Chanel" (Lifetime, 2008), delivering an icy turn as the notorious French fashion maven, which earned her yet another Golden Globe nomination; this time in the Best Actress in a miniseries or movie category. She also earned an Emmy Award nomination for the role in 2009. In her personal life, she continued to explore her spiritual interests in a flurry of books throughout the new millennium, including Out on a Leash: Exploring the Nature of Reality and Love (2003) and Sage-ing While Age-ing(2007).
Showing absolutely no signs of slowing down, MacLaine co-starred with Barbara Hershey in "Anne of Green Gables: A New Beginning" (CTV, 2008), the fourth entry in the film series based on the characters of Lucy Maud Montgomery, in which an adult Anne (Hershey) recalls her childhood in the days before she arrived at the iconic Prince Edward Island farm. Two years later, she returned to theater screens as part of the ensemble cast of director Garry Marshall's romantic comedy "Valentine's Day" (2010) as a wife struggling with a secret she had kept from her husband (Héctor Elizondo) for many years. After another two-year respite, she co-starred with Jack Black in Richard Linklater's based-on-fact dark comedy "Bernie" (2012), in which she played a lonely, bitter widow whose intense relationship with a younger, well-liked local mortician (Black) takes a deadly turn. In June of that year, MacLaine was honored with the 40th American Film Institute's Life Achievement Award in a ceremony that was later broadcast on the TV Land cable network. Rather than rest on her laurels, MacLaine further demonstrated her artistic vitality when she joined the cast of the critically-acclaimed British period drama "Downton Abbey" (PBS, 2010- ) as Martha Levinson, the widowed American mother of Lady Grantham (Elizabeth McGovern).
The above TCM overview can also be accessed online
here.