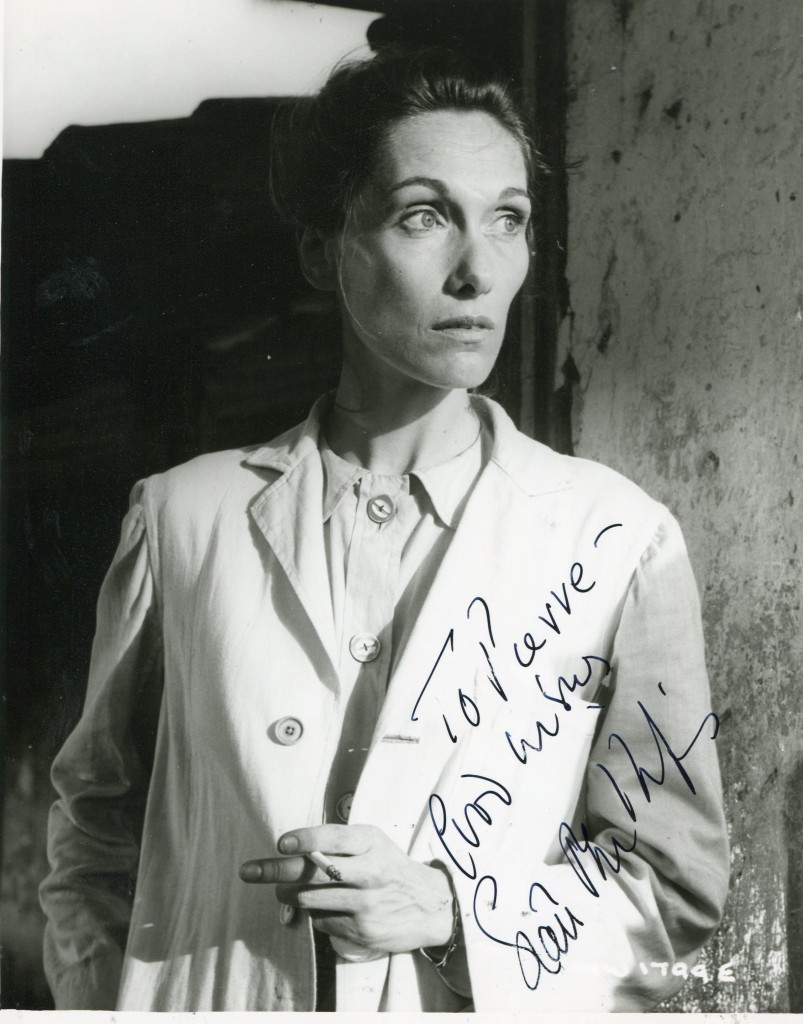 Sian Philips was born in Port Talbot, Wales in 1933. She studied at the University of Wales and then to London for RADA. She appeared with her then husband Peter O'Toole in "Becket" in 1964. Her other films include "Young Cassidy", "Goodbye .Mr Chips", "Clash of the Titans" and "Dune". She starred with Stanley Baker in the televised production of "How Green Was My Valley" in 1975 .
Gary Brumburgh's entry:
Born on May 14, 1933 in Bettws, Wales, veteran stage actress Sian Phillips is forever identified on television as the tarantula mother/empress Livia in the classic BBC series I, Claudius (1976), and as the Reverend Mother in the science fiction epic film Dune (1984). Her broad range of roles went from endearing to downright deadly. Sian was brought up bilingual in both English and Welsh and performed on the Welsh radio station at age 11. She toured extensively for the Arts Council in Wales, in original Welsh plays and in translations from the English classics, before becoming an award-winning television actress in her late teens. She attended the University of Wales and trained at the Royal Academy of Dramatic Art, making her London debut as Hedda Gabler in 1957. She met and married actor Peter O'Toole two years later and appeared frequently with him on stage, including "Ride a Cock Horse" (1965) and "Man and Superman" (1965), and in the movies Becket (1964), Goodbye, Mr. Chips (1969), Murphy's War (1971) and Under Milk Wood (1972).
While her resonant voice served her well as an announcer, newsreader and narrator at different stages of her career, her severe chiseled looks and arch, regal bearing has entitled her to perform some of the more notable classics, with critically-acclaimed turns in "Saint Joan", "The Taming of the Shrew" and "The Duchess of Malfi", being just a few. Her occasional aristocrats have also graced such well-mounted films as Young Cassidy(1965), Nijinsky (1980) and The Age of Innocence (1993). After 20 years of marriage, Sian divorced O'Toole, known for his hard-living ways. Since then, she has continued to delve into her stage work. In the 1980s, Sian began a new phase of her career — the musical. Her participation in such productions as "Pal Joey" (her musical debut), "Gigi" and "A Little Night Music" ultimately led to her acclaimed one-woman cabaret show "Marlene", a tribute to legendary Marlene Dietrich, which opened to rave reviews in London in 1997. Two years later, she won a Tony Award nomination for this role on Broadway. She was awarded Commander of the Order of the British Empire in the 2000 Queen's Birthday Honours List for her services to drama.
– IMDb Mini Biography By: Gary Brumburgh / gr-home@pacbell.net
TCM Overview:
This slender, willowy actress with hooded eyes and chiseled cheekbones has demonstrated her versatility in roles ranging from the bon vivant of Herbert Ross' musical remake of "Goodbye, Mr. Chips" (1969) to the bloodthirsty Livia in "I, Claudius" (BBC, 1976) to impersonating screen legend Marlene Dietrich on stage in the 1990s. Sian Phillips began her career as a child performer on the radio in her native Wales. She also did a stint as an announcer and newsreader in her early 20s before concentrating on an acting career. Almost from the outset of her stage work, she was landing major roles, whether it be playing Shaw's "Saint Joan" in repertory or debuting in the West End as "Hedda Gabler". Since the late 50s, Phillips has amassed an impressive resume, generally earning strong reviews for her performances.
In 1959, Phillips wed the tempestuous Irish actor Peter O'Toole and over the course of their 20-year union, the pair frequently collaborated. They starred as illicit lovers in the BBC production "Siwan" (1960) and acted alongside one another in four films, most notably "Becket" (1964), "Goodbye, Mr. Chips" and "Under Milk Wood" (1971). While her feature career lay dormant throughout the 70s, the small screen offered this marvelous character player several excellent roles. Phillips excelled as the suffragette Emmeline Pankhurst in the acclaimed BBC drama "Shoulder to Shoulder" (1974) and won BAFTA Awards for her turns as the matriarch of a Welsh mining family in the series adaptation of "How Green Was My Valley" (BBC, 1975) and as a power-hungry Roman Empress in "I, Claudius". As the 80s dawned, Phillips teamed with Alec Guinness for adaptations of John le Carre's spy novels "Tinker, Tailor, Soldier, Spy" (PBS, 1980) and "Smiley's People" (syndicated, 1982). Simultaneously, she revived her feature career offering nice turns often in material that was subpar (i.e., "Clash of the Titans" 1981). Occasionally, juicier roles, like Madame de Volanges in Milos Forman's "Valmont" (1989) or Mrs. Archer in Martin Scorsese's "The Age of Innocence" (1993) reminded all of what this actress was capable.
In 1980, Phillips undertook her first stage musical role, that of Vera, in a London revival of "Pal Joey" and a new chapter in her career was born. In addition to appearing in classic roles like "Major Barbara" and "Ghosts", she alternated parts in musicals like "Gigi" and "A Little Night Music". Both aspects of her career dovetailed in "Marlene", her superb impersonation of the Teutonic movie legend. The first half of the show was a behind-the-scenes look at preparations for one of the legendary concerts Dietrich gave late in her life, while the second act was a recreation of said concert. When the show opened in 1997 in London, it was a resounding success. A 1999 Broadway staging met a less receptive response, but Phillips justly received a Tony Award nomination for her performance.
 The above TCM overview can also be accessed
here.