Stacy Keach. IMDB.
Stacy Keach was born in 1941 in Savannah, Georgia. His parents were both actors and drama directors. He has had an extensive theatre career as well as playing Philip Marlow on television. His films include the wonderful "The Heart Is A Lonely Hunter" in 1968, "The New Centurians", "Fat City" and "The Ninth Configuration". He played the leader of a far right wing group in "American History X".

IMDB entry:
Stacy Keach has played to grand success a constellation of the classic and contemporary stage's greatest roles, and he is considered a pre-eminent American interpreter of Shakespeare. His SRO run as "King Lear" at the Shakespeare Theatre Company in Washington, D.C. received the best reviews any national leader has earned in that town for decades. Peter Marks of the Washington yPost called Mr. Keach's Lear "magnificent". He recently accepted his third prestigious Helen Hayes Award for Leading Actor in 2010 for his stellar performance. His next stage appearance premiering January 13, 2011 at the Lincoln Center in New York is "Other Desert Cities" by Jon Robin Baitz and teaming him with Stockard Channing, Linda Lavin and Elizabeth Marvel.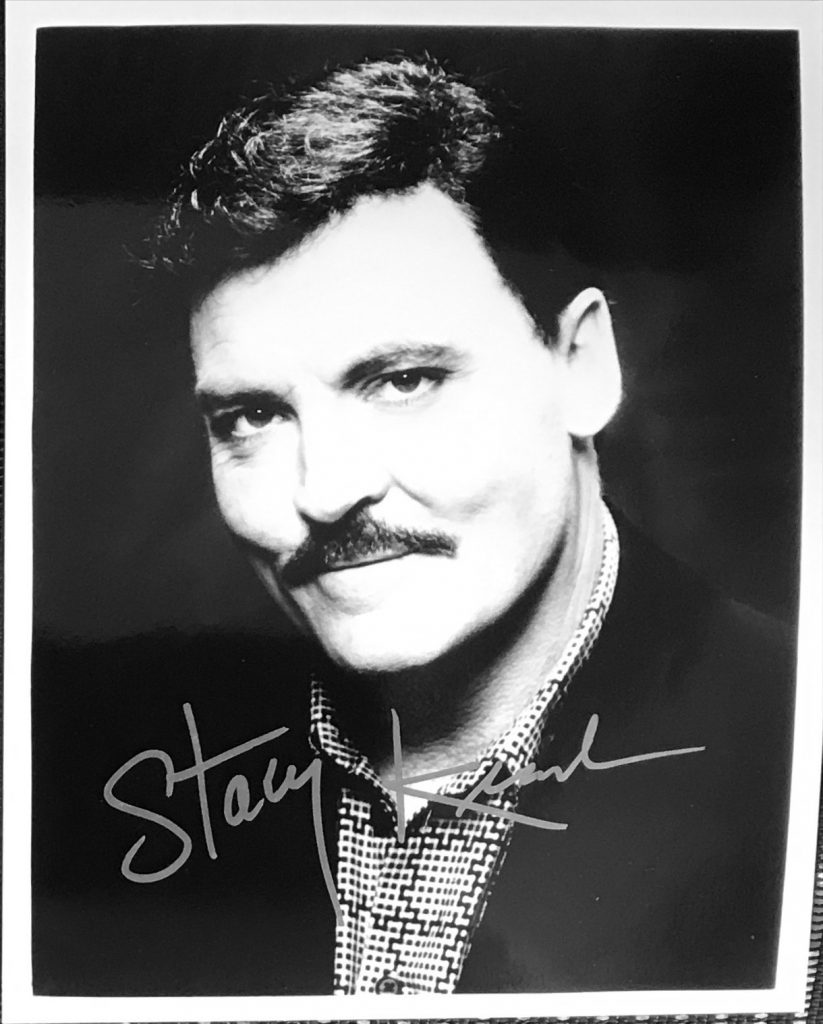 His latest television series, Lights Out (2011), on the FX network is a major new mid-season dramatic show, taking him back to the world of boxing which has been a rich setting for him before, notably in Huston's Fat City (1972) which ignited Keach's career as a film star.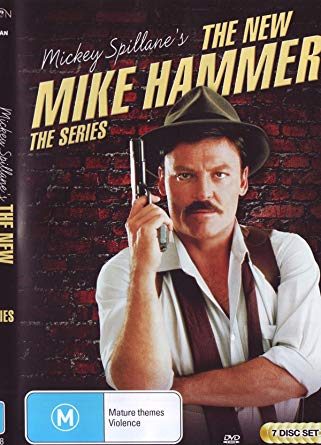 Versatility embodies the essence of Stacy Keach's career in film and television as well as on stage. The range of his roles is remarkable. His recent performance in Oliver Stone's "W" prompted fellow actor Alec Baldwin to blog an impromptu review matching Huston's amazement at Keach's power. Perhaps best known around the world for his portrayal of the hard-boiled detective, Mike Hammer, Stacy. Keach is also well-known among younger generations for his portrayal of the irascible, hilarious Dad, Ken Titus, in the Fox sitcom, Titus, and more recently as Warden Henry Pope in the hit series, Prison Break. Following his triumphant recent title role performance in King Lear for the prestigious Goodman Theatre in Chicago, Keach joined the starring cast of John Sayles' recent film, Honeydripper. In the most recent of his non-stop activities, he has completed filming Deathmatch for the Spike Channel, and The Boxer for Zeitsprung Productions in Berlin, Germany.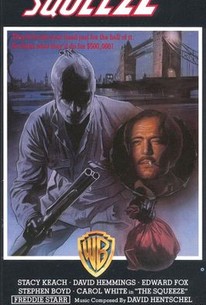 German audiences will also see him as one of the co-stars in the multi-million dollar production of Hindenburg (2011), scheduled to air in January, 2011 with worldwide release thereafter. Mr. Keach co-stars in the new FX series entitled Lights Out (2011) about a boxing family, where he plays the Dad-trainer of two boxing sons played by Holt McCallany and Pablo Schreiber. The series is also scheduled to air in January, 2011. Keach returns to the New York stage at the start of the 2011 in Jon Robin Baitz's new play, "Other Desert Cities," at the Lincoln Center.
Capping his heralded accomplishment on the live stage of putting his own stamp on some of the theatre world's most revered and challenging roles over the past year when he headed the national touring company cast of "Frost/Nixon," portraying Richard M. Nixon, bringing still another riveting characterization to the great legit stages of Los Angeles, Chicago, Boston, the nation's capitol and other major cities. He won his second Best Actor Helen Hayes Award for his outstanding performance. His second triumphant portrayal of King Lear in the past three years, this time for the Shakespeare Theatre Company in the nation's capital earned reviews heard around the world, with resulting offers for him to repeat that giant accomplishment in New York, Los Angeles and even Beijing.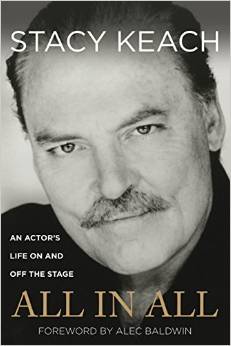 An accomplished pianist and composer, Mr. Keach composed the music for the film,Imbued (2009), directed by Rob Nilssen, a celebrated film festival favorite, in which Keach also starred. He has also completed composing the music for the Mike Hammer audio radio series, "Encore For Murder", written by Max Collins, directed by Carl Amari, and produced by Blackstone Audio.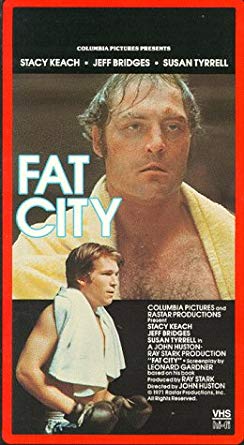 Mr. Keach began his film career in the late 1960's with _The Heart Is A Lonely Hunter_, followed by _The New Centurions_ with George C. Scott; Doc Holiday with Faye Dunawayin the film 'Doc' (1971); an over-the-hill boxer,Billy Tully in Fat City (1972); directed byJohn Huston, and The Long Riders (1980), which he co-produced and co-wrote with his brother, James Keach, directed by Walter Hill. On the lighter side, his characterization of Sgt. Stedenko in Cheech and Chong's Up in Smoke (1978), and the sequel, Nice Dreams(1981), gave a whole new generation a taste of Mr. Keach's comedic flair, which he also demonstrated in Robert Altman's Brewster McCloud (1970), playing the oldest living lecherous Wright Brother; and The Life and Times of Judge Roy Bean (1972) where he played a crazed albino out to kill Paul Newman.
Historical roles have always attracted him. In movies he has played roles ranging from Martin Luther to Frank James. On television he has been Napoleon, Wilbur Wright, J. Robert Oppenheimer, Barabbas, Sam Houston, and Ernest Hemingway, for which he won a Golden Globe as Best Actor in a mini-series and was nominated for an Emmy in the same category. He played an eccentric painter, Mistral, in the Judith Krantz classic,Mistral's Daughter (1984), a northern spy in the civil war special, The Blue and the Gray(1982), more recently as the pirate Benjamin Hornigold in the Hallmark epic Blackbeard(2006).
As a director, his production of Arthur Miller's Incident at Vichy (1973) for PBS was, according to Mr. Miller in his autobiography, Timebends, "the most expressive production of that play he had seen." He won a Cine Golden Eagle Award for his work on the dramatic documentary, The Repeater, in which he starred and also wrote and directed.
But it is perhaps the live theatre where Mr. Keach shines brightest. He began his professional career with the New York Shakespeare Festival in 1964, doubling as Marcellus and the Player King in a production of Hamlet directed by Joseph Papp and which featured Julie Harris as Ophelia. He rose to prominence in 1967 in the Off-Broadway political satire, MacBird, where the title role was a cross between Lyndon Johnson and Macbeth and for which he received the first of his three Obie awards. He played the title roles in Henry 5, Hamlet (which he played 3 times), Richard 3, Macbeth, and most recently as King Lear in Robert Falls' modern adaptation at Chicago's Goodman Theatre, which Charles Isherwood of the NY Times called "terrific" and "a blistering modern-dress production that brings alive the morally disordered universe of the play with a ferocity unmatched by any other production I've seen." Mr. Keach's stage portrayals of Peer Gynt, Falstaff and Cyrano de Bergerac, and Hamlet caused the New York Times to dub him "the finest American classical actor since John Barrymore."
Mr. Keach's Broadway credits include his Broadway debut, Indians, where he played Buffalo Bill and was nominated for a Tony award as Best Actor. He starred in Ira Levin's Deathtrap, the Pulitzer Prize winning Kentucky Cycle (for which he won his first Helen Hayes award as Best Actor), the Rupert Holmes one-man thriller, Solitary Confinement, where Mr. Keach played no less than six roles, all unbeknownst to the audience until the end of the play. In the musical theatre, he starred in the national tour of Barnum, played the King in Camelot for Pittsburgh's Civic Light Opera, and the King in The King and I, which he also toured in Japan. He starred in the Jon Robin Baitz play, Ten Unknowns, at the Mark Taper Forum in 2003. The LA Times said: "And then there's Keach. What a performance! How many actors can manage such thunder and such sweet pain. He's been away from the LA stage too long. Welcome back."
In 2004, he starred as Scrooge in Boston's Trinity Rep musical production of A Christmas Carol; earlier in 2004, he starred as Phil Ochsner in Arthur Miller's last play Finishing The Picture, directed by Robert Falls at the Goodman Theatre.
As a narrator his voice has been heard in countless documentaries; as the host for the Twilight Zone radio series; numerous books on tape, including the Short Stories of Ernest Hemingway. In the year 2000, he recorded a CD of all of Shakespeare's Sonnets. He recently recorded the voice of St. Paul for a new audio version of The New Testament:, The Word of Promise and Job for the Old Testament edition. He is the narrator on CNBC's new hit show, American Greed (2007), and recently narrated the award-winning documentary, The Pixar Story (2007). He has also reprised his role as Mike Hammer in the Blackstone audio series, the most recent being "Encore for Murder". A charter-member of LA Theatre Works, Mr. Keach recently played the title role in Bertolt Brecht's Galileo, recorded both for radio and CD. He was seen on CBS's hit show Two and a Half Men (2003) as the gay Dad of Charlie's fiance.
Stacy Keach also believes strongly in 'giving back' and has been the Honorary Chair for the Cleft Palate Foundation for the past twenty-five years. He is also the national spokesman for the World Craniofacial organization. He has served on the Artist's Committee for the Kennedy Center Honors for two decades, is on the board of directors for Genesis at the Crossroads, a Chicago-based organization dedicated to bringing peoples of combatant cultures together through the shared artistic expressions of the visual and culinary arts, music, dance, and theater. He also serves on the artistic board for Washington DC's Shakespeare Theatre National Council, where he was also honored in 2000 with their prestigious Millennium Award for his contribution to classical theatre. Some years ago Hollywood honored him with a Celebrity Outreach Award for his work with charitable organizations.
He has been the recipient of Lifetime Achievement Awards from Pacific Pioneer's Broadcasters, the San Diego Film Festival, the Pacific Palisades Film Festival, and The 2007 Oldenburg Film Festival in Germany. Later this year, he will be awarded the 2010 Lifetime Award from the St. Louis Film Festival. In 2008, he received the Mary Pickford Award for versatility in acting.
Mr. Keach was a Fulbright scholar to the London Academy of Music and Dramatic Art, attended the University of California at Berkeley and the Yale Drama School. He has always been a star of the American stage, especially in Shakespearen roles such as Hamlet, Henry 5, Coriolanus, Falstaff, Macbeth, Richard 3, and most recently, King Lear.
Of his many accomplishments, Mr. Keach claims that his greatest accomplishment is his family. He has been married to his beautiful wife Malgosia for twenty-five years, and they have two wonderful children, Shannon Keach (1988), and daughter Karolina Keach (1990).
– IMDb Mini Biography By: Guttman Associates
THe above entries IMDB can also be accessed online here.