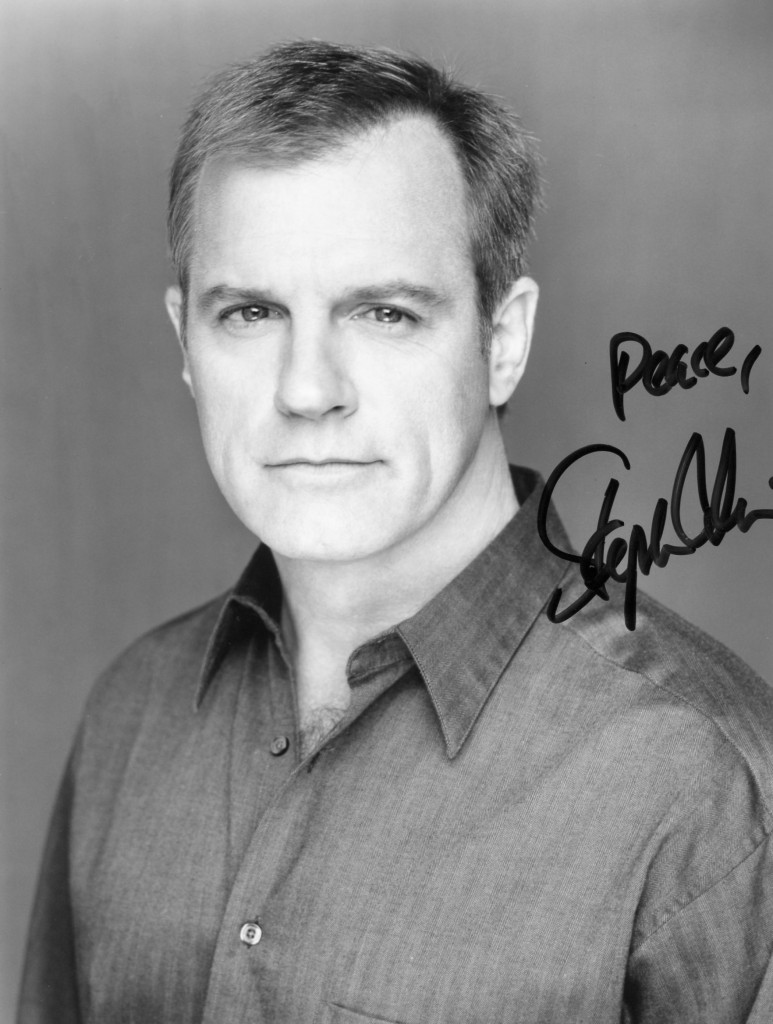 Stephen Collins was born in 1947 in Des Moines, Iowa. He is best known for his leading role in the long running series "7th Heaven". His films include "Stella" and "The First Wive's Club" in 1996. He is a frequent performer on Broadway.
TCM Overview:
Actor and occasional singer Stephen Collins essayed numerous clean-cut, well-intentioned men with an adventurous or romantic side in countless television movies and features from the mid-1970s through the 21st century. Adept at both drama and breezy comedy, he was a natural go-to for the lead in numerous regular series, but had trouble finding one that took with audiences until he starred in "7th Heaven" (The WB/The CW, 1996-2007), a family-values drama which cast him as a savvy Protestant minister and head of a large brood that deals with complex life issues. The show's popularity gave his career a solid boost, leading to more supporting roles in features like "Blood Diamond" (2006) and "Because I Said So" (2007), making Collins a versatile actor able to carry himself on screens both big and small.
Born Oct. 1, 1947 in Des Moines, IA, Collins was raised by his father Cyrus, an airline executive, and his mother, Madeline. After living in Peru for a spell, the family relocated to Hastings-on-Hudson, NY. Childhood shyness initially kept him from his two earliest passions – baseball and acting – but he managed to pull through to become a regular on both the diamond and the high school stage. Collins also played bass guitar in several bands during his years in high school and at Amherst College. But acting became his main passion at Amherst, where he caught the attention of legendary New York theater producer Joseph Papp while performing in a rock musical during his senior year. A conversation with Papp lead to an offer for a small role in a production of "Twelfth Night," which launched Collins' career as a professional actor. After graduating from Amherst cum laude in 1969, Collins quickly landed both supporting and lead roles in a variety of Broadway and off-Broadway productions before making his feature film debut in "All the President's Men" (1976), playing Hugh W. Sloan Jr., former Nixon White House aide and main source for the investigation by Bob Woodward (Robert Redford) and Carl Bernstein (Dustin Hoffman) into the Watergate burglary.
Collins played his share of youthful romantic leads in his early film and television roles – he was a young William Holden in Billy Wilder's flop "Fedora" (1978), then played Henry Fonda in flashbacks for "Summer Solstice' (1981). He was also frequently cast as ramrod straight heroes in adventure-drama miniseries like "The Rhinemann Exchange" (NBC, 1977). But to gain widespread exposure, Collins had to wait until he was cast as Captain Willard Decker, interim commander of the U.S.S. Enterprise, in Robert Wise's "Star Trek: The Motion Picture" (1979). Though his role had its share of dramatic heft – Decker falls for an alien crew member (Persis Khambatta) and eventually merges with her robotic double in the film's climax – Collins was largely overshadowed by the cast of the original series and the expensive special effects.
Collins' roles gained some significance in the early 1980s – he was Edith Wharton's lover Morton Fullerton in the PBS special "Looking Back" (1981) and played married doctor Shirley Maclaine's lover in the infidelity comedy "Loving Couples" (1980). In 1982, he was top-billed in "Tales of the Gold Monkey" (ABC, 1982-83), a cliffhanger-style adventure-drama conceived by producer Donald Bellisario to cash in on the popularity of "Raiders of the Lost Ark" (1981). Though a fine showcase for Collins' comedy and drama skills, the series proved to be short-lived. He soon returned to regular rotation of miniseries and television movies, the best being "Inside the Third Reich" (ABC, 1982), a biopic of German architect Albert Speer (Rutger Hauer) with Collins playing Nazi recruiter Karl Hanke, as well as two miniseries, "Chiefs" (CBS, 1983) and "The Two Mrs. Grenvilles" (NBC, 1987). The latter, based on the book by Dominick Dunne, earned Collins an Emmy nomination for his portrayal of the ill-fated Billy Grenville, whose accidental shooting by his wife (Ann-Margret) blossoms into a sensational murder trial.
Collins returned to series work with "Tattinger's" (NBC, 1988-89), an hour-long comedy-drama about a divorced couple (Collins and Blythe Danner) who run a posh New York restaurant. An unmitigated ratings disaster, the show was nevertheless revived by the network as a half-hour sitcom called "Nick and Hillary" (NBC, 1988-89), which proved even less popular than its predecessor. Collins gave episodic television another shot with "Working It Out" (NBC, 1989-91), a comedy about two divorced parents (Collins and Jane Curtin) who become romantically involved. Surviving less than two season, the series became another flop on Collins' resume. Back to his bread and butter, Collins worked steadily in miniseries and made-for-TV-movies well into 1990s. He portrayed President John F. Kennedy in the Emmy-winning miniseries, "A Woman Named Jackie" (NBC, 1991), then played real-life attorney Dan Broderick, who was shot and killed by his wife (Meredith Baxter) in "A Woman Scorned: The Betty Broderick Story" (CBS, 1992). He followed with a turn as spurned suitor Ashley Wilkes in "Scarlett" (CBS, 1994), a splashy miniseries based on author Alexandra Ripley's sequel to Gone With the Wind.
Collins enjoyed a recurring role as a doctor and boyfriend to Sela Ward on "Sisters" (NBC, 1991-95) before returning briefly to features as the estranged husband of Diane Keaton in the popular comedy, "The First Wives Club" (1996). That same year, Collins began his lengthy tenure as the Reverend Eric Camden on "7th Heaven," which also marked his debut as director for three episodes. An exceptionally popular show on the fledgling network from its inception, the series held the record as the most watched series in The WB's history. Key to its success was its adherence to upbeat, moral-driven stories, which tackled family issues with tons of advice and guidance from Camden and his wife (Catherine Hicks), who oversaw their children with a strict but loving hand. The lack of salacious material, and balance between heavy issues and light comedy, helped build a core audience that saw the Camden family undergo countless change during its decade-long stint on television. Countless cast members came and went over the years, including starlet Jessica Biel, who left the show under a firestorm of protest after posing semi-nude on the cover of Gearmagazine while still a minor. Collins led the charged with extremely vocal opposition to the layout.
The WB formally cancelled "7th Heaven" at the top of its game in 2005, but it was renewed unexpectedly by The CW for another season in 2006. Though a popular program for the new network, a reduced budget forced it to reduce the screen time of several regular cast members and a time slot change effectively cut its audience in half. The program was finally put to rest in 2007. But the persistent popularity of "7th Heaven" gave Collins' career a well-deserved boost and allowed him to branch out into other high-profile projects. He had a supporting role as an ambassador in the 2006 drama "Blood Diamond," and returned to light romantic comedy as Diane Keaton's gentle suitor in the comedy "Because I Said So" (2007). Collins also spoofed his squeaky-clean image by playing the impossibly kindhearted and accomplished father to Glenn Howerton and Kaitlin Olsen's scheming layabouts in "It's Always Sunny in Philadelphia" (FX, 2005- ).
Married to actress Faye Grant of "V" (NBC, 1983) fame since 1986, Collins also recorded two albums of pop music, including a compilation of Ricky Nelson covers, and penned two novels, Eye Contact published in 1994, and Double Exposure published in 1998. Meanwhile, he penned the play "Super Sunday," which was produced at the Williamstown Theatre Festival in 1988. In 2008, he returned to Broadway for the first time in over two decades to play the bumbling King Arthur in the Tony-winning "Spamalot."
The above TCM overview can also be accessed online here.