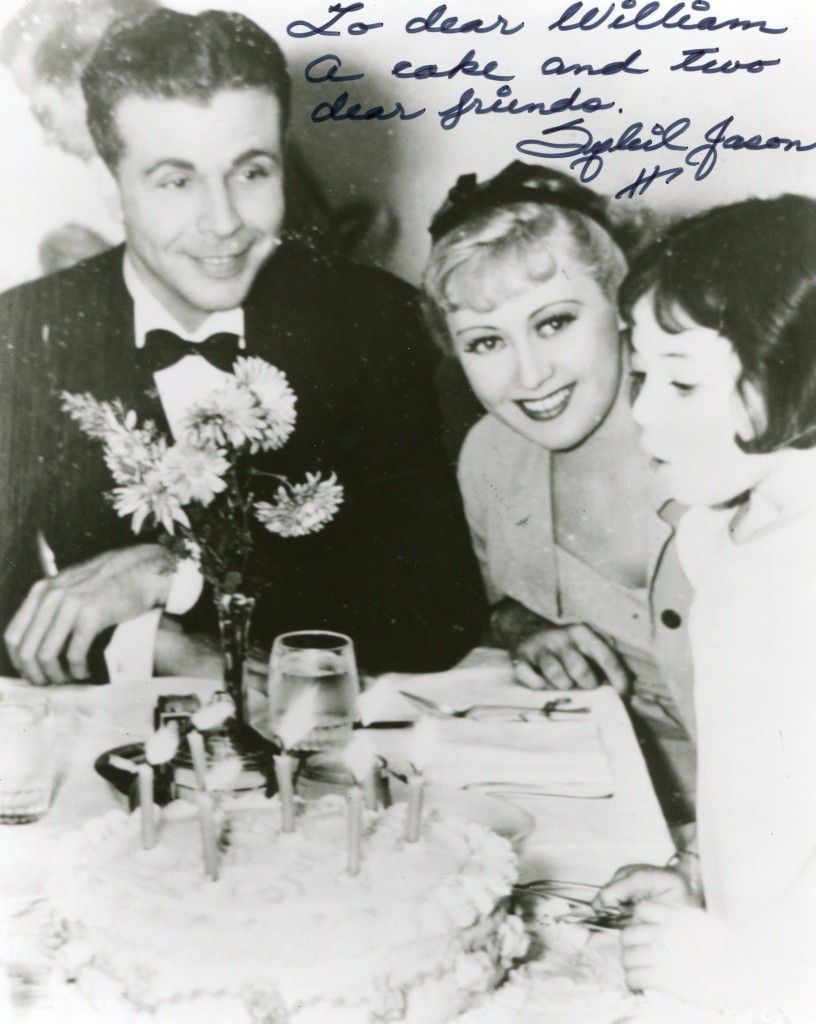 Sybil Jason was born in 1927 in Cape Town, South Africa. She began her acting career as a child perfomer in Britain. She spotted by a Warner talent scout and brought to Hollywood. Her first U.S. film was "Little Big Shot" in 1935. She went on to feature in "Stella Parish", "The Singing Kid" and "The Great O'Malley" among others. She supported Shirley Temple in "The Little Princess" and "The Blue Bird" in 1940 and then retired from acting.
Ronald Bergan's obituary in "The Guardian":
From 1935 to 1938, Shirley Temple was the world's biggest and smallest movie star. During this period, Warner Bros launched their answer to Temple in the cute, dark-haired, wide-eyed, button-nosed Sybil Jason, who has died aged 83. Jason made six feature films and four Technicolor two-reelers for the studio over these years. Unfortunately, most of her films and roles shamelessly resembled those of Temple's at 20th Century-Fox, and never equalled them in popularity. However, according to Time magazine in 1936: "Among child actresses, Sybil Jason is to Shirley Temple as Jean Harlow is to Ann Harding – less wholesome but more refreshing."
She was born Sybil Jacobson in Cape Town, South Africa, where her father ran a shoe business. As her mother was in fragile health, the girl was brought up mainly by her older sister Anita, who nurtured her precocious talent, which consisted of playing the piano, dancing, singing and impersonating such stars as Greta Garbo, Maurice Chevalier and Jimmy Durante, all before her fifth birthday.
By then, her uncle, Harry Jacobson, who had settled in Britain, where he was known as "the Crooning Pianist", playing with British dance-bands such as the Savoy Orpheans and Ray Noble's Orchestra, as well as being Gracie Fields's accompanist, invited Anita and Sybil to stay with him and his wife in London. Harry taught Sybil several songs, which she performed for guests, one of whom was the singer Frances Day, who got Jason a spot in a benefit show at the London Palladium.
This led to the child being cast in Barnacle Bill (1935), a minor British drama starring Archie Pitt, Fields's husband. Jason later recalled that her sister's advice to her before she went on set for the first time was: "Remember, Sybee, don't act!" At the same time, Irving Asher, head of the Warner Bros London branch, sent Jason's screen test to Jack Warner in Hollywood. The studio boss soon replied by telegram, which read merely: "Sign her."
Jason's first Hollywood movie was Little Big Shot (1935), a Damon Runyonish tale in which she played an orphan who softens the hearts of two hard-boiled conmen (Robert Armstrong and Edward Everett Horton). Jason was very effective in a couple of dance numbers, and turning on the waterworks when the cons have to give her up to the orphanage. (Audiences' sugar tolerance was much higher in those days.) The New York Times found her "an engaging infant … although her British accent makes many of her lines unintelligible". (Jason had somehow managed to avoid acquiring a South African accent.)
One of Jason's most high-profile performances came in The Singing Kid (1936) as another orphan, though a more cheerful one. She singsYou're the Cure for What Ails Me with Al Jolson, in his last leading role. In The Great O'Malley (1937), Jason was second billed (after Pat O'Brien, typecast as a moralising Irish cop), portraying the disabled daughter of Humphrey Bogart.
She had further occasions to display her histrionic abilities in two weepies, I Found Stella Parish (1935) and Comet Over Broadway (1938), in both of which she played the daughter of the melodrama queen Kay Francis. Both films also starred Ian Hunter, another Cape Town-born actor.
But after the latter film, Warner Bros decided not to renew her contract. Although Jason was just as musically versatile, enchanting, funny and cloying as the curly-topped, dimpled Temple, it seemed that Hollywood was not big enough to accommodate two multi-talented moppets. Ironically, in Jason's last two films, she played supporting roles to Temple, as Becky, the little cockney scullery maid at the Victorian girls' school in The Little Princess (1939), and in The Blue Bird (1940), as a girl who cannot walk, but in the end is cured. Unfortunately, her part was considerably cut in the latter, apparently at the request of Temple's mother, who was afraid it might overshadow her daughter's performance. Nevertheless, Jason and Temple remained lifelong friends. As it turned out, The Blue Bird was Temple's first flop.
Now retired, aged 13, Jason returned to school in South Africa, where she spent several years before heading back to America, where she married Anthony Drake, a writer of radio plays.
When I was a child growing up in South Africa, and beginning to take an interest in movies, I was delighted to be told that I was related, albeit distantly, to Jason. Her memoir, My 15 Minutes: An Autobiography of a Child Star of the Golden Era of Hollywood, was published in 2005, a year before her husband died. She is survived by a daughter.
• Sybil Jason (Sybil Jacobson), actor, born 23 November 1927; died 23 August 2011
The above "Guardian" obituary can also be accessed here.