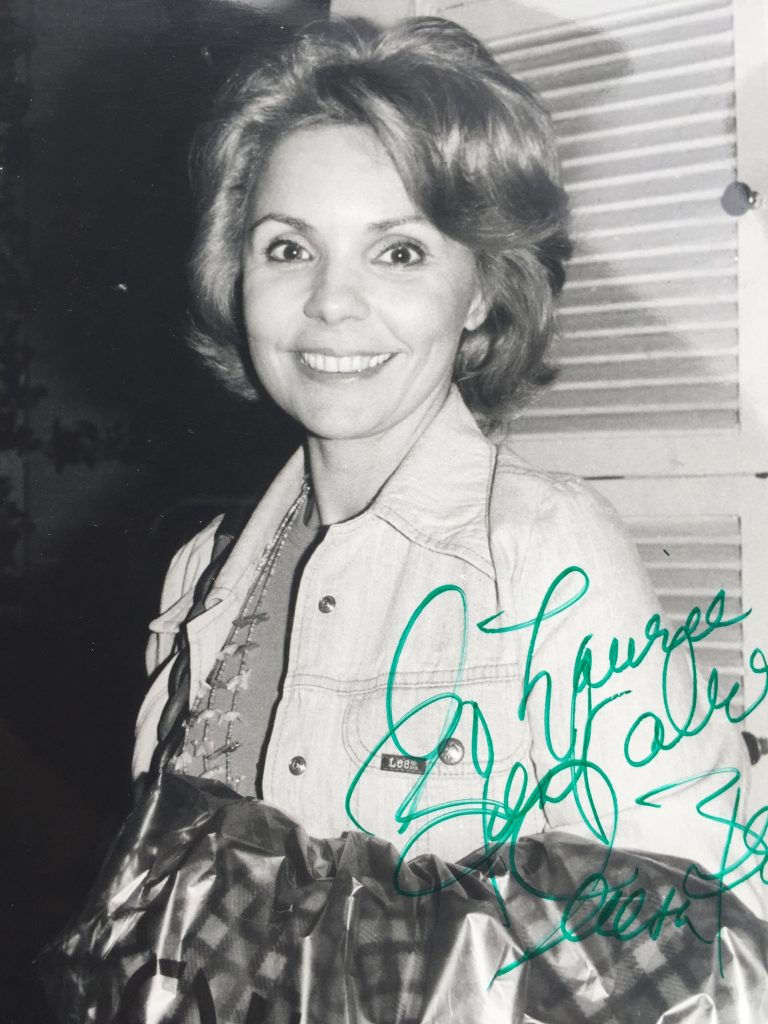 Teresa Brewer obituary in "The Independent".
Teresa Brewer was born in 1931 in Toledo, Ohio. She was one of the most popular female vocalists in the U.S. in the 1950's. Her top ten hits included "Music, Music, Music", "Nora Malone", ""A Tear Fell" and "You Send Me". In 1953 she went to Hollywood to make the musical "Those Redheads from Seattle" with Rhonda Fleming, Guy Mitchell and Agnes Moorhead. She died in 2007.
Spencer Leigh's "Independent" obituary :
Teresa Brewer was among the biggest-selling stars of the early 1950s and part of the lyric of her 1950 million-seller, "Music! Music! Music!", "Put another nickel in, in the nickelodeon" has passed into common parlance. Despite her huge successes, she only continued her career sporadically, regarding family responsibilities as more important and calling her children "her biggest hits". This was in sharp contrast to her own childhood when her mother and her aunt had encouraged her to perform, hoping that she would be another Shirley Temple.
The eldest of five children, she was born Theresa Veronica Breuer in 1931 in Toledo, Ohio, where her father worked as an inspector in a glass factory. When only two years old, she was singing "Take Me Out to the Ball Game" on Uncle August's Kiddies Show for local radio. Although she had no vocal training, she took tap dancing lessons and became a proficient singer and dancer. Until she was 12, she toured and made radio appearances with Major Bowes' Amateur Hour, and then concentrated on her studies.
In 1948, she was invited to appear in New York on the TV talent show Stairway to the Stars, and adjusted her name to Teresa Brewer. She remained in New York, staying with her aunt, and then meeting her first husband, Bill Monahan, with whom she had four daughters.
When the British record label Decca established a subsidiary, London, in America, Jack Pleis was instructed to find appropriate talent. The speakers outside one Manhattan club broadcast what was happening on stage and he was intrigued when he heard Brewer's voice. He gave her a contract with London, but her first record, "A Man Wrote a Song", did nothing. For her second, he teamed her with some good jazz players, the Dixieland Jazz-Stars, and they made "Copenhagen" as an A-side and "Music! Music! Music!" for the flip.
The disc-jockeys soon pointed out which was better and London Records changed their attention to "Music! Music! Music!", which topped the US charts for four weeks. Although there were no UK record charts in 1950, "Music! Music! Music!" became the best-selling sheet music and Brewer's version is easily the best-known of the 10 which were released. Brewer said in later years that her record sounded "painfully slow" and she performed it at tongue-twisting pace in concert.
She followed her success with some novelty nonsense, "Choo'* Gum" and "Molasses Molasses", before being shunted to another new Decca label, Coral, where she sang "You'll Never Get Away" with Don Cornell. In 1952, she topped the US charts for a further five weeks with a song based on a Strauss waltz, "Till I Waltz Again With You". Brewer became a redhead for a role alongside Guy Mitchell in the musical western Those Redheads From Seattle, filmed in 3D, in 1953 and made a TV series with Mel Tormé.
Good songs were hard to come by and so anything decent would be covered by several artists. When the record producer Mitch Miller, heard a song that was being used by Alcoholics Anonymous, called "Let Me Go, Devil", he commissioned a new lyric, "Let Me Go, Lover". His production of Joan Weber's recording topped the US charts, although Brewer's cover only made the Top 20. In the UK, it was a different story, with four versions making the Top 20 – Dean Martin (number three), Ruby Murray (five), Teresa Brewer (nine) and Joan Weber (16). Brewer lost out in the UK to Joan Regan with "Ricochet" (1953) and "Jilted" (1954) and to Alma Cogan with "Bell Bottom Blues" (1954) and "The Banjo's Back In Town" (1955). Cogan had a similar effervescence to Brewer on bouncy, up-tempo numbers.
Many white American singers covered songs by black artists, knowing that the original artists would only receive restricted airplay. This practice is reviled with hindsight but it has to be viewed in context, and certainly none of the performers involved, including Johnnie Ray, Pat Boone, Georgia Gibbs and Brewer herself, felt they were doing anything wrong. Brewer's versions of Johnny Ace's "Pledging My Love", LaVern Baker's "Tweedle-Dee", Fats Domino's "Bo Weevil", Ivory Joe Hunter's "A Tear Fell" and Sam Cooke's "You Send Me" all had some commercial success.
With the advent of rock'*'roll, Brewer fell out of favour. "I Love Mickey!" (1956), for the baseball player Mickey Mantle, could only have limited appeal, and with "The Hula Hula Hoop Song" (1958), she was backing the wrong craze, but she had occasional hits like "A Sweet Old-Fashioned Girl" (1956), "Nora Malone" (1957) and "How Do You Know It's Love" (1960). Furthermore, she had set the stage for the next generation of female singers. Connie Francis emulated the plaintiveness of her ballads, while the similarly petite Brenda Lee captured her vivaciousness. Ed Sullivan would introduce Brewer as "the little girl with the big voice".
Brewer retired to raise her family, although she still made occasional albums and appeared on television. By the time she was a guest on The Muppet Show (1971), she was already a grandmother. When her first marriage failed, she married the jazz producer Bob Thiele, who made a long string of albums with her – Songs of Bessie Smith (1973), A Sophisticated Lady (1981), Midnight Café (1982) and I Dig Big Band Singers (1983) being among them.
On Memories of Louis (1991), she was accompanied by many of the greatest jazz trumpeters. Her husband had written Louis Armstrong's hit "What a Wonderful World", and Brewer made an album of the same name with Stéphane Grappelli and Ruby Braff in 1989. Critics questioned whether her high-pitched, brassy voice would work with such musicians, but her voice had become smoother with age. Quite possibly, though, she was better suited to the down-home charm of Chas and Dave for her album Teresa Brewer In London (1982), also produced by Thiele. Thiele died in 1996 and Brewer never recorded again.
Spencer Leigh
To access her Independent obituary here.