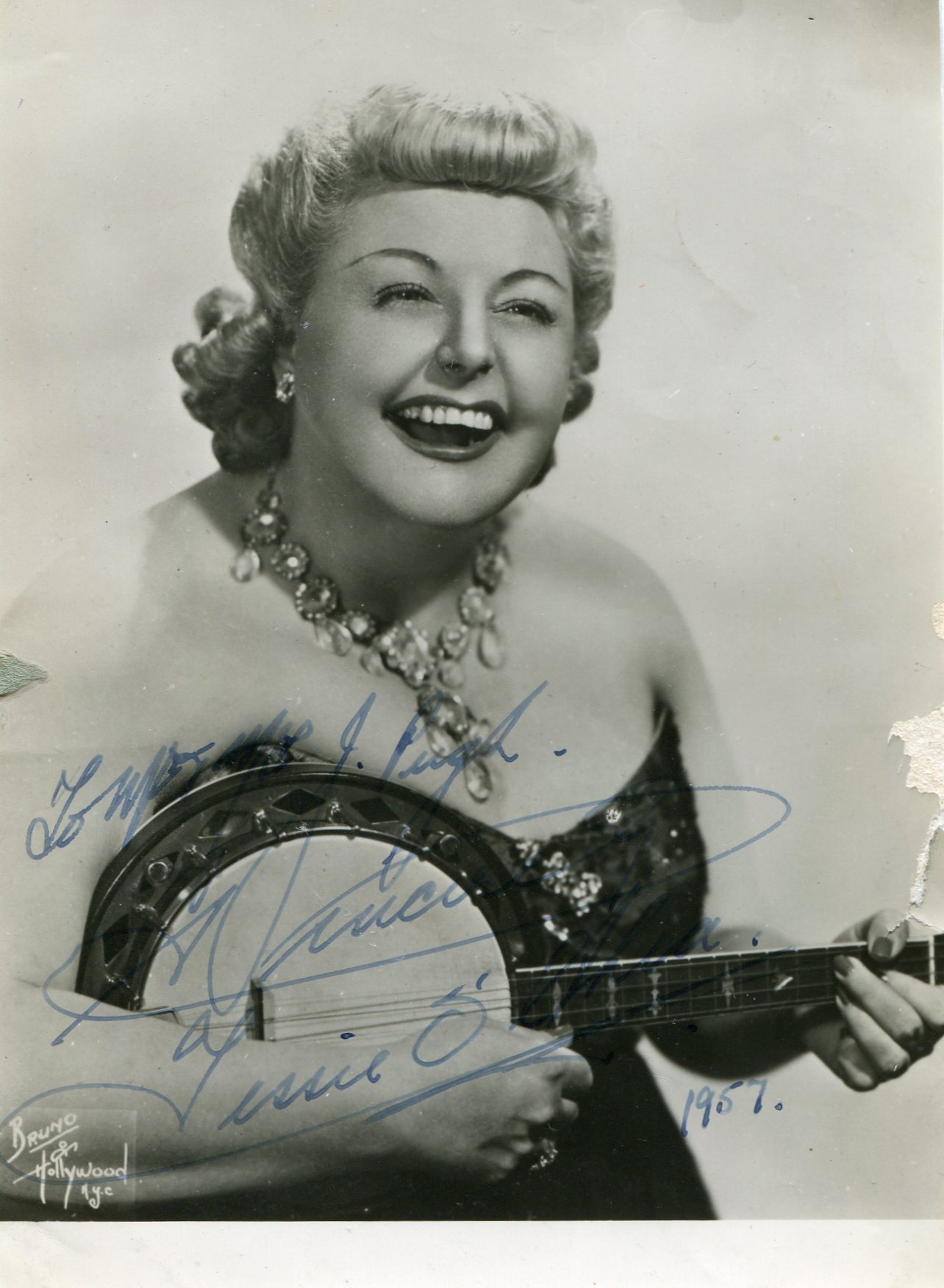 Tessie O'Shea was born in Cardiff in 1913. At a young age she became a performer in British music halls. She performer in Blackpool in the 1930's. She began appearing in movies in 1948 with "Holidays With Pay". Her other films include "The Shiralee" which was made in Australia in 1957 with Peter Finch. Noel Coward brought her to Broadway in 1963 to star in "The Girl Who Came to Supper" for which she won a Tony for feature player. The following year she appeared on the Ed Sullivan Show, the night the Beatles made their U.S. television debut. In 1966 she was cast in the U.S. film "The Russians Are Coming, the Russians Are Coming" as the town postmistress. Her last film was the Disney musical "Bedknobs and Broomsticks" with Angela Lansbury in 1971. Tessie O'Shea died in Florida in 1995 at the age of 82.
Gary Brumburgh's entry:
She was aptly and affectionately dubbed "Two Ton Tessie" not only for her plentiful girth but for the tons of talent she possessed as one of the British Isle's most beloved, unabashed music hall entertainers. Welsh star Tessie O'Shea was born Teresa O'Shea and was already showing off as a youngster capturing prizes for the talent contests she entered with her singing and dancing. The once-slim performer made her solo debut at the age of 12 at the Bristol Hippodrome and never stopped working. She buried her burgeoning weight under loads of comic clothing — complete with over-sized hats, striped stockings and elastic boots while belting out such bawdy favorites as "Don't Have Any More, Missus Moore" and "Hold Your Hand Out, Naughty Boy." By the late 30s Tessie had become a major star on radio and stage and won the hearts and respect of soldiers everywhere touring with ENSA during World War II. She later went out on the road with band-leader Billy Cotton in a highly successful musical revue called "Tess and Bill." In the 60s she had U.S. audiences eating out of the palm of her hand. She became a certifiable hit on Broadway with her scene-stealing song "London" in "The Girl Who Came to Supper," a 1963 musical adaptation of Terence Rattigan's play "The Sleeping Prince," and was rewarded with a Tony for her efforts. She returned to Gotham three years later with the musical "A Time for Singing" which was based on Richard Llewellyn's "How Green Was My Valley." Seen practically everywhere, she was a featured regular in the CBS show The Entertainers (1964) in 1964, took her musical act to Las Vegas, and even won an Emmy nomination in 1968 for her feisty, atmospheric musical turn in Jack Palance's version of "Dr. Jekyll and Mr. Hyde." Film appearances were extremely rare, however, appearing in cameos in both The Russians Are Coming the Russians Are Coming (1966) and Bedknobs and Broomsticks (1971). Back in Britain in the 70s she appeared to great advantage on TV and, of course, always seemed at home on the bawdy stage. Tessie died in 1995 of congestive heart failure at age 82, having lived quite the happy, hearty life, and allowing audiences everywhere in on much of it.
– IMDb Mini Biography By: Gary Brumburgh / gr-home@pacbell.net