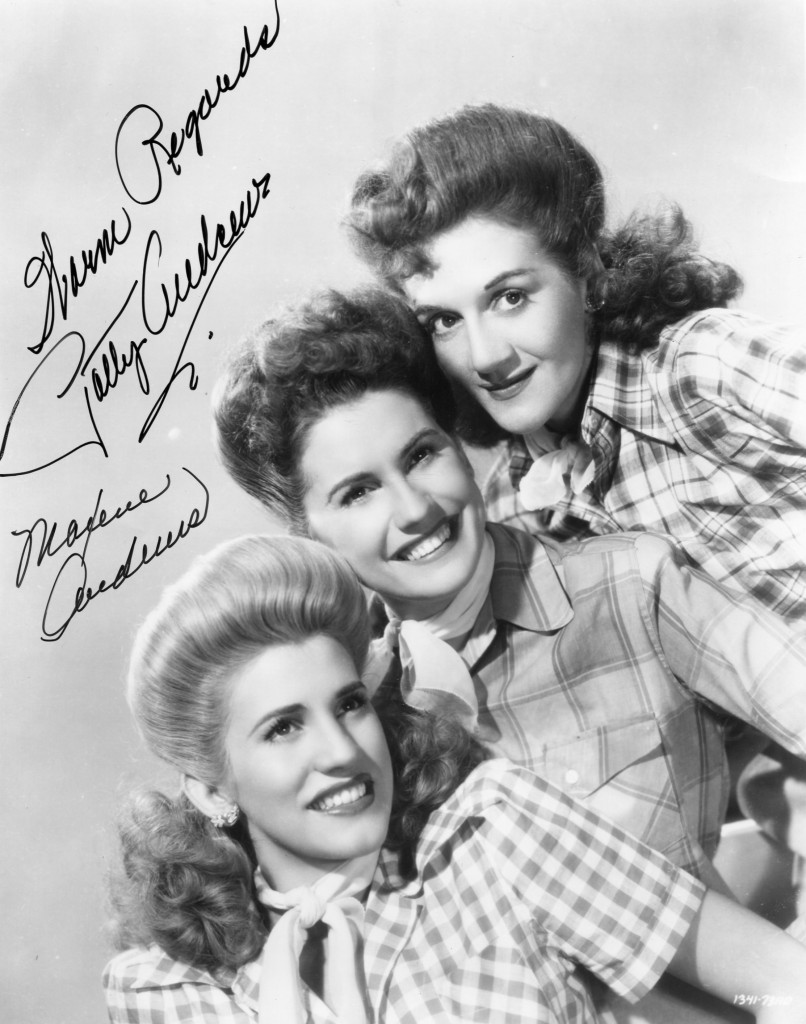 The Andrew Sisters were hughlypopular as a singing trio during the 1940's both in the U.S. and overseas.   They made some movies including  "Argentine Nights" in 1940, "Buck Privates" and "Hollywood Canteen" in 1945.
Gary Brumburgh's entry:
The defining sister act of all time with well over 75 million records sold by which the swinging big-band era could not be better represented were the fabulous Andrews Sisters: Patty, Maxene, and LaVerne. With their precise harmonies and perfectly syncopated dance moves, the girls reached heights of worldwide fame still unattained by any group which followed. They delivered an optimistic, upbeat war campaign that instilled hope, joy and allegiance through song, comedy, and lively movement. They provided a musical security blanket to a war-torn country via records, films, radio, clubs, stages, canteens, and overseas war zones emphasized the motto that America was strong and proud…and to keep on singing and swinging! Second only to perhaps Bob Hope in commitment and extensive USO touring, the girls' profound influence extends even today with such current pop idols as Bette Midler, The Pointer Sisters, Barry Manilow, The Manhattan Transfer, The Star Sisters, and Christina Aguilera all having reinvented themselves in Andrews Sisters' style at one time or another. Unfortunately, while the adhesive harmonies of The Andrews Sisters were intricately close, their personal harmonies were more discordant.
Hailing from Minnesota, eldest sister LaVerne was born on July 6, 1911, followed by Maxene on January 3, 1916, and finally Patty on February 16, 1918. Greek father Peter was a restaurateur in the Minneapolis area; their mother Ollie was a Norwegian homemaker. Childhood was mostly lost to them. The trio's musical talents were quickly identified and they started performing on the road as youngsters, entering assorted kiddie contests and often winning for their efforts. The girls grew up on the vaudeville circuit, roughing it and toughing it with various bands and orchestras. Signed by orchestra leader Leon Belasco in 1937, the girls made their very first recordings with "There's a Lull in My Life" (an early solo by Patty), "Jammin'" and "Wake Up and Live." Subsequent radio work eventually led to the Decca Records label. Although LaVerne read music and was in fact an accomplished pianist, they learned by sense memory, pure instinct and a strong ear. Blonde Patty was the lively melodic leader, engulfed by the warm harmonies of auburn-haired contralto LaVerne and brunette soprano Maxene.
The old Yiddish song "Bei Mir Bist Du Schon" was translated into English for them bySammy Cahn and the girls walked off with their first huge hit in late 1937 (they were paid a flat fifty dollars and no royalties!). An overnight sensation upon release (it sold more than a million copies), their contract was immediately revised by Decca and throughout the rest of the decade, they recorded smash after smash — "The Beer Barrel Polka (Roll Out the Barrel!)," "Well, All Right," "Hold Tight, Hold Tight" (with Jimmy Dorsey ), "Oh, Johnny! Oh, Johnny! Oh!," and their first two duets with Bing Crosby in 1939: "Ciribiribin" and "Yodelin' Jive" (both featuring jazz violinist Joe Venuti and his orchestra).
The country was absolutely captivated. Universal responded in like by signing them to some of their nonsensical "B" musicals derived purely for escapism as the U.S. prepared itself and became embroiled in WW2. Their first appearance co-starred the zany and sometimes corny antics of The Ritz Brothers in an unflattering ditty called Argentine Nights (1940). The frizzy-bobbed trio were introduced as a sort of specialty act with the songs "Hit the Road," "Oh, He Loves Me" and "Rhumboogie." This was followed by a 1-2-3 punch back at the recording studio with their renditions of the rollicking "Beat Me, Daddy, Eight to the Bar," a reinvention of the WW1 waltz "I'll Be with You in Apple Blossom Time" and the soft, sentimental ballad "Mean to Me." Their second film was the above-average Bud Abbott – Lou Costello vehicle Buck Privates (1941), which solidly showcased the tunes "You're a Lucky Fellow, Mr. Smith," "Bounce Me Brother with a Solid Four," "I'll Be with You in Apple Blossom Time," and their infectious signature jump hit "Boogie Woogie Bugle Boy." The girls vocalized perfectly and stepped in swinging time for two other Bud Abbott – Lou Costello comedies, In the Navy (1941) and Hold That Ghost (1941).
Box-office sellouts on stage and in personal appearances across the nation, they were given their own radio show in late-1944, which continued through 1946, featuring such weekly guest stars as Bing Crosby, Frank Sinatra, Bob Hope, Eddie Cantor, Bud Abbottand Lou Costello, Carmen Miranda, Judy Garland, Ethel Merman, Rudy Vallee, and many other prominent celebrities. In late-1947, CBS Radio signed the sisters as regulars on "Club Fifteen" (they appeared three times a week for five years with alternating hostsBob Crosby and crooner Dick Haymes. In 1942, Universal now decided it was the right time to spruce them up and give them a bit more on-screen persona by featuring them front-and-center in what turned out to be an unfortunate string of poorly-produced "quickies." In Give Out, Sisters (1942), they posed as rich society matron types out to better their careers while featuring their big hit "Pennsylvania Polka." In Private Buckaroo(1942), they put on a show for servicemen singing, among others, the huge hit "Don't Sit Under the Apple Tree with Anyone Else But Me". The plots may have been pancake-thin but they were sure-fire morale boosters and needed war-time tension relievers. No trained actresses by any margin, the girls emanated a down-home naturalness and appeal with a comedic flair that attracted audiences coast-to-coast.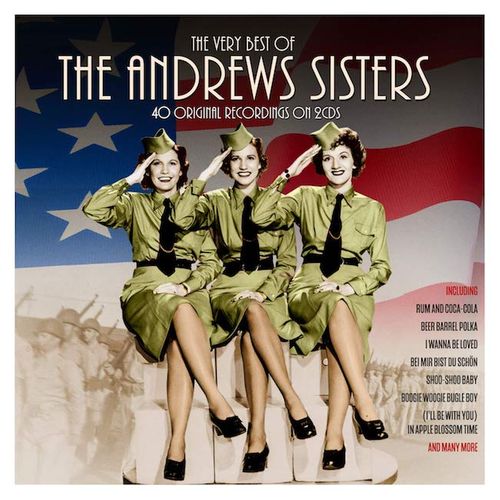 In later films they played everything from "lonely hearts" club managers in Always a Bridesmaid (1943), to elevator operators in How's About It (1943), to war-time factory workers in Swingtime Johnny (1944)_. Universal's Follow the Boys (1944) and Paramount's Hollywood Canteen (1944) were popular all-star productions for the war effort which featured the sisters prominently. With a never-say-die flair, they finished up their Universal contract rather inauspiciously with Her Lucky Night (1945), just as WW2 had come to an end.
In the post-war years, they appeared in Paramount's _Road to Rio (1948)_ with Crosby, Hope and Lamour, which was the highest-grossing film of that year. Still highly in demand in the recording studio, on radio, on stage and in clubs, they had no trouble managing. In the meantime Disney utilized the girls' voices in their cartoon featuresMake Mine Music (1946) and Melody Time (1948). All three girls experienced down times in their personal lives as well during the late-1940s. There were rumblings amid the group. Maxene and Patty went through painful divorces — Maxene split with the group's manager Lou Levy; Patty lost agent and husband, Martin Melcher to singer Doris Day, their parents passed away within a year of each other, as did their mentor Jack Kapp of Decca Records. Moreover, the girls squabbled over their parents' estate shares and individual career desires. In 1953, Patty, the group's lead, declared she was going solo. LaVerne and Maxene attempted to duo for a time until Maxene attempted suicide, of a drug overdose in 1954, heartbroken over the nasty breakup of the group, although LaVerne denied the suicide attempt to reporters.
The girls reunited in 1956 and worked constantly for the next decade in recording studios (Capitol and Dot), on stages throughout the world (frequently in England), and in countless guest-star television spots. LaVerne's serious illness in 1966, however, promptly ended the trio permanently. She died of cancer in May of the next year. Maxene retired shortly after and became dean of women at a Tahoe, Nevada college. Patty, ever the trouper, continued on television, in clubs and in film cameos…wherever there was an audience.
In 1973, Patty and Maxene reunited for their first Broadway musical, the nostalgic "Over Here" (Tony-winning Janie Sell played the LaVerne counterpart)in which they performed their old standards following the show's second act; but it did little to repair the Patty/Maxene off-stage relationship, especially since LaVerne wasn't around to foster peace-making tactics, and since Maxene blamed Patty's husband, Walter Weschler, as an instigator in separating her from Patty. The estrangement would last two decades until Maxene's death in 1995.
The two sisters did reunite briefly when they earned a star on the Hollywood Walk of Fame in 1987. The group was also inducted into the Vocal Group Hall of Fame in 1998. Patty sang in shows and on cruise ships while Maxene continued soloing and did quite well for a time in such musical shows as "Pippin" and "Swing Time Canteen" (the latter as late as 1995). Plagued by heart problems (she suffered a massive heart attack in 1982), she died of a second coronary on October 21, 1995. Patty remained in seclusion in her Northridge home near Los Angeles with husband Wally for years. After his death in 2001, Patty began a steady decline and died on January 30, 2013, just two weeks before her 95th birthday. Fortunately, The Andrews Sisters' perhaps exaggerated but now legendary feuding can never overshadow their exhaustive musical contributions and unparalleled success during 36 years of performing together.
– IMDb Mini Biography By: Gary Brumburgh / gr-home@pacbell.net