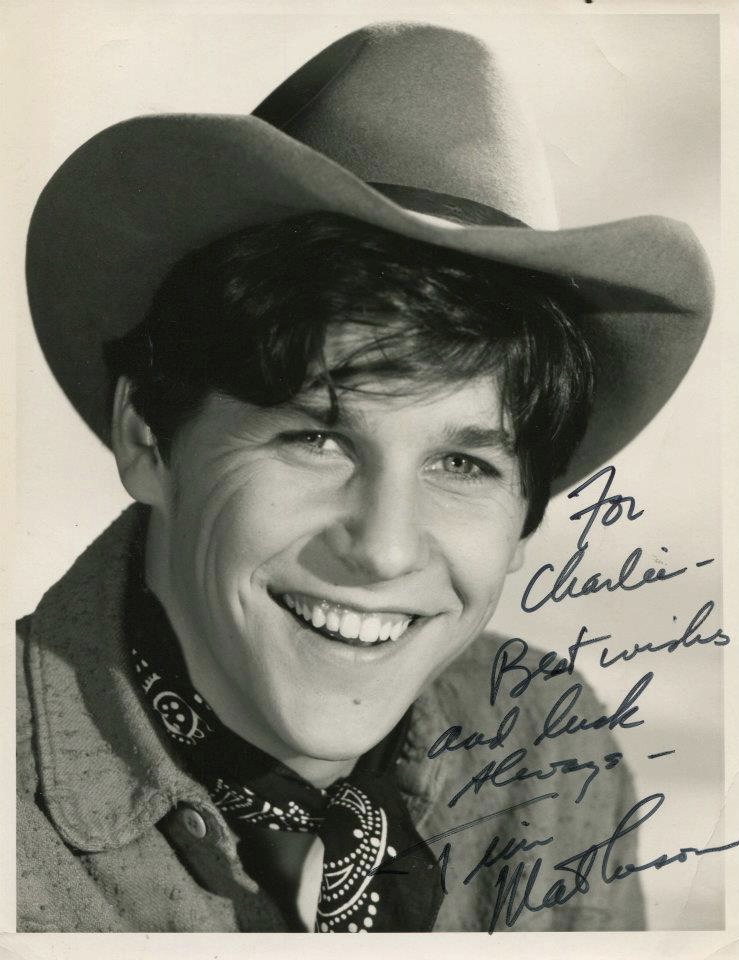 Tim Matheson was born in 1947 in Glendale, California.   His first major film was "Yours, Mine and Ours" with Henry Fonda and Lucille Ball in 1969.   His other films include "To Be or Not to Be" with Mel Brooks and Anne Bancroft in 1983.   He was in the cast of the television series "The Virginian" in 1969 and also in "The Outcasts" with Kurt Russell.
TCM Overview:
Tall, clean-cut leading man Tim Matheson made a career out of playing well-to-do men on every point of the moral compass in countless features like "Animal House" (1978) and "1941" (1981), and on countless televisions shows like "The West Wing" (NBC, 1999-2006) and "Burn Notice" (USA Network, 2007- ). A former child actor who voiced several memorable cartoon characters in the late 1960s, he made the jump to adult roles in the early 1970s but struggled to find a worthwhile project until the blockbuster comedy "Animal House." His role as fraternity ladies' man Otter served as the template for his career after the film's release. As he moved into middle age, he found more worthwhile projects in "The West Wing" and as a prolific director for television. However, "Animal House" remained his most popular effort, with new generations of irresponsible college students every year assuring Matheson of his screen immortality.
Born Timothy Lewis Matthieson in Glendale, CA on Dec. 31, 1947, he decided to become an actor at a very early age, achieving considerable success on television by the time he was just 13. His debut came in the lighthearted "Window on Main Street" (CBS, 1961-62), starring Robert Young, and for the next eight years, he essayed fresh-faced adolescents in a string of programs, including "Leave It to Beaver" (CBS/ABC, 1957-1963) and "My Three Sons" (ABC, 1960-1972). Saturday morning animation fans also knew him as the voice of several major characters from the period, including "Jonny Quest" (ABC, 1964-65) and boy hero Jace on "Space Ghost" (CBS, 1966-68). Matheson worked steadily through his teenage years and into his early twenties, making his feature debut at age 21 in the Bob Hope comedy "Yours, Mine and Ours" (1968). The following year, now billed as Tim Matheson, he joined the cast of the venerable TV Western "The Virginian" (NBC, 1962-1971) before jumping to the final season of "Bonanza" (NBC, 1959-1973) as Griff King, a young cowhand created by the network to lure younger viewers to the ailing series.
In 1973, Matheson was cast against type as a seemingly upstanding motorcycle patrolman who secretly worked as a police-sanctioned hit man in "Magnum Force" (1973), the sequel to "Dirty Harry" (1971). The role marked the beginning of a dichotomy in casting for him; his clean-cut looks and forthright bearing made him ideal as both kind-hearted and cold-blooded young men, and he would play one or the other, with few variations, for the next few years. Westerns continued to be a regular source of income for Matheson in the 1970s. He was a member of the low-down Dalton Gang in "The Last Day" (NBC, 1975), and teamed with Kurt Russell, another child actor making a successful transition to adult roles, in "The Quest" (NBC, 1976), about a pair of brothers traveling the West in search of their kidnapped sister.
After a string of steady television work from 1976-78, Matheson landed his first major screen project with "Animal House." Initially, the producers wanted him to play one of the film's villains from the straight-laced Omega fraternity, but Matheson, who had been studying improvisation with the famed Groundlings comedy troupe at the time, turned it down to play one of its "heroes," the anarchic Deltas. After several auditions, director John Landis finally cast him as Eric "Otter" Stratton, the Delta's glib, charming rush chairman and the closest thing to a voice of reason in Delta House. Matheson more than held his ground in the picture, despite the overwhelming presence of John Belushi as the berserk Bluto, and the film's overwhelming success helped to shift his screen image from innocuous to comedic.
Unfortunately, Matheson's next big screen hit was not immediately forthcoming. After "Animal House," he logged innumerable screen hours in forgettable comedies like "Almost Summer" (1978), "The Apple Dumpling Gang Rides Again" (1979) and "A Little Sex" (1982). On paper, "1941" should have been a hit – a broad comedy about a Japanese invasion of a sleepy California town during World War II, directed by Steven Spielberg and starring Belushi and fellow "Saturday Night Live" (NBC, 1975- ) alum Dan Aykroyd, but the wildly expensive epic failed to deliver many laughs. Television appeared to be a safe refuge for the actor, but the supernaturally themed comedy "Tucker's Witch" (CBS, 1982-83), his first return to regular series work since "Bonanza," lasted only a season.
Matheson bounced between TV movies and features throughout the 1980s, largely in forgettable fare like "Impulse" (1984) and the sitcom "Just in Time" (ABC, 1988). However, the lowbrow comedy "Up the Creek" (1984), which reunited him with his "Animal House" co-star Stephen Furst, gained a cult following, as did the Chevy Chase vehicle "Fletch" (1985), which cast Matheson as a mystery man whose desire to be murdered by Chase's glib reporter sets the whole absurd plot in motion. By the middle of the decade, Matheson began setting his sights on behind-the-camera work; in 1986, he made his debut as producer on the low-budget action film "Blind Justice," an American adaptation of the popular Japanese film series about a blind swordsman.
In 1989, Matheson was part of a business partnership that acquired the ailing National Lampoon magazine, which had originally published the short stories that were adapted into the script for "Animal House." Editorial changes instituted by Matheson, which included the banning of frontal nudity from the magazine's pages, did not reverse its fortunes, and Matheson was forced to sell the magazine to another company in 1991 to avoid bankruptcy.
While logging time in episodic television, including the short-lived comedy "Charlie Hoover" (Fox, 1991), which was among the last starring roles for Sam Kinison, Matheson began transitioning into the director's chair, and by the turn of the new millennium, had built up an impressive résumé that included multiple episodes of "Without a Trace" (CBS, 2002-09) and "Psych" (USA, 2007- ), as well as numerous TV movies. The quality of his acting projects began to take an upswing as well. In 1990, Matheson starred in the harrowing TV movie "Buried Alive" (USA), which was the cable network's highest-rated program to date, and he directed its sequel in 1997. In 1999, he was cast as the duplicitous Senator John Hoynes, who served as Vice President under Martin Sheen's Josiah Bartlett on "The West Wing." The turn, one of his best, earned Matheson two Emmy nominations. Supporting roles in popular features like "The Story of Us" (1999) and "She's All That" (1999) followed in its wake.
Tne above TCM overview can also be accessed online here.
In 2001, Matheson returned to regular series work with "Wolf Lake" (CBS, 2001- 02), an Emmy-nominated supernatural series about werewolves in a small Pacific town. After its premature demise, he continued his steady stream of TV movies – he was President John F. Kennedy in "Jackie Bouvier Kennedy Onassis" (CBS, 2000) and Martha Stewart's husband Andy on "Martha, Inc.: The Story of Martha Stewart" (NBC, 2003) – as well as directing for television, which expanded to producing as well with the CBS series "Cold Case" (2003-2010) in 2005. There were also occasional returns to features, most notably in "Van Wilder" (2002). The college comedy cast him as the father of schemer Ryan Reynolds, whose own performance drew heavily from Matheson's Otter in "Animal House." In 2008 and 2010, Matheson received some of his best notices as "Dead" Larry Sizemore, an amoral and possibly psychotic former spy who assumes the identity of a murdered shoe salesman and makes life difficult for fellow ex-spook Michael Westen (Jeffrey Donovan) on "Burn Notice" (USA Network, 2007- ). Matheson also directed several episodes of the popular series