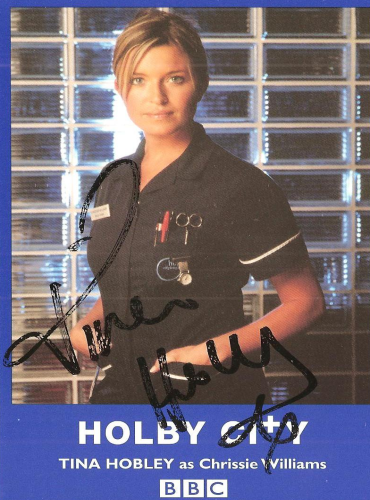 Tina Hobley was born in 1972 in Mill Hill, London. She is currently in BBC"s "Holby City". Between 1996 and 1998 she was in "Coronation Street".
"Female First" Interview from 2013:
The big news was announced a few weeks ago that you're quitting Holby City, how hard of a decision was that to make?
After more than 12 years on Holby it was always going to be an incredibly difficult decision, but I am so excited to see what the future holds for me.
What are you looking to do after you finish filming in September?
I'm looking to have a little bit of fun, a little bit of variety of work and new projects and maybe some travel.
What sort of roles would you like to try?
The reason I am branching out is to explore all avenues, so whether that's a bit of theatre, film, presenting, we'll see what the future holds
With such a busy schedule how do you manage to stay in such great shape?
I don't like the gym, but I love yoga because it combines relaxation and strengthening work so I squeeze that in whenever I can. I'm a firm believer in everything in moderation.
What's your favourite workouts?
Any form of yoga I'll try! I'm looking forward to being able to do more of that.
Do you follow a strict diet?
No, not at all, it's always everything in moderation. I try to be good Monday to Wednesday, and then treat myself towards the end of the week.
Summer holidays are fast approaching, how to do you ensure you're ready for the beach?
I try to get a few yoga classes in and try to cut down on the carbs before I go.
Tina Hobley is working with Sorelle, a 0% alcohol wine-style drink, to help women get summer ready – @Sorelledrink/ Facebook.com/Sorelledrink
by Taryn Davies for www.femalefirst.co.uk
The above "Female First" interview can also be accessed on line here.
---