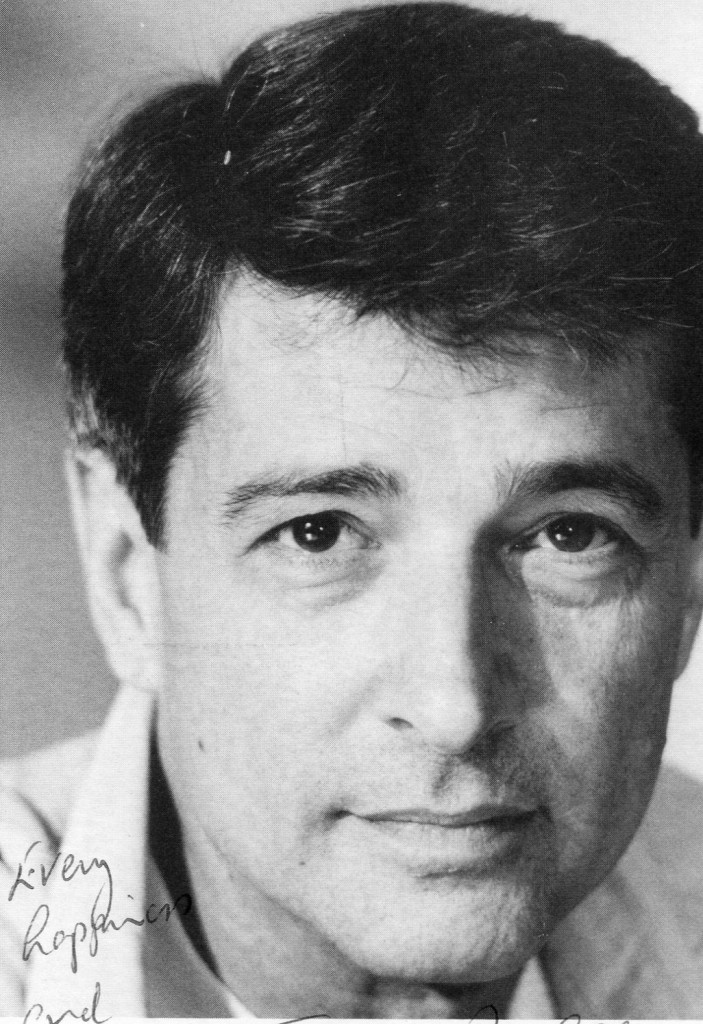 Tony Anholt was born in 1941 in Singapore.   During his childhood he also lived in South Africa and Australia before settling in Britain.   His television appearances include "Space 1999", "Howard's Way" and "Only Fools and Horses".   He starred in the series "The Protectors" with Robert Vaughn and Nyree Dawn Porter.   His films include "Fear Is the Key" in 1973.   Tony Anholt died in 2002.
Dennis Barker's obituary of Tony Anholt in "The Guardian":
Dark-haired, bedroom-eyed, with an engaging smile and what used to be called matinee-idol good looks, the actor Tony Anholt, who has died aged 61 after a period of illness caused by a brain tumour, had a flair for light comedy which tended to obscure a more serious side. He was a voracious reader of books on philosophy and a practical advocate of meditation: when news of his illness first emerged, thousands of fellow meditators included him in their thoughts.
He will be most widely remembered as Charles Frere, the personable and wealthy heartbreaker son of a wealthy father, Sir Edward Frere, played by Nigel Davenport, in the television series Howard's Way, which ran for five years from 1985. Set around the river Hamble, it dealt with an aircraft designer who had become a boat builder, and whose daughter had an on-off-on affair with the character played by Anholt. The daughter was played by Tracey Childs, who became Anholt's real-life second wife after an affair that began while the series was still running.
Howard's Way became compulsive viewing because of interest in Frere's way with the ladies, as well as a more general interest in the social terrain – fast boats, millionaires, big houses, resplendent cars and good living. Anholt was ideally cast, and undoubtedly the series established his reputation among a broader public; but he played varying roles in many other British television series as well as in the American mini series The Last Days Of Pompeii, with a cast including Ernest Borgnine.
To Anholt's agents Roger and Primi Carey, he was an actor who died before he could reach the full limits of his potential as a performer on the lines of Cary Grant – one who could switch brilliantly from light to shade. When he played in Anthony Shaffer's duel of wits, Sleuth, on the West End stage (1978), with Patrick Cargill as the older villain, this sly way with light and shade was tested to the full – as it was in the more heavyweight Amadeus at the Theatre Royal, Windsor, in which he played a darkly sardonic Salieri. Other theatre roles included parts in Edward Albee's Who's Afraid Of Virginia Woolf?, The Tempest, Harold Pinter's Betrayal and Brian Clark's Whose Life Is It Anyway? In all these, he radiated darkness as well as the ladies' man stock-in-trade. The Boys In The Band (his first West End appearance, 1969) and Death And The Maiden (1992), both plays he toured nationally, also had a dark side.
Tony Anholt was born in Singapore of an Anglo-Dutch family, and from his schooldays was a pillar of dramatic societies. As a child during the war he was evacuated to Australia, went from there to South Africa and then to Britain. His father had been taken prisoner by the Japanese, was forced to work on the Burma railway and died when his son was three. His mother remarried five years later.
Anholt met his first wife Sheila when he was teaching Latin in a Surrey prep school and she was teaching infants. They went to Spain, first to teach and then to work as holiday resort representatives, later teaching in Paris before returning to Britain. They married in 1964 when he was working on a trade periodical and she was in advertising.
Anholt trained in mask, mime, movement, drama and voice at the Royal Court Theatre, London, and then went into repertory at the Leas Pavilion in Folkestone, where he was in 26 plays in 27 weeks.
In the 1960s and 1970s he made his transformation from theatre idol to a wider range of parts on television. Series he appeared in included Only Fools And Horses, Juliet Bravo, Minder, Citizen Smith, Space 1999, The Sweeney, The Protectors and Kate. His films included The Late Nancy Irving for Hammer Films (1984) and Fear Is The Key (1972). He also worked extensively as a continuity announcer for BBC World Service.
Tony Anholt's first marriage to his wife Sheila, by whom he had a son, the actor Christien Anholt, ended in divorce in 1986. He and Tracey Childs married in 1990, but divorced eight years later. His relations with both wives remained good: both were at his bedside when he died.
· Anthony Anholt, actor, born January 19 1941; died July 26 2002
The above "Guardian" obituary can also be accessed online here.