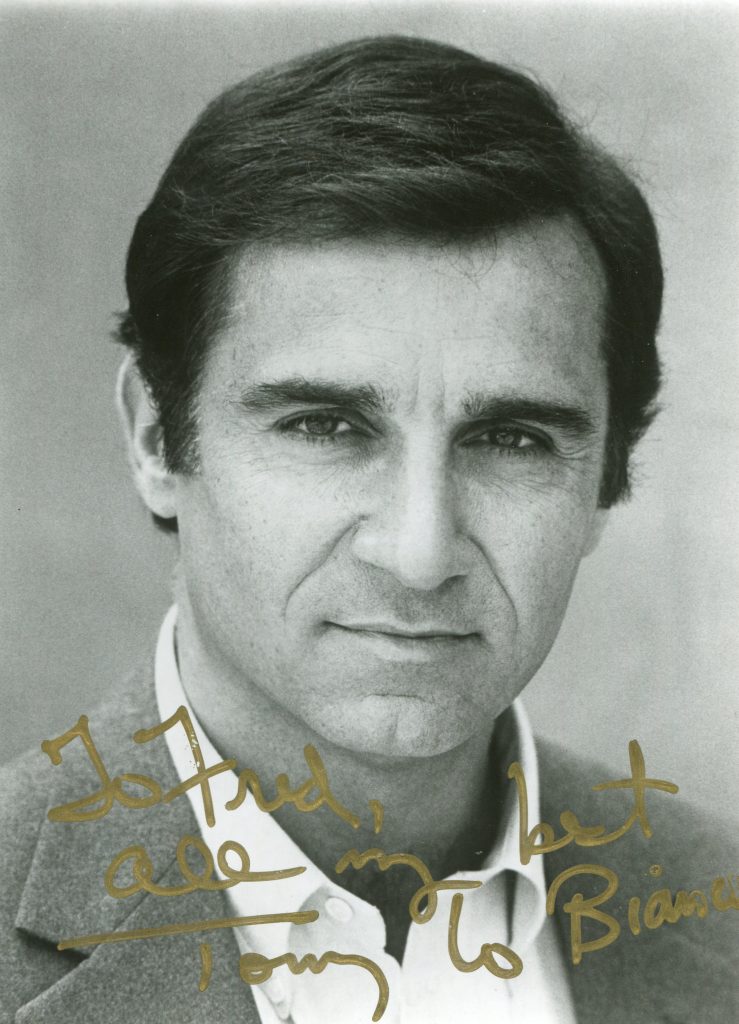 Tony Lo Bianco was born in 1938 in Brooklyn, New York. He came to a prominence with his lead role in "The Honeymoon Killers" in 1970. His other films include "Star", "Bloodbrothers" and "City Heat".
Gary Brumburgh's entry:
Veteran actor Tony Lo Bianco is not only known for his skills as a performer, but has extended his talents into directing, writing and producing, as well. The New York born-and-bred tough guy and former Golden Gloves boxer has distinguished himself over the years with a variety of Italianate blue-collar roles, initially on stage and then on film and TV. Adept at playing both sides of the law — the determined, streetwise cop and the corrupt politico and syndicate boss — embodying them with a dark, brooding, edgy intensity. He won an off-Broadway Obie award as a waning baseball icon in "Yanks-3, Detroit-0, Top of the Seventh"; an Outer Critics Circle Award and a Tony nomination inArthur Miller's "A View from the Bridge"; and received critical kudos for his one-man show, "Hizzoner!", which was based on the life of Fiorello LaGuardia, a show he later took to public television and won a New York Area Television Academy Award. Tony's film career started off promisingly with the cult classic, The Honeymoon Killers (1969), in which he portrayed a cold-blooded ladies' man who, paired with a heavyset nurse, sought out wealthy, lonely women to swindle and murder. Over the years, he has given added weight and dimension to such films as The French Connection (1971), The Seven-Ups(1973), Bloodbrothers (1978), City of Hope (1991), Nixon (1995) and The Juror (1996). Tony scored exceptionally well with such mini-movies as Marciano (1979), as fighterRocky Marciano, and Bella Mafia (1997). He has directed such TV programs as Police Story (1973) and the feature film, Too Scared to Scream (1985). In a solid career that has nearly reached the four decade mark, the durable Tony has brought to life a number of interesting hard-boiled characters, particularly in crimers.
– IMDb Mini Biography By: Gary Brumburgh / gr-home@pacbell.net