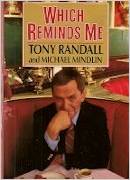 Tony Randall was born in 1920 in Tulsa, Oklahoma. He was a stalwart second lead on film in the 1950's and then in the 1970's became very popular on televusuon as Oscar in the series "The Odd Couple". His films included "Will Success Spoil Rock Hunter" with Jayne Mansfield in 1957, "Pillow Talk" with Rock Hudson and Doris Day and "The Mating Game" with Debbie Reynolds. He died in 2004.
Ronald Bergan's obituary in "The Guardian":
Last year's release of Down With Love was a homage to the three romantic comedies featuring the Hollywood team of Rock Hudson, Doris Day and Tony Randall – this time with Ewan McGregor, Renee Zellweger and David Hyde Pierce. But just in case the nostalgic point was lost, Randall, who has died aged 84, had a cameo role as an agitated publisher.
It was a reminder of the days when the actor was the personification of suburban America's comic neurosis, as portrayed in glossy features and as the fusspot Felix Ungar in the US television series, The Odd Couple (1970-1975), for which he won an Emmy.
Although the Broadway and film versions of The Odd Couple became established hits with different stars (notwithstanding the fact that Randall played Felix in a Chicago production), he drew on his passion for opera by making the character an opera lover. He also added the loud honking noises that accompanied Felix's constant sinus attacks.
Randall's portrayal of nebbishness reached its peak in his support of Hudson and Day in Pillow Talk (1959), Lover Come Back (1961) and Send Me No Flowers (1964). In the former, he was the jealous, rejected suitor of Day, trying to protect her from his womanising friend Hudson; in the second, he was Hudson's indecisive boss; and in the last, believing that his best friend Hudson was going to die, he started drinking to deal with the impending "tragedy". Randall was able to whine better than most actors, though he could be trenchant as well.
Born Leonard Rosenberg in Tulsa, Oklahoma, the son of an art dealer, he was educated at Northwestern University, Chicago, and Columbia University, New York, before studying for the stage at the renowned Neighborhood Playhouse School of the Theatre in New York. Billed as Anthony Randall, he appeared in a few plays before going off to serve in the US army signal corps, from 1942 to 1946.
He made his Broadway debut in 1947 as the brave Roman soldier Scarus in Anthony And Cleopatra, with Godfrey Tearle and Kathleen Cornell in the title roles. In July 1954, he took over from Gig Young in Edward Chodorov's Oh, Men! Oh, Women!, which led to his being offered a part in the 1957 CinemaScope screen version, the only survivor from the Broadway production. As one of psychiatrist David Niven's more eccentric patients, Randall almost stole the picture – and certainly established his phobic persona.
Randall was already well-known for two very different roles: to US television audiences, he was Harvey Weskit, the brash best friend of timid Robinson Peepers (Wally Cox) in the live sitcom Mr Peepers (1952-1955); and theatregoers were familiar with his portrayal of the cynical newspaperman EK Hornbeck in Inherit The Wind (1955), observing the Scopes monkey trial on the teaching of evolution theory.
However, his real international breakthrough came in Will Success Spoil Rock Hunter? (1957), the film version of George Axelrod's Broadway comedy hit. Randall was wonderfully perplexed as the timorous advertising man given the task of convincing Jayne Mansfield to contribute her lips to a campaign for Stay-Put lipstick – only to find himself being hailed as a sex symbol.
An unlikely heart-throb, Randall again got the girl in The Mating Game (1959), based on HE Bates's The Darling Buds Of May, when he played an upright taxman falling for an unconventional farmer's daughter, Debbie Reynolds. In Let's Make Love (1960), he demonstrated once again his ability to steal scenes with his dry wit, a task made easier by Yves Montand's discomfort in the role of the billionaire who gets involved with showgirl Marilyn Monroe.
Randall was delightfully roguish as the King in The Adventures Of Huckleberry Finn (1960), and played seven roles in The Seven Faces of Dr Lao (1963), a triumph for him and the makeup specialist William Tuttle, who won an Oscar. However, he was less convincing in two films made in England, as Hercule Poirot in The Alphabet Murders (1965), and as an American tourist caught up with spies in Our Man In Marrakesh (1966).
Around this time, Randall, who was an outspoken liberal, started to express his doubts about the Vietnam war. As a result, he was dropped as a regular panellist on Opera Quiz, the intermission feature of the weekly Texaco Metropolitan Opera radio broadcasts. He said he donated the remainder of his contract fee to Senator Eugene McCarthy's presidential campaign.
After The Odd Couple ended, Randall had his own television sitcom, The Tony Randall Show (1976-78), playing a twinkly-eyed, widower judge deliberating as much over his troubled family as over his court cases. Another sitcom, Love, Sidney (1981-83), was derived from a 1980 TV movie Sidney Shorr: A Girl's Best Friend.
In the 1980s, the acerbic Randall was frequently seen on talk shows expressing his disgust at the death penalty, his scepticism of the Emmys, his refusal to work with smokers, and the need for subsidised theatre in the US.
In 1992, he realised a long-cherished dream by founding his own non-profit-making company, The National Actors' Theater, maintained, in part, at his expense in New York and devoted to classics. However, the critical response to its productions – many with Randall in leading roles – was mixed. For the first years, each season ambitiously offered three plays, but gradually this was reduced to one.
Among the productions were The Crucible, with Martin Sheen as John Proctor; The Master Builder; The Seagull; Timon Of Athens; The Odd Couple reteaming of Jack Klugman and Randall in Three Men On A Horse and The Sunshine Boys; and an ailing George C Scott in Inherit The Wind.
In 1995, the 75-year-old Randall, whose wife Florence had died three years previously, married Heather Harlan, an ingénue at the National Actors Theater, 50 years his junior. Both she and his two children survive him.
· Tony Randall (Leonard Rosenberg), actor, born February 26 1920; died May 17 2004
The above "Guardian" obituary can also be accessed online here.