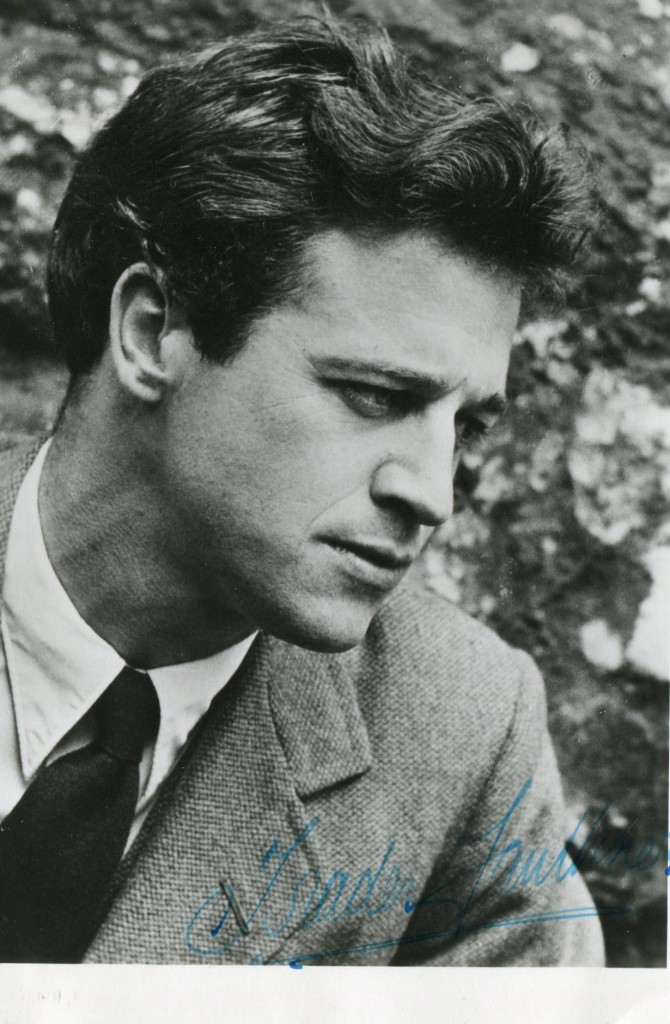 Trader Faulkner was born in 1927 in Sydney, New South Wales, Australia. His film career has been mainly based in the UK. His film debut came in 1952 with "Mr Denning Drives North". Other films include "24 Hours of a Woman's Life" with Merle Oberon, "The Bay of St Michel" and "A High Wind in Jamaica" in 1964. His website here.
The Telegraph obituary in 2021.
Ronald "Trader" Faulkner, who has died aged 93, was an Australian actor, writer, flamenco enthusiast and a friend of Hollywood stars from John Gielgud and Laurence Olivier to Peter Finch, whose biography he wrote; with his matinée idol looks, Faulkner was a regular supporting player in Hollywood films of the 1950s and 1960s.
He met John Gielgud in 1950, when auditioning to replace Richard Burton in the transfer to Broadway of The Lady's Not for Burning – directed by Gielgud. When Gielgud heard Faulkner's real name, he cried: " 'Ronald!' Oh, God! What a dreary name!'' He was elated to learn that Faulkner's "down-under'' nickname was Trader: "We'll bill you on Broadway as Trader!" The name stuck.
In 1955, Faulkner was Sebastian to Vivien Leigh's Viola in John Gielgud's production of Twelfth Night. On the opening night, the great actress called Faulkner to her dressing room.
"Darling Trader, how much are you paid?" she asked.
"£25 a week," Faulkner replied.
"When Sebastian and Viola kiss at the end, as long-lost twins finally reunited, if I made it up to £27, do you think we could hold on our kiss?"
"Oh Viv, to hold on a kiss with you for every performance? I'd need thirty quid."
Vivien Leigh burst out laughing and kissed him.
Ronald Faulkner was born in Sydney, Australia, on September 7 1927. He was the son of the ballerina Sheila Whytock (who had danced in the companies of Diaghilev and Anna Pavlova) and of John Faulkner, a prominent British-Australian silent-film actor.
Just before John Faulkner died in 1934, he gave his son the nickname Trader, after little Ronald, aged seven, found his father's bootleg whisky in the bath in Sydney and promptly traded it at school for marbles.
Faulkner was brought up in Manly, a Sydney beachside suburb. He remembered the Sydney Harbour Bridge opening in 1932. Educated at St Aloysius College, Sydney, he was born an Anglican, but converted to Catholicism.
Beginning his acting career at the Independent Theatre in Sydney, Faulkner owed his big break to his fellow Australian actor Peter Finch, who took him under his wing in Sydney from 1946 to 1948.
They remained firm friends when Faulkner moved to London in 1950, living with his mother on a houseboat called Stella Maris at Chelsea Reach.
It was aboard the Stella Maris in the late 1950s that Faulkner got a call from Finch.
"G'day, mate," said Finch. "I'm just across the river from you at that little pub, the Old Swan."
Faulkner found Finch at the bar, with two pints drawn.
"Pete," Faulkner said to him, "I'm busting for a leak. Where's the dunny?"
"Go through that door and along the passage. It's the last door on the left. It sticks a bit, so give it a hard shove and you'll be in there."
Faulkner did as suggested, heaved at the door and ended up in the Thames. "Struggling to stay afloat," he recalled, "I looked back to see Finchie waving a white handkerchief with joy."
Aboard the Stella Maris, Faulkner also met a teenage Richard Ingrams, then an Oxford undergraduate. Both had Catholic mothers who attended Mass at Holy Redeemer in Cheyne Row.
"Trader was heavily involved in flamenco dancing, a passion which I shared," Ingrams said. "I went with Trader and my great friend and fellow student Paul Foot to see the famous dancer Antonio 'El Bailarin' at the New Theatre, Oxford."
Faulkner would later contribute to The Oldie magazine, founded by Ingrams, from 2004 until the April issue this year. His final article was about his "mate and mentor" Peter Finch. When Finch died of a sudden heart attack in 1977 at the age of 60, Faulkner wrote Peter Finch: A Biography, published in 1979.
Faulkner's film appearances through the 1950s including a leading role as Laurence Harvey's younger brother in the psychological thriller A Killer Walks (1952). As Harvey watched the rushes at Shepperton Studios, Faulkner overheard him say, "Hey! The Kid's [Harvey's nickname for Faulkner] getting all the gravy!"
The same year Faulkner appeared opposite Merle Oberon in 24 Hours of a Woman's Life.
In 1953 he played Malcolm to Laurence Olivier's Macbeth and Vivien Leigh's Lady Macbeth at Stratford. One morning, at the Oliviers' house, Notley Abbey in Buckinghamshire, another guest, Noël Coward, asked Trader over breakfast: "Tell me, dear boy, is your bum available this morning?"
When Faulkner politely declined, Coward said: "What a tragedy! Ah well. Life is full of disappointments … Would you be a darling and pass me the marmalade?"
Faulkner soon fell for the enchanting actress Dorothy Tutin, who was then in love with Laurence Olivier. One evening, Faulkner decided to attack Olivier on a nocturnal visit to Tutin, also living on a Chelsea houseboat. Hiding in a dustbin, Faulkner spotted Olivier arriving one freezing evening. As Olivier departed the next morning, Faulkner leapt out of the bin, brandishing an empty wine bottle.
"Baby, baby," crooned the unshaven Olivier. A disarmed Faulkner tossed the bottle into the Thames and hugged Olivier, crying: "Larry! How lovely to see you!"
"Baby, what are you doing here?" Olivier asked.
"I'm about to play a madman on TV and I'm getting into character," lied Faulkner.
In the late 1950s, he worked on his Spanish dancing, forming Trader Faulkner's Quadro Flamenco, a dancing group. He perfected the art with lessons in Seville from El Cojo, a legendary maestro.
After playing Prince John in the 1962 television series Richard the Lionheart, Faulkner appeared in Alexander Mackendrick's A High Wind in Jamaica in 1965. There he acted opposite a teenage Martin Amis, who borrowed the name Trader Faulkner for the chief murder suspect in his 1997 novel, Night Train. When the film version of Night Train was made in 2018 as Out of Blue, Trader objected to his name being used and the character was called Duncan Reynolds instead.
Faulkner's last film was Murder Game (1965), a crime movie. In the 1970 RSC season, he appeared in Measure for Measure, Richard III and The Two Gentlemen of Verona.
Through the 1970s, he concentrated on writing Spanish translations of plays, particularly those of Federico García Lorca, the Andalusian poet and playwright whose writing helped to revive flamenco culture. For his devotion to Lorca, he was awarded the Spanish Order of Merit by King Juan Carlos.
In the 1980s and 1990s, he took his play Lorca to the West End, Stratford, New York and Sadler's Wells. In 1999, at the Jermyn Street Theatre, he put on his autobiographical play, Losing My Marbles.
He wrote about showbusiness, his life and Lorca for The Oldie as well as the Telegraph, Independent and Guardian. In 2013, he published his memoir, Inside Trader.
Into his 90s, he was an object lesson in growing old with pleasure and optimism. Decked out in pink, with a scarlet beret and cowboy boots, until this year he was hand-delivering articles to the Oldie offices in Fitzrovia – where he would launch into an impromptu flamenco.
A long-time resident of Lexham Gardens in Kensington, he was a familiar figure cycling or walking through the square, dressed head to toe in red or blue according to mood, or seated with friends in his favoured tea shop, the Muffin Man.
In 1963, Faulkner married Ann "Bobo" Minchin. Their daughter Sasha was born in 1966, but the marriage broke down soon after. He is survived by Sasha.
Ronald "Trader" Faulkner, born September 7 1927, died April 14 2021