Veronica Carlson. Wikipedia
Veronica Carlson was born in Yorkshire in 1944. She is best known as one of the beautiful heroines of the Hammer Horror films, these include "Dracula Has Risen From the Grave" in
Striking, pale complexioned, blonde English actress who is best known as the female lead of several late 1960s Hammer horror films. These roles include as the hapless Maria being terrorized by fanged Christopher Lee in Dracula Has Risen from the Grave (1968), brutalized by the evil Peter Cushing in Frankenstein Must Be Destroyed (1969) and chased by monster David Prowse in The Horror of Frankenstein (1970).
After her brief career in a handful of Hammer films, Carlson's star faded as quickly as it had risen, however she had assured herself a place in horror film history as one of the stunning women that graced the screen during Hammer's wonderful renaissance of the horror genre. Ms Carlson died in 2022 aged 77. she is survived by her husband, three children and seven grandchildren.
– IMDb Mini Biography By: firehouse44@hotmail.com
The above IMDB entry can also be accessed online here.
1968, "Frankenstein Must Be Destroyed" and ""The Horror of Frankenstein". She now lives with her family in South Carolina.
Her IMDB entry: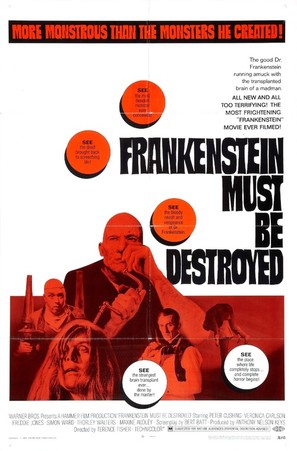 The Times obituary
Veronica Carlson had only had one supporting role when she was cast in the Hammer horror movie Frankenstein Must Be Destroyed opposite Peter Cushing. She turned up to shoot her first scene just in time to hear Cushing and Terence Fisher, the director, discussing her imminent screen death. "He said: 'How do you want to kill her, Peter?' And Peter was saying: 'I've given that a lot of thought, Terry.' And then he proceeded to tell Terry how he wanted to kill me. I kept trying to interject. It was like I wasn't there. It was like listening to a bedtime story of how they were going to kill me."
The cold-blooded nature of the conversation and chilling mood of the scene contrasted with the warm atmosphere of the Hammer movie-making experience for the statuesque blonde actress, who was almost completely inexperienced, having had only a handful of uncredited bit parts before she landed her first job at the famous studio. "The whole beauty of Hammer was that it was like a big family," she said. "You were cherished." So much so that after the filming of Frankenstein Must Be Destroyed, Cushing wrote Carlson's parents a "beautiful" letter, complimenting her on her performance.
The two actors had bonded over the shared trauma of being forced to film a last-minute rape scene, which had been ordered by "the higher-ups, the distributors" who feared that there was not enough sex in the film to entice people into the cinemas. Nobody in the crew was happy about the new scene, least of all Carlson, who had a no-nudity clause in her contract. Indeed, she and Cushing were quite distressed about it.
Carlson in 1969
He clasped her hands and told her to remember that it was not him in the scene but his character. "Peter said: 'Darling, I don't like this any more than you do.' We worked out how to do it, between us. They wanted him to strip me, to take hold of my neckline and tear it down to my waist, you see. Peter said: 'I'm not going to do this.' After we shot the scene, Peter just held me. I was trembling and he was trembling. We were both so upset. We just stayed there, very, very still until we composed ourselves and then we got up and walked out. It was the only time that I felt such a sombre atmosphere on a Hammer film."
She was born Veronica Mary Glazier in Emley, West Yorkshire, in 1944. Her mother, Edith (née Allatt) was a housemaid when she met her father, William Glazier, an RAF officer. After the Second World War, the family moved around but spent a few years in Norfolk, where she and her younger sister, Elizabeth, attended Thetford Girls' School. Eventually, they moved to High Wycombe, while her father worked for the Ministry of Defence. "It was," she later said, "a very strict upbringing."
ADVERTISEMENT
When the young woman was 16, one of her teachers "rescued" her by telling her mother that she had a gift and should go to art college. "It was wonderful for me," she said.
It was while she was studying art at High Wycombe College of Technology and Design that she caught the acting bug, and appeared in college revues and operettas. She was still a student when, in 1967, she auditioned for the Morecambe and Wise film The Magnificent Two. She had heard that they needed a girl who could do judo and she had mastered the basics, so she headed to Pinewood, dressed in trousers and a sweater, only to find that every other girl was wearing a bikini.
She was about to withdraw from the audition when the producer called her name and asked her to show them what she could do. "And there was a girl dressed as a bona fide judo person so, knowing some judo moves, I threw her over my head and I got the job!"
Her first speaking part was in her debut Hammer movie, Dracula Has Risen From the Grave (1968), in which she played a clergyman's niece who is bitten by the vampire count, played by Christopher Lee. She became known as the English rose of the group of buxom young actresses who regularly appeared in the popular horror films.