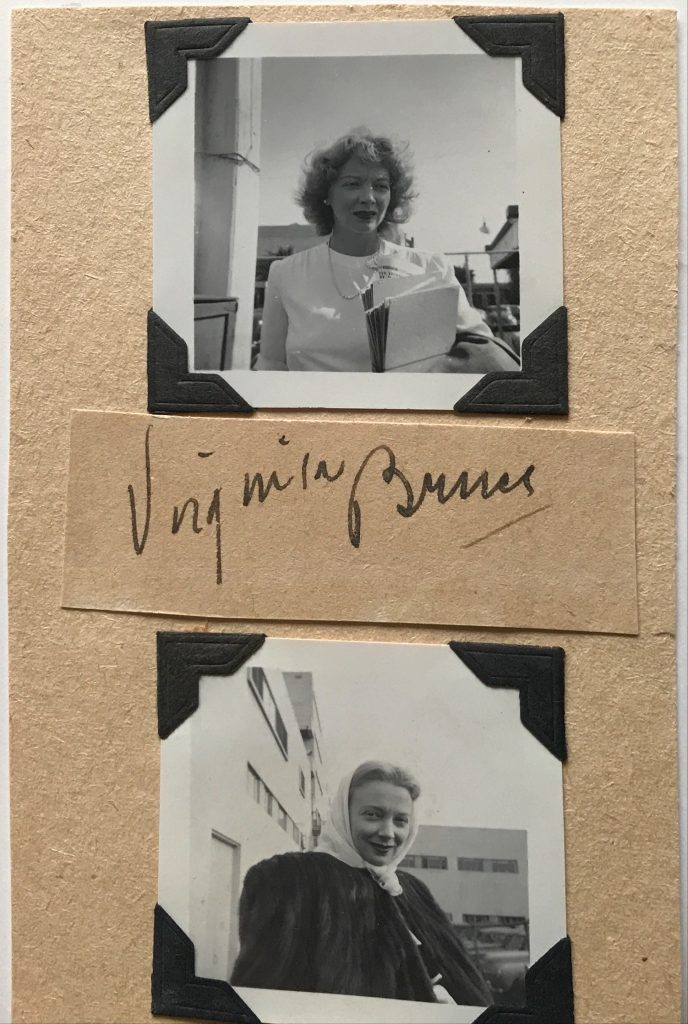 Virginia Bruce was a beautiful blonde actress who shone in some fine movies in Hollywood primarily in the 1930's and 40's. She was born in 1910 in Minneapolis, Minnesota. She had the tit
le role in the 1934 film adaptation of "Jane Eyre". Other films include "The Great Ziegfeld", "Born to Dance", "Arsene Lupin Returns" and "Adventure in Washington". Her final film role was as the mother of Kim Novak in "Strangers When We Meet". She died in 1982.
Source: Wikepidia, the Free Encyclopedia
Helen Virginia Briggs, later know as Virginia Bruce, was born in Minneapolis, Minnesota on the day of September 29th, 1910. Though born in Minnesota, she grew up in Fargo, North Dakota. In 1929, she left North Dakota to attend a womans college in California. Upon arrival to California she caught the "acting-bug" and went to MGM Studios were she landed bit-parts in silent-films and early talkies. It was while at MGM, that she meet screen legend John Gilbert, then in his decline as both a star and a human-being. They were married in 1932, and in 1933 Virginia Bruce gave birth to a daughter whom she christined Susan Ann. In 1934, Virginia divorced Gilbert. After the divorce she continued her movie career landing suitable roles in movies like The Great Ziegfeld (1936) and Born to Dance (1936). In 1939, she proved to Hollywood and the world that she was a true actress when she starred in Stronger Than Desire (1939). The film was a remake of the 1935 film, Evelyn Prentice, yet the plot was the same. It was with this film that Virginia Bruce cemented her career, playing a New York Socialite who murders her lover and uses her brains and beauty to evade her crime. In 1941, she married J. Walter Reuban, a screenwriter at MGM Studios. That same year she gave birth to a son. (The name of the offspring is unknown). In 1942, Reuban went to serve in the war and ended up dying there, leaving Virgina a widow. It was doing that war that Virginia took time off from movies to help with the war-effort by attending War-Bond Rally's, Touring with the USO, and even being a nighthostess at the Hollywood Canteen in downtown Los Angeles. The 1950s, saw her married to Ali Ipar, a Turkish film director. She was divorced from Ali Ipar for the first time in 1951 when he began his compulsory Turkish army service because Turkish law forbids commissions to men married to foreigners. In 1952, they remarried and in 1964, they divorced for the second and final time. The 1950s also saw Virginia Bruce in television, working with the Ford Television Theatre and also with the Lux Video Theatre in a television adaption of the 1945 film, Mildred Pierce, with Virginia Bruce in the title role. In the late 60s, work was hard to come by for Virginia Bruce and when the 1970s began she retired from acting. In 1981, she came out of retierment to star in the film, Madame Wang's. By 1982, her health problems had increased and on February 24th, 1982 Virginia Bruce died in Woodland Hills, California of cancer at age 71.