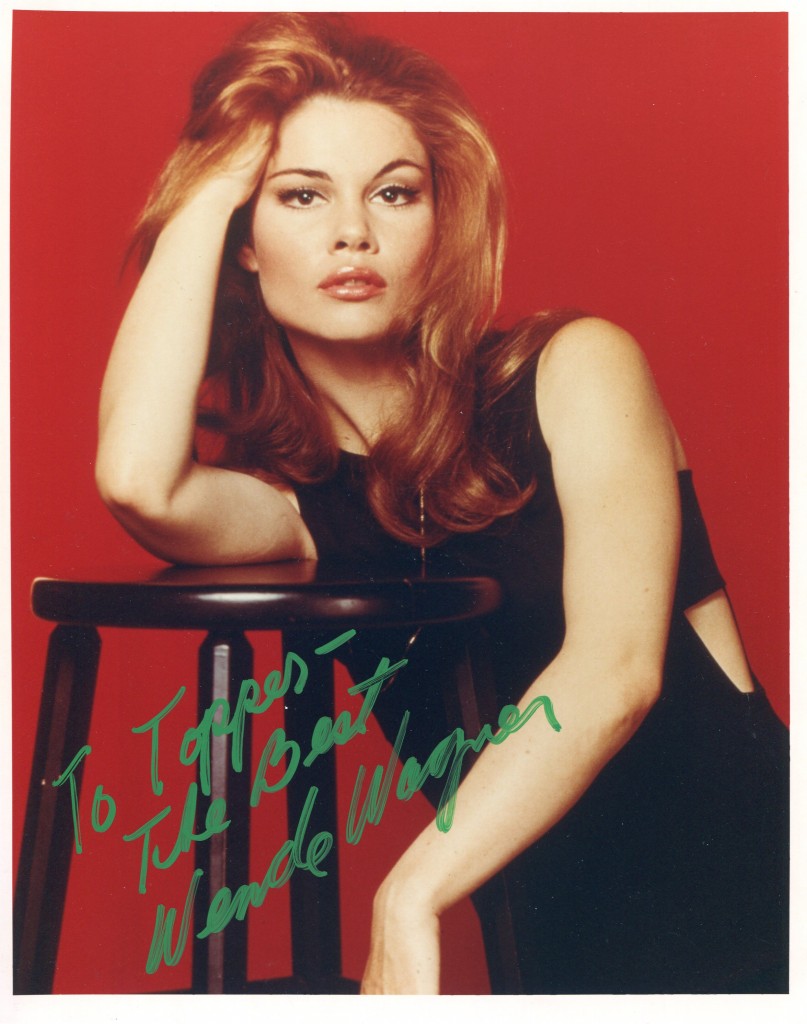 Wende Wagner was born in 1941 in Connecticut.   She made her television debut in 1959 in an episode of "Gunsmoke".   Her film credits include "Rio Conchos" in 1964 and "The Green Hornet" series on TV in 1966.   She died in 1997.
Gary Brumburgh's entry:
Beautiful, vibrant-looking 60s actress Wende Wagner (her real name) was born in Connecticut in 1941. Of French, German and Native American heritage, her exotic looks would later serve her well on TV and in motion pictures. She inherited her athletic genes from her parents; her father was a former Olympic swimming/diving coach turned Naval Commander and her mother was a champion downhill skier.
The sweet-looking beauty entered the entertainment arena as a model and made her TV debut in 1959 on the Wagon Train (1957) western series. Very much a free spirit, she was more interested in surfing and traveling around the world than a career. She combined both passions when she earned work as an underwater female stunt double forLloyd Bridges on his hit series Sea Hunt (1958) as well as the TV series The Aquanauts(1960), which took her to ideal tropical settings. She also stunted for such movies asSeptember Storm (1960) co-starring Joanne Dru and Mark Stevens.
On that movie set, she met and subsequently married fellow stunt diver Courtney Brown(he was Mr. Stevens' double in that film), who coached her in underwater shooting. They had a daughter, Tiffany. During this time, they based their lives in the Bahamas where most of their shooting occurred. They divorced, however, after a short time and she returned to Hollywood where she won the role of an Apache girl in the movie Rio Conchos(1964) with Richard Boone, Anthony Franciosa and Stuart Whitman. A few years later, she married actor James Mitchum, Robert Mitchum's eldest son, but they too split. Wende's career continued in the 60s with a couple of movies and a role in the The Green Hornet (1966) TV adventure series but she eventually dropped out of sight. Little was heard from her until reports of her death from cancer in 1997.
– IMDb Mini Biography By: Gary Brumburgh / gr-home@pacbell.ne