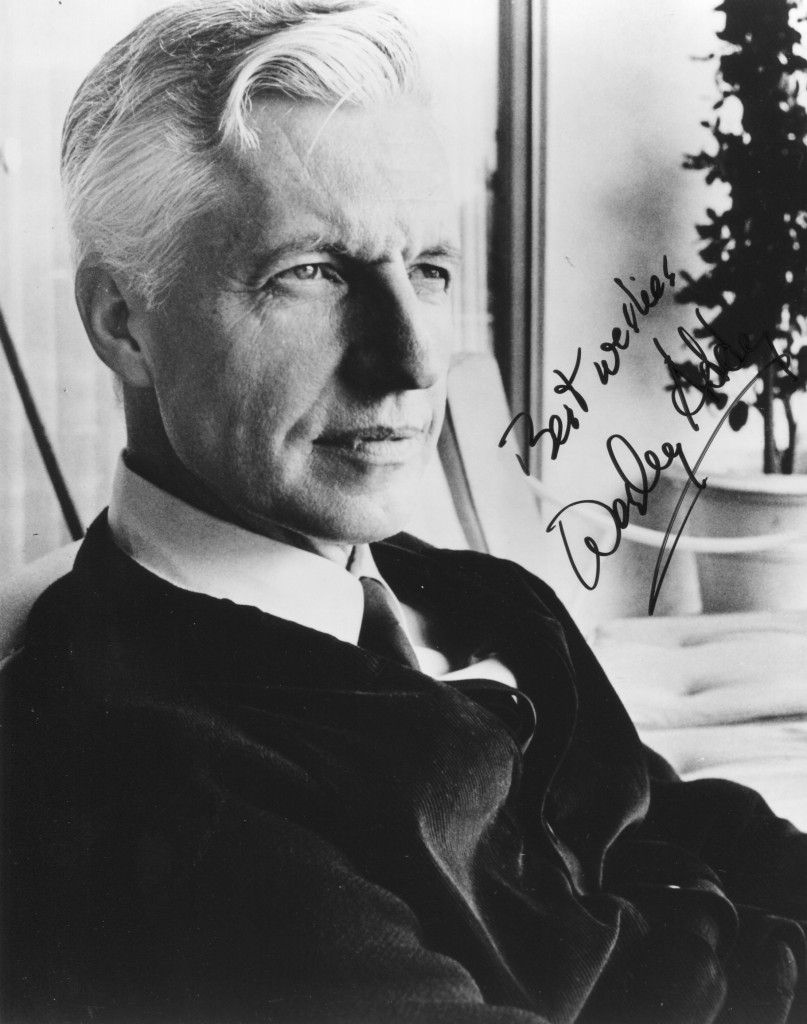 Wesley Addy was born in 1913 in Omaha, Nebraska. He had a profilic career on the stage before beginning his movie career. His films include "The First Legion" in 1951, "My Six Convicts", "The Garment Jungle" with Gia Scala and Kerwin Mathews and James Ivory's "The Europeans" in 1979. He was long married to actress Celeste Holm. He died in 1996.
Gary Brumburgh's entry:
Character actor Wesley Addy began his prolific career as a prime player on the classical stage before coming to occasional films and TV in the early 1950s. Known for his intelligent, white-collar demeanor and lean, icy, cultivated menace, the silver-haired performer, who was actually born in Omaha, Nebraska, was often mistaken as British.
Majoring in economics at the University of California in Los Angeles, Wesley switched gears and trained in summer theater on Martha's Vineyard before trekking to New York City to pursue a professional career. In 1935, the actor made his Broadway stage debut with Orson Welles in Archibald Macleish's "Panic". He continued with roles as both "Marcellus" and "Fortinbras" in Leslie Howard's production of "Hamlet". Other Shakespearean roles during this early period included "Hotspur" in "Henry IV, Part I", "Benvolio" in "Romeo and Juliet" and "Orsino" in "Twelfth Night". He often performed the Bard in the company of such legendary interpreters as Orson Welles, Laurence Olivierand, more frequently, Maurice Evans.
World War II interrupted Addy's early momentum but he eventually returned to the theatre following his tour of duty and played opposite Katharine Cornell in "Antigone" and "Candida". A continued presence on Broadway, he had strong stage roles in "The Traitor", "Another Part of the Forest", "King Lear" and "The Leading Lady".
In 1951, the 38-year-old Addy made his film debut in the drama, The First Legion (1951), and would be seen from time to time throughout the decade in such dramatic fare asScandal Sheet (1952), My Six Convicts (1952) and Time Table (1956). Some of his chillier roles came in films directed by Robert Aldrich, who utilized the actor quite often — Kiss Me Deadly (1955), The Big Knife (1955), The Garment Jungle (1957), Ten Seconds to Hell(1959) and the Grand Guignol classics, What Ever Happened to Baby Jane? (1962) andHush…Hush, Sweet Charlotte (1964).
Never acquiring a strong footing in the movies, Wesley changed his on-camera focus in the 1960s to TV and also sought out theatre roles, as well. In 1961, Wesley married actress Celeste Holm. Together, they proved a strong stage coupling in both comedies and dramas — "Invitation to a March", "A Month in the Country", "Mame", "Candida", "Light Up the Sky", "Mama" and "With Love and Laughter".
A reliable, durable performer, Wesley played suave gents and villains on TV. A major portion of his work came from daytime soaps — including The Edge of Night (1956), Days of Our Lives (1965), Ryan's Hope (1975) and Loving (1983). Later films included Seconds(1966), Network (1976), The Europeans (1979) and The Verdict (1982). He continued to act close to the end. His last film role was as a judge in Before and After (1996) starringMeryl Streep and Liam Neeson, which was released in the year of his death. He was 83.
– IMDb Mini Biography By: Gary Brumburgh / gr-home@pacbell.ne