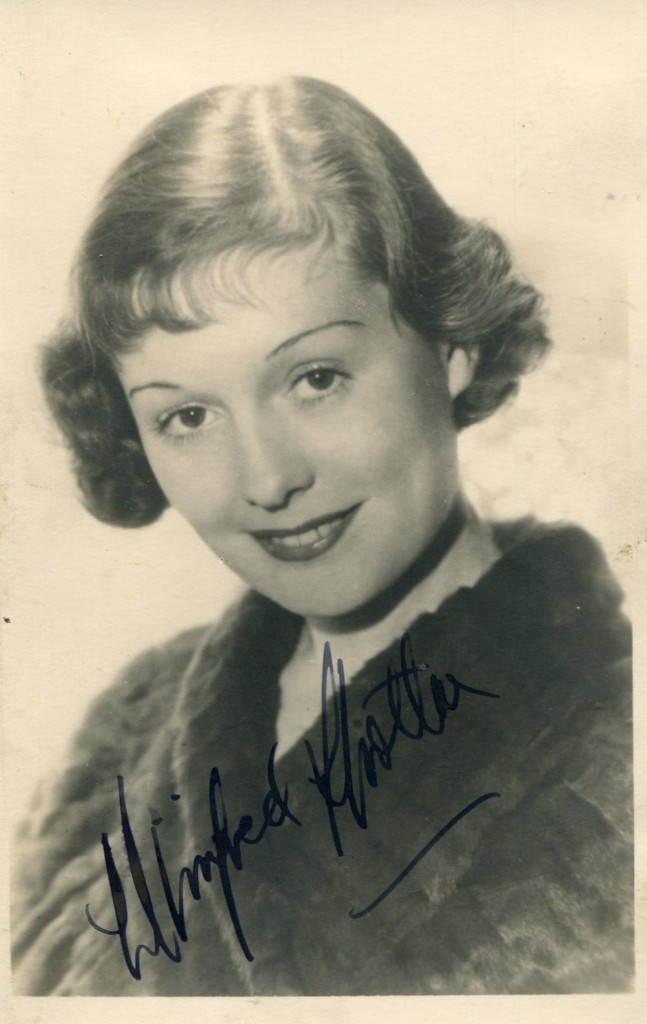 Winifrid Shotter was born in 1904 in London. She made her film debut in 1929 in "Peace and Quiet". Her other films include "Rookery Nook", "Candles at Nine" with Jessie Mathews and her final film "John & Julie" in 1955. She died in 1996 at the age of 91.
"Independent" obituary by Molly Weir:
Winifred Shotter was an unforgettable star in the famous Aldwych farces written by Ben Travers, which were staged before and during the Second World War
Long before Brian Rix was dropping his trousers at the Whitehall Theatre in the Fifties, Shotter was appearing at the Aldwych Theatre as an enchanting "flapper" who had to be hidden for fear of discovery by prim visiting relatives, and she sent the house into screams of warning appreciative laughter as she raced downstairs from the bedroom and across the stage clad only in exquisitely revealing pink crepe-de-Chine camiknickers.
Her ladylike terror as she reacted to Robertson Hare's horrified cries of "Oh calamity!" enchanted the audience; Ralph Lynn and Tom Walls aided and abetted the chase. Winifred Shotter was classy, frightened femininity at its best.
Those farces filled the Aldwych for years. The first was in 1925. Shotter appeared in Rookery Nook (1926), Thark (1927), Plunder (1928), A Cup of Kindness (1929) and Turkey Time (1931). She also performed in early British films with great success, and may be seen occasionally in old black-and- white films on television. Several of the Aldwych plays (Rookery Nook, 1930, produced by Herbert Wilcox, was one) were also made into films.
When she became engaged in 1951 to Gilbert Davis, one of the band of English actors who found fame in Hollywood because of his impeccable manners and excellent speaking voice, I shared in the most glamorous occasion of my life. To celebrate their betrothal Davis booked the Royal Box at Drury Lane on 1 November 1951 for the first night of South Pacific.
Bewigged flunkies with breaches and silk hose attended to us, served tea and sandwiches at the interval, and the royal loo was ours for the evening. Great names stared up curiously from the stalls to see who occupied the box and we looked down upon the Attenboroughs and the John Millses and others as splendid. Everyone was there but Winifred Shotter. She was appearing in the show she did every Christmas season, Where the Rainbow Ends, and not even a betrothal would allow her to miss a performance and disappoint her audience. She joined us at the Caprice for supper. After her marriage, Shotter virtually gave up acting. When taxation rose vertiginously in Britain, she and Davis moved to Montreux, in Switzerland, where they stayed until his death, when Shotter returned to England. She lived for some years in Surrey. I think Winifred Shotter must be one of the last actresses who never lost her elegance or her perfect manners, or her charm. She adorned every occasion she attended.
Winifred Shotter, actress: born 5 November 1904; married 1931 Michael Green (marriage dissolved), 1952 Gilbert Davis (deceased); died Redhill, Surrey 4 April 1996.
The above "Independent" obituary can also be accessed online here.