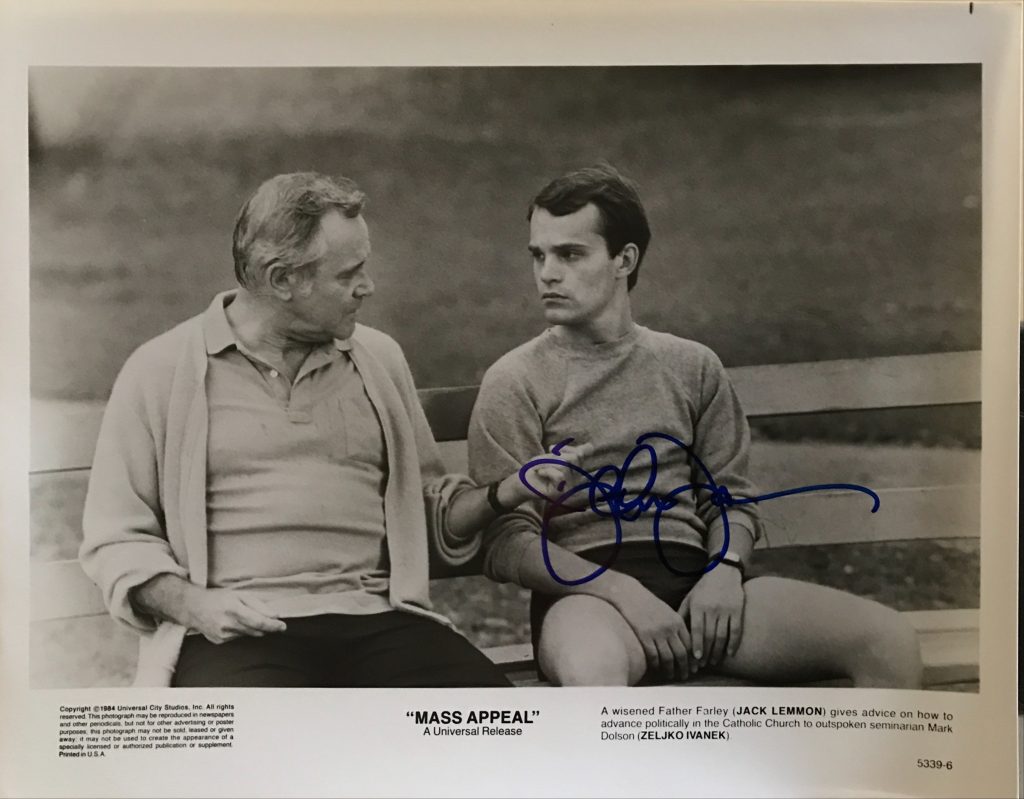 Zeljko Ivanek was born in Slovenia in 1957. When he was three years old, his parents emigrated to the U.S. His movie debut came in 1982 in "The Soldier". Another early film credit was "Mass Appeal" with Jack Lemmon. He has had an extensive career on the stage and in television. He was part of the cast of the long running HBO series "Oz".
TCM overview:
Even though most people could not pronounce Zeljko Ivanek's name, there was no denying he made an impression every time he appeared onscreen. Already an accomplished stage star, Ivanek appeared in several film and TV projects, often as conniving and evil men who wore three-piece suits. His performance as a smooth-talking Southern lawyer in "Damages" (FX, 2007- ) earned the Slovenian-born actor his first time Emmy Award nomination and win in 2008, where he went up against his co-star Ted Danson for Best Supporting Actor in a Drama Series.
Zeljko Ivanek (pronounced Zhel-ko Ee-vah-nik) was born on Aug. 15, 1957 in Ljubljana, Slovenia (then a part of Yugoslavia). The actor was just three years old when his parents brought him to the United States in 1960. Ivanek graduated from Yale University in 1978 before attending the London Academy of Music and Dramatic Art. "I started in theater in New York, and it's a smaller community, and it feels like you know the ins and outs more," Ivanek said. His theater training paid off in 1981, when the actor won the Drama Desk Award for Outstanding Featured Actor in a Play, for a production of Caryl Churchill's "Cloud Nine." A year later, he originated the role of Hally in the Athol Fugard play, "Master Harold and the Boys."
Broadway gave Ivanek an outlet to showcase his exceptional acting skills, even honoring him with multiple Tony Award nominations, including one for his performance in the original production of "Brighton Beach Memoirs" (1983). He also received critical praise – and more Tony nods – for "Two Shakespearean Actors" (1992) and for playing Captain Queeg in "The Caine Mutiny Court Martial" (2006). The marquee star never thought about changing his name, stating that even though it had been suggested, "it always seemed very peculiar to have my parents see me using a different name."
Ivanek's first feature film appearance was playing a hitchhiker in "Tex" (1982). Since that time, the actor's roles got bigger and meatier, with unforgettable turns as Bobby Kennedy in "The Rat Pack" (1998), a District Attorney in Lars Von Trier's heartbreaking "Dancer in the Dark" (2000), and a doctor in "Hannibal" (2001). Von Trier was so enthralled by the passion and depth Ivanek brought his characters that he cast the actor in two more films, "Dogville" (2003) and "Manderlay" (2005).
Perhaps even more than his stage and film appearances, Ivanek was mostly recognized for his extensive and impressive television resume. While still acting on Broadway, Ivanek joined the cast of the mystery soap series "The Edge of Night" (CBS, 1956-1975, ABC, 1975-1984) as Sammy Wheaton. He had supporting roles throughout the 1980s in shows like "St. Elsewhere" (NBC, 1982-88) and "L.A. Law" (NBC, 1986-1994) before landing a recurring role as prosecuting attorney Ed Danvers in "Homicide: Life on the Street" (NBC, 1993-99).
In 1998, Ivanek was cast as Astronaut Ken Mattingly in the Emmy and Golden Globe award-winning miniseries "From the Earth to the Moon" (HBO). He reprised his role of Ed Danvers for the 2000 film "Homicide, and two years later, Ivanek got cast in another recurring role – this time as Andre Drazen, the man who plotted to kill Senator David Palmer (Dennis Haysbert) and frame Jack Bauer ( Keifer Sutherland) in "24" (FOX, 2001- ).
Ivanek was not one to take on one acting job at a time. While acting in "24," he also appeared on episodes of "The Practice" (ABC, 1997-2004), "The Twilight Zone" (UPN, 2002-03), and the gritty prison drama "Oz" (HBO, 1997-2003). In the latter, Ivanek played chillingly evil Governor James Devlin, the inmate-hated politician who advocated "No perks for prisoners." The year 2007 proved to be a big year for the Slovenian star, playing FBI Agent Molina in the film "Live Free or Die Hard" with Bruce Willis, and getting cast as the charmingly manipulative Southern lawyer Ray Fiske in the FX series "Damages."
Though his character ended up committing suicide in the first season of the show, Ivanek's performance caught the attention of Emmy voters, who gave him the statue in 2008. Asked about the irony of getting nominated for a role he could not reprise, the actor said, "It was just such a great part that when it happened, it was a wonderful way to end it and put a cap on it. It was such a nice bow to tie it all up." That same year, Ivanek portrayed Pennsylvania representative John Dickinson in the HBO miniseries "John Adams," opposite Paul Giamatti and Laura Linney.
The above TCM overview can also be accessed online
here.