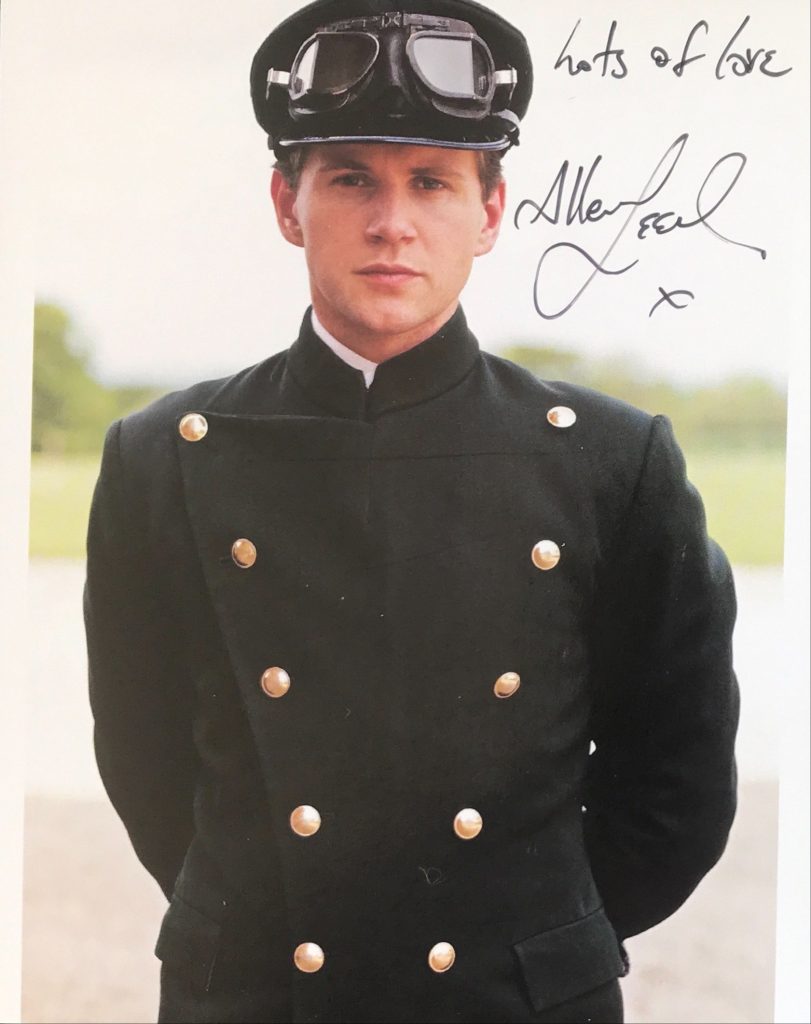 Allen Leech is one of Ireland's most promising young actors. He was born in 1981 in Dublin. He had a major role in 2003 in the movie "Cowboys and Angels" followed by "Man About Dog". He also starred in the 2011 film "Re-Wind" with Owen McDonnell and Amy Huberman. He is currently best known for his part as Branson the driver in the highly popular television series "Downton Abbey".
"MailOnline" interview:
Tom Branson has emerged as one of the major characters in Downton Abbey. Are you pleased?
It came out of nowhere. When I first joined, I thought I'd be the chauffeur for a couple of episodes, and now here I am running the estate! I love that you can find Branson downstairs chatting to Mr Carson or upstairs having a whisky with Lord Grantham. He's the only character who transcends the classes. Incidentally, the 'whisky' we drink on camera is burnt sugar and water, so when you see Tom having a drink, it's not alcoholic.
How do you kill time between scenes?
We've discovered a great game called Bananagrams. It's a bit like Scrabble, and Maggie Smith is the champion.
Are you afraid of being killed off, like Matthew Crawley (Dan Stevens) or Lady Sybil (Jessica Brown Findlay)?
Yes, it's pot luck! Any of us could be caught under a falling tree, or poisoned by Mrs Patmore [the cook]. If I was going to go, I'd like Thomas [Downton's underbutler] to kill me. We could have a wrestle for the knife and Thomas could win. But don't make that happen – I don't want to be killed off!
Tell us about your new film, In Fear…
It couldn't be further from Downton – and that's exciting. It's set in Ireland and is very contained, claustrophobic and frightening. I went to watch it and it genuinely made me jump, which was a bit daft as I knew what was coming.
Do you ever get starstruck?
I was lucky enough to go to the Screen Actors Guild Awards in Los Angeles earlier this year – Downton won Outstanding Ensemble Performance in a Drama Series.
Jeff Daniels had been looking in my direction but I assumed he was looking at the cast of Breaking Bad, who were on the next table. I couldn't believe he'd know who I was when he came up and said hello. We had a drink and I turned into a crazy fan and told him how much I loved him.
What was the last party you went to?
My friend's birthday last week. We got through the Groucho Club's entire cocktail menu. I'm not going to lie to you, I didn't feel great the next day.
What do you do in your spare time?
I run a lot. I was supposed to do a marathon this year but unfortunately I got injured beforehand. I'm toying with the idea of doing my first triathlon next year instead.
Do you have a hidden talent?
If I do, it's so hidden, even I don't know about it!
What plans do you have for the rest of the year?
I'm going to Australia to watch the Melbourne Cup, which I'm really excited about. Horse racing is big in my family: my mum and brother both own horses. My older brother is going to come with me and that should make the trip even more special.
In Fear is in cinemas now
The above "MailOnline" interview can also be accessed online here.