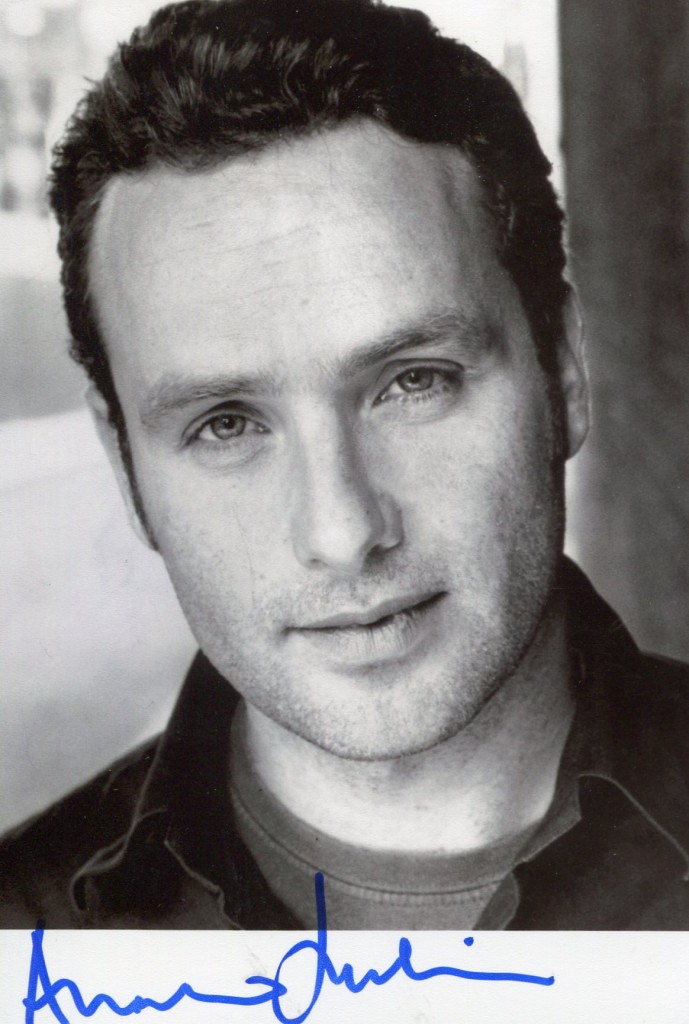 Andrew Lincoln was born in 1973 in London. He made his television debut in 1994 in the series "Drop the Dead Donkey". He starred with Tom Hardy in a television adaptation of "Wuthering Heights" as Edgar Linton. His movies include "Love Actually" in 2003 and "Heartbreaker".
TCM overview:
Born Andrew James Clutterbuck in London, England on Sept. 14, 1973, Andrew Lincoln was one of two sons by his father, a civil engineer, and his mother, a nurse from South Africa. Raised in the cities of Hull, in the county of Yorkshire, and later Hull, in southwestern England, he was a self-admitted high-energy child whose exuberance attracted the attention of a teacher that placed him in a production of "Oliver Twist" at the age of 14. Acting soon became his passion, and after a summer at the National Youth Theatre, he put aside thoughts of becoming a veterinarian to focus on auditioning. He eventually gained entrance into the Royal Academy of Dramatic Art, and paid its tuition by working a variety of jobs, including auto assembly worker at one of his father's factories. During this period, he also assumed the professional surname of Lincoln.
His first screen appearance arrived with a 1994 episode of the newsroom sitcom, "Drop the Dead Donkey" (Channel 4, 1990-98), which was followed in short order by more television work and a feature debut in the gritty "Boston Kickout" (1995), about the lives of four young men in a dead-end English town. In 1996, he landed the role that brought him his first taste of stardom in his native country: "This Life" was a drama about five recent law graduates who shared a London house while exploring the highs and lows of adult life and careers. Lincoln played Edgar "Egg" Cook, whose lack of ambition created tension with his girlfriend (Amita Dhiri) and eventually forced him to abandon the legal profession. A modest hit in its first season, "This Life" blossomed into a huge success in its second network run, thrusting Lincoln and his castmates into the national spotlight with front page news coverage and wall-to-wall magazine features.
The success of "Life" led to steady work on UK television and in films, most notably the Welsh comedy "Human Traffic" (1999), which cast him as a clubgoer pining for the heady days of the early 1990s, and "Gangster No. 1" (2000) as a savage hitman working for Paul Bettany's aspiring crime lord. In 2001, he returned to series work with "Teachers." The sitcom, set in a British secondary school, starred Lincoln as a newly-minted English teacher whose laid-back approach to education clashed with his high-strung peers. Lincoln, who left the series in 2003 before its final season, also made his directorial debut with several episodes.
In 2003, Lincoln gained international exposure through the film "Love Actually." The portmanteau romantic comedy, which featured such major stars as Hugh Grant, Liam Neeson and Laura Linney, included a story thread which followed lovelorn videographer Lincoln, who inadvertently reveals his feelings for Keira Knightley's new bride while photographing her wedding to his best friend (Chiwetel Ejiofor). A sizable hit during the 2003 holiday season, it was soon followed by more work in British film, as well as Lincoln's third television series, "Afterlife." The supernatural drama cast him as a research academic grieving the loss of his son, and finding a possible means of easing his pain through a psychic (Lesley Sharp) who claimed she could see his son's spirit. In turn, Lincoln helped Sharp overcome guilt and trauma caused by visitations by the ghost of her mother.
After a 2007 reunion with his "This Life" castmates in "This Life + 10" (BBC Wales), which examined the former housemates' lives a decade after their time together, Lincoln settled into a string of prominent starring roles on UK TV series and in features. He was Edgar Linton, who vied for the hand of Catherine Earnshaw in a 2009 production of "Wuthering Heights" (ITV), then played Apollo 11 crew member Michael Collins in "Moon Shot" (ITV, 2009), a British take on the 1969 moon landing and its effect on history and its participants. That same year, he starred in "Strike Back" (Sky One, 2010- ), an action-drama about two former special operations soldiers (Lincoln and Richard Armitage) who united during a botched raid in Iraq and later served together on several high stakes rescue missions. There was also a brief stint in America with a starring role in a pilot for a 2008 legal drama produced by Barry Sonnenfeld, but the project never came to fruition.
In 2010, Lincoln was cast as the lead in "The Walking Dead." The ambitious horror-drama, based on a popular comic book series, followed the survivors of a worldwide plague that turned its victims into flesh-eating zombies. Lincoln adopted an impressive American accent to play the show's hero, Georgia sheriff's deputy Rick Grimes, who attempted to lead a band of humans to safety as civilization crumbled around them. A massive ratings hit during its first season, the show was greenlit for a sophomore season that same year.
The above TCM overview can also be accessed online here.