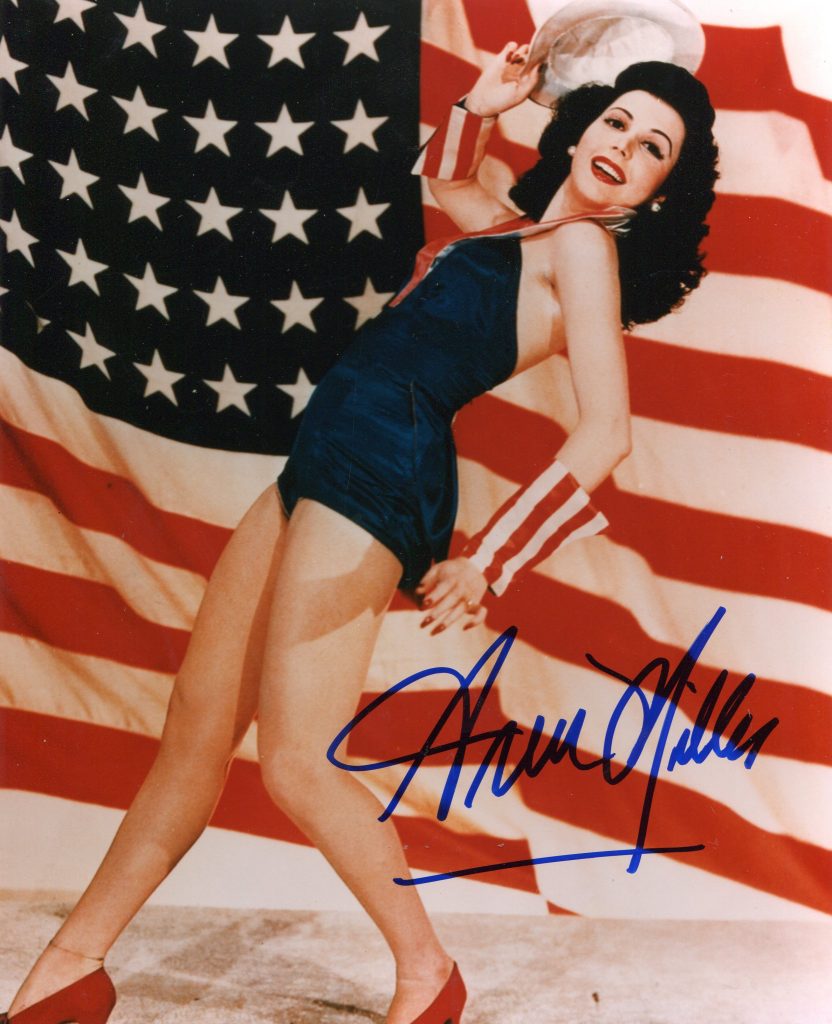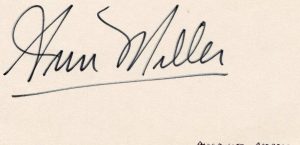 Ann Miller was one of key figures in the great MGM musicals of the late 1940's and early 1950's. She was born in 1923 in Texas. She began her film career with the RKO studio but when she began working in MGM she starred in such favourites as "Easter Parade" in 1948 with Judy Garland and Fred Astaire, "On the Town", "Kiss Me Kate" and "Hit the Deck". In 1979 she starred with Mickey Rooney on the stage in several venues throughout the US and UK. Her last film was the cult classic of David Lynch, "Mulholland Drive" in 2001. She died in 2004.
"Telegraph" obituary:
Ann Miller, who died on Thursday aged 80, was the leading female tap dancer in Hollywood musicals of the 1940s and 1950s, with a reputed speed of 500 taps a minute.
At the height of her popularity her legs were insured for $1 million; and on her passport, in the space reserved for "occupation", she wrote simply "star lady". Yet she generally played second fiddle to such singers and dancers as Kathryn Grayson and Cyd Charisse. At the final fade-out, it was always they who got the man, never Ann Miller. But her contributions to musicals such as On the Town (1949) and Kiss Me Kate(1953), in which she sang Too Darn Hot and Always True to You, Darling, in My Fashion, were often more memorable than those of the nominal stars.
Vivacity was her strongest suit – never more so than in On the Town, in which she played an anthropology student with a special attraction to cave men. Her Prehistoric Man routine, danced in a natural history museum with dinosaur bones and a chorus line of neanderthal hunks, is one of the highlights of the film.
Her speciality numbers often outlived the films in which they featured. Few now remember The Kissing Bandit (1948), one of Frank Sinatra's weakest musicals; but the Spanish Dance of Fury, in which Ann Miller was partnered by Cyd Charisse and Ricardo Montalban, is fondly recalled, as is Shakin' the Blues Away – the solo number in the Fred Astaire musical Easter Parade (1948) which won her a seven-year contract with Metro-Goldwyn Mayer. Later, in Deep in My Heart (1954), a biopic of Sigmund Romberg, she stole the show with a red-hot Charleston, It.
Because her numbers were often self-contained and did not depend on a knowledge of the plot, they formed ideal extracts for the compilation movies MGM packaged together as That's Dancing! and That's Entertainment! For That's Entertainment! III (1994), Ann Miller acted as one of the guides to the studio's product.
She was born to dance at MGM, the studio whose initials were waggishly said to stand for Mighty-Good-Musicals. Unlike some of her contemporaries at Culver City, she never had a bad word to say about MGM or its studio boss, Louis B Mayer. "Why, Mr Mayer treated us better than his own horses," she would insist.
Mayer was captivated by her and, despite giving her 39 years, regularly took her wining, dining and dancing – always with her mother as chaperon. Not that he misbehaved. "Mr Mayer was the Kissinger of his day", she reported, "very much the gentleman, and he liked me because I was a nice girl." Unfortunately, he was possessive. One of the more bizarre stories from that era concerned Ann Miller's nose: she broke it, and disliked the contour after it mended, so she had an artificial extension made. When she and Mayer quarrelled, he would steal the nose and lock it away in his safe so that she could not go out without him.
Then came the fateful day when she fell for an oil millionaire (the first of three in her life) and had to break the news to Mayer. He sobbed, he groaned, he hung up the telephone – and within minutes sent his chauffeur to summon her to his death bed, where he was expiring having swallowed a bottle of sleeping tablets. The ambulance, however, got there first; Mayer recovered, and Ann Miller's relations with him were never as cordial again.
She lacked the dramatic training to survive on screen when the tide turned against MGM musicals in the late 1950s. "As an actress, I'm terrible", she admitted, "but if Ava Gardner and Lana Turner can act under a good director, I think I still have a chance." But it was not enough. Her film career petered out after Hit the Deck in 1955, and she was absent from the screen for 20 years until she made a guest appearance in Won Ton Ton – the Dog Who Saved Hollywood in 1976. She never quit show business, however, switching to television and live theatre instead.
Faux pas were her stock in trade, and Ann Millerisms became almost as legendary as Goldwynisms. Attending a memorial tribute to Oscar Hammerstein, she asked her escort: "Why isn't Oscar here tonight?" When she was informed that this was what the concert was about, the lyricist having been dead for 10 years, she replied: "Well, how should I know? I've been touring in Mame."
"I do a lot of nutty things, and people think I'm for real," she acknowledged. "But all my life I've tried to be an eight-by-10 glossy. I try to give the impression that everything's perfect and that star ladies don't go to the bathroom. It was worse than doing 24 shows a day for those smarty-pants husbands of mine because I was never off-stage. I tried to make them believe I was always gorgeous."
She was especially renowned for her lacquered coiffure, never a hair of which was out of place. It was a bouffant wig, and gave rise to long-running quips that she was terrified of falling lest she break her hair.
Part Cherokee Indian, Ann Miller shared the tribe's belief in the psychic, and firmly believed in reincarnation. She considered herself the re-embodiment of Queen Hatshepsut of ancient Egypt, for whose crimes and cruelties she was paying to this day. Under hypnosis she spent many a happy hour regressing to her former life, and was able categorically to reveal that she and her sister had been murdered by her half-brother. Egyptologists, however, were reluctant to pursue the matter.
Her real name was Lucille Ann Collier, and she was of Irish, French and Cherokee descent (on her grandmother's side). She was born at Cherino, Texas, to a prominent criminal lawyer, John Collier, but brought up in Houston, where she attended the Albert Sidney Johnson High School. Her date of birth was April 12 1923, but later it came to be misquoted and accepted as 1919. This was due to early career pressures when, at the age of 14, she misrepresented herself as 18 in order to secure a contract for full-time work with RKO.
Her early life, according to Hollywood folklore, included dancing lessons from the age of five, as therapy after an attack of rickets, and a first lesson in tap dancing from Bill ("Bojangles") Robinson, whom she visited with her mother when he was playing at a local theatre. Her parents divorced when she was 10 and she moved with her mother to California.
Being deaf and without alimony, her mother was unable to hold down a job and feed the family; so the young Ann was forced to dance for her supper at sleazy establishments such as the Black Cat Club. Having worked her way up to a four-month stint at the Bal Tabarin in San Francisco, she was spotted by the RKO talent scout Benny Rubin and, in 1937, made her screen debut in New Faces of 1937.
Few of her early screen roles were of any great merit. They included bit parts in Stage Door (1937); Room Service (1938), with the Marx Brothers; and Radio City Revels (1938). There was also a more substantial part as the dance-mad daughter in Frank Capra's Oscar-winning comedy You Can't Take It with You (1938).
She asked RKO for a release from her contract because a conflict of interest was arising involving her agent. At that time, the dancer Eleanor Powell was represented by the same agency. She was a big star at MGM (a much more powerful studio than RKO), which was unhappy to see Ann Miller developing as a rival. It became clear that Miller would be the loser if pressure were brought to bear to ensure Powell's supremacy – so she temporarily quit Hollywood and headed for Broadway. She appeared in the last (1939) edition of the George White Scandals, and, although the show was not successful, everybody admired her big number, the Mexiconga.
Ann Miller returned to Hollywood with a series of short-term contracts, but they were not especially good years. In Melody Ranch (1940), she played opposite the singing cowboy Gene Autry ("I was the first girl he ever kissed, apart from his horse") and became known as "the Queen of the Bs" in a run of second features such as True to the Army (1942),Priorities on Parade (1942) and Reveille with Beverly (1943), all aimed at encouraging the war effort.
The breakthrough in her career came in 1948, when MGM hired her to replace an injured Cyd Charisse in Easter Parade. It was a small part, and fairly unsympathetic; but her partner in several dances was Fred Astaire, and Ann Miller made a big enough impression to secure a standard seven-year contract. It led directly to On the Town and steady employment in some of MGM's best-known musicals. Among them wereLovely to Look At (1952), a remake of the Fred Astaire/Ginger Rogers movie Roberta; Kiss Me Kate; Small Town Girl (1953), in which she danced a scorching version of I've Got to Hear That Beat; Deep in My Heart (1954); and Hit the Deck (1955).
Her last musical was The Opposite Sex (1956), an ill-advised remake of The Women. In the same year, she played her last film role for 20 years – as the mother of Dean Jones in The Great American Pastime, a non-musical film about baseball. Sensing the end of an era, she devoted herself in future to theatre and television.
On television she made regular appearances on The Ed Sullivan Show, Hollywood Palace and Laugh In, and played acting roles in Dames at Sea (1971), a spoof of Hollywood musicals, and in one episode of the long-running soap Love American Style (1972).
Ann Miller also featured in a spectacular television commercial for Great American Soups, dancing on top of an eight-foot soup can, surrounded by 20-foot fountains, a 24-piece orchestra and a long line of high-kicking chorus girls. It ended with her toe-tapping her way into the kitchen, where her husband protested: "Why must you make such a big production out of everything?"
In the theatre she acted and danced in touring productions of Can Can, Hello, Dolly!, Panama Hattie and Blithe Spirit, and made her Broadway comeback (after a 30-year gap) in Mame, assuming the role originally played by Angela Lansbury.
Her most successful stage appearance was in Sugar Babies (1979), a $1.3 million extravaganza based on the rise of burlesque; her co-star was Mickey Rooney, who had once been her teenage classmate at an acting school in Hollywood. The show was brought to London in 1988, where she received some of the most favourable notices of her career.
In 1998 she appeared in a successful revival of Stephen Sondheim's Follies at the Paper Mill Playhouse in New Jersey. In 2001 she played Coco, an ageing Hollywood matron, in David Lynch's film Mulholland Drive.
Ann Miller published her autobiography, Miller's High Life, in 1972, and a book about psychic phenomena, Tapping Into the Force (1990).
She was married three times: to Reese Milner in 1946; to William Moss in 1958; and to Arthur Cameron in 1961. All three were oil millionaires. The first two marriages ended in divorce, the third was annulled. There were no children.
The above "Telegraph" obituary can also be accessed online here.