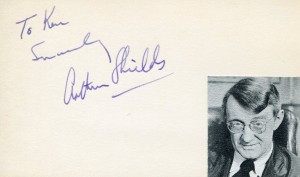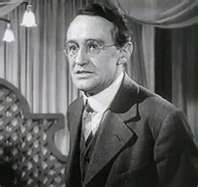 Arthur Shields was born in 1896 in Dublin and is the younger brother of Barry Fitzgerald.   Like his sibling, he came a player with the famous Abbey Theatre and travelled with them on tour to the U.S. and in 1936 went to Hollywood to work for John Ford in "The Plough and the Stars".   He remained there and was featured in scores of movies including "How Green Was My Valley" in 1941, "The Keys of the Kingdom" and "National Velvet".   He died in 1970 in Santa Barbara.
Arthur Shields features extensively in Adrian Frazier in "Hollywood Irish".
IMDB entry:
Though not as well known as his nearly decade-older brother Barry Fitzgerald, Shields was a talented actor with well over twice the film roles in his career. Fitzgerald was already a well established player at the renowned Dublin Abbey Theater when Shields, also bitten by the acting bug, joined in 1914. He performed but was also out front directing plays. Already he had dabbled in the new medium of Irish film (1910) with two notable examples (1918). There was more to the seemingly mild-mannered Shields than met the eye. His family was Protestant Nationalist and he himself fought in the Easter Uprising of 1916. And he was in fact captured and imprisoned in a camp in North Wales. Late in 1918 he came to America and first helped bring Irish comedy and drama to Broadway. He would continue to appear on Broadway for some 24 plays until 1941, especially reviving two Abbey Theater favorites from the hand of Sean O'Casey, "The Plow and the Stars" and "Juno and the Peacock", the latter being produced and staged by him in 1940. Still not settled, Shields was back in Dublin through most of the 1920s but returned to Broadway almost full time in 1932 moving through the repertory of Irish plays. When John Ford finally convinced his brother – and some other Abbey players — to come to Hollywood to do the 1935 film version of Juno and the Peacock, Broadway veteran Shields was asked to take the pivotal part of Padraic (Patrick) Pearse, perhaps the most important leader of the Easter Rising.
By early 1939 he was finished with his concentration on Broadway and found Ford eager to offer him a part in his Revolutionary period adventure Drums Along the Mohawk (1939) as the matter-of-fact pioneer minister with a good shooting eye-Reverence Rosenkrantz. Ministers, reverends, priests, and other assorted clerics would be a Shields staple throughout his career – and he always managed to breath an individual humanity into each and every one. From then on through the 1940s he was in demand as character actor
and not just Irish roles as Fitzgerald with his gravelly, prominent
brogue, found himself. Along with the aforementioned men of the cloth, Shields was provided a steady offering of the gamut of Hollywood's character storehouse-Irish and otherwise. And among them were parts for some of Ford's most memorable films: How Green Was My Valley (1941) and especially The Quiet Man (1952). Here again, he was a cleric but a uniquely sympathetic one-the lone Protestant Reverend Dr. Playfair-who John Wayne affectionately calls "Padre" in the vastly Catholic village of the film. He alone knows the former identity of Wayne and convinces the latter of his final struggle to go on with his new life in Ireland. Enough said – with a wonderful cast of Ford stalwarts and native Irish (including Fizgerald), this was Ford's long awaited crowning achievement.
Though Shields was taking on the occasional film through the 1950s, most of his time was going to television. Along with TV playhouse roles he became a most familiar face of episodic TV with a variety of roles (even the old Mickey Mouse Club Hardy Boy Adventures), especially in the ever-popular TV Western genera. Aside from his numerous appearances in plays throughout his career, all told Arthur Shields screen appearances approached nearly 100 memorable acting endeavors.
– IMDb Mini Biography By: William McPeak
The above IMDB entry can also be accessed online here.