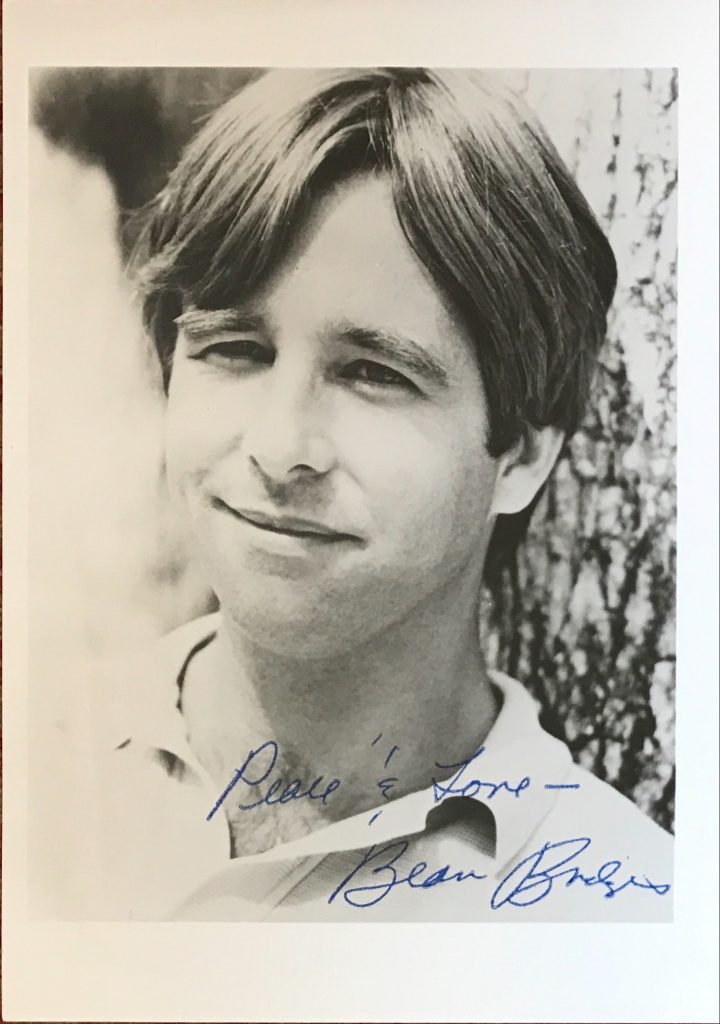 Beau Bridges is one the famous Bridges acting family which includes his late father Lloyd and his young brother Jeff. Beau made his film debut in 1948 in "Force of Evil". In 1967 he made "The Incident" followed by "For the Love of Ivy", "Hammersmith Is Out" with Elizabeth Taylor and "The Fabulous Baker Boys" with his brother Jeff.
TCM overview:
An Emmy and Golden Globe award winner, actor Beau Bridges – the eldest son of actor Lloyd Bridges and brother of Jeff Bridges – developed into an amiable character actor after beginning his career as a child star in such films as "Force of Evil" (1948) and Lewis Milestone's "The Red Pony" (1949). Graduating into more adult roles in the late 1960s, Bridges was a diversely talented actor who fit comfortably into a number of genres – drama, comedy, historical biopics, and even science-fiction. Following a praised turn as reporter in "Gaily, Gaily" (1969) and a starring role in Hal Ashby's directorial debut, "The Landlord" (1970), he made his first of several collaborations with director Peter Ustinov in the satirical comedy, "Hammersmith Is Out" (1972). Later in the decade, Bridges was the husband of union organizer "Norma Rae" (1979) and entered the following decade with a starring role in the biopic "Heart Like a Wheel" (1983). He joined his brother for the critically hailed romantic drama, "The Fabulous Baker Boys" (1989), which he followed with an Emmy-winning performance in the title role for "Without Warning: The James Brady Story" (HBO, 1991). Bridges also found great success on the small screen, earning critical acclaim for portraying Elvis' manager Colonel Tom Parker, former U.S. president Richard Nixon, and 19th century showman P.T. Barnum. Entering the new millennium, Bridges showed no sign of slowing down with a recurring role on "Stargate: SG-1" (Sci-Fi Channel, 2005-07), a supporting part in Steven Soderberg's World War II drama, "The Good German" (2006), and a guest starring role on "Desperate Housewives" (ABC, 2004- ). With his modest gravitas, which always made him a favorite of his many collaborators, Bridges quietly became one of the most prolific character performers working in Hollywood.
Born Lloyd Vernet Bridges III on Dec. 9, 1941 in Hollywood, CA, he earned his lifelong nickname as a child, after the fictional son of Ashley Wilkes' in "Gone with the Wind" (1939). After a hopeful career in pro basketball failed to pan out, Bridges returned to acting in his early twenties. In the early 1960s, he appeared in a number of TV shows, including his father's syndicated undersea adventure series "Sea Hunt" (1958- 1961). Seeking to forge his own identity separate from his famous father, however, Bridges began going after more serious, adult-oriented fare toward the end of the decade. Among his most notable credits from this early period was a supporting part as a soldier menaced by hoods during a subway ride in Larry Peerce's "The Incident" (1967). Bridges also gained notice for his gripping portrayal of a fictionalized Ben Hecht in Norman Jewison's "Gaily, Gaily" (1969).
Although he proved himself a capable romantic lead early on – particularly in Hal Ashby's "The Landlord" (1970) – Bridges ultimately found his niche as a character actor. He continued to work steadily, if not spectacularly, throughout the 1970s in features like Sidney Lumet's "Child's Play" (1972) and Peerce's "The Other Side of the Mountain" (1974), before landing the thankless role of Sally Field's husband in director Martin Ritt's pro-union drama "Norma Rae" (1979). While Field's flashier title role nabbed her an Oscar for Best Actress, Bridges' role as her insecure, frustrated spouse, Sonny, was deceptively multi-layered and arguably the more complex of the two.
Bridges became especially prolific during the 1980s, appearing in no less than two dozen features and television productions. In 1981, Bridges earned positive notice for his supporting role as East German baddie Guenter Wentsel in "Night Crossing," an interesting, but ultimately forgettable Cold War drama. Two years later, Bridges gave one of his best performances supporting Bonnie Bedelia in the underrated racecar drama "Heart Like a Wheel" (1983). Around this same period, Bridges branched into directing with the 1982 NBC movie "The Kid from Nowhere," a vehicle which not only saw him act, but also provided roles for sons Casey and Jordan. He later helmed, co-produced and starred in the highly-acclaimed "The Thanksgiving Promise" (ABC, 1986), an even larger family affair featuring three generations of Bridges – father, mother, brother and son Jordan. Bridges made his feature directing debut with "The Wild Pair" (1987), acting opposite father Lloyd and sons Casey and Dylan this time, but neither it nor the subsequent "Seven Hours to Judgment" (1988), which re-teamed him with Leibman, created much excitement.
Fortunately, Bridges managed to close the decade out on an especially high note – starring opposite his brother Jeff in director Steve Kloves' engaging drama, "The Fabulous Baker Boys" (1989). Cast as the low-rent, polyester-clad lounge lizard Frank Baker, Bridges turned in a magnificent performance as the spurned half of a brother-brother nightclub act with both in love with saucy Michelle Pfeiffer. Smart, smooth and unexpectedly poignant, Bridges earned raves for his performance – one that many viewed as partly autobiographical in nature.
Returning to the small screen in the 1990s, Bridges tried to make a go of series television as the star and executive producer of "Harts of the West" (CBS, 1993-94), a dramedy about a city slicker who uproots his family to the Flying Tumbleweed Ranch in Sholo, NV. Unfortunately, the show failed to find an audience. Luckily, Bridges appeared to have better luck in the long-form format. In 1992, Bridges won a Golden Globe and an Emmy for Outstanding Lead Actor in a Miniseries or Special for his tragic portrayal of James Brady – the former press secretary of President Ronald Reagan who took a bullet from John Hinkley's attempt on the president's life – in "Without Warning." The following year, Bridges took home another Emmy in the same category for his deliciously funny turn in the cable black comedy, "The Positively True Adventures of the Alleged Texas Cheerleading-Murdering Mom" (HBO, 1993) – based on the true story of accused murderer Wanda Holloway.
Continuing his good luck with politically-themed dramas, Bridges turned in yet another Emmy-nominated performance as disgraced President Richard Nixon in the TNT made-for-TV movie "Kissinger & Nixon (1995). Starting in 1997, Bridges served as co-star and producer on three Showtime telefilms based on the old TV series "The Defenders" (CBS, 1961-64). In the first two, "The Defenders: Payback" (1997) and "The Defenders: Choice of Evils" (1998), original series star E.G. Marshall reprised his role as Lawrence Preston, joined by son Don (Bridges) and granddaughter M J. (Martha Plimpton). When Marshall became too ill to participate in the third installment, "The Defenders: Taking the First" (1998), the focus of the movie shifted to the father-daughter team, indicating that there was still life in the franchise. Bridges also starred in the Barry Sonnenfeld-produced summer series "Maximum Bob" (ABC, 1998), a quirky one-hour drama based on an Elmore Leonard novel, playing Floridian Judge Bob Isom Gibbs, a hard-nose who meets his match in a female lawyer.
In 2005, Bridges was cast as austere Major General Frank Landry on the cable sci-fi adventure series "Stargate SG-1" (Showtime/Sci-Fi Channel, 1997-2007). The following year, Bridges received his third Emmy nod; this time for Outstanding Guest Actor in a Comedy Series for his role as Carl Hickey, the no-goodnick father of the title character played by Jason Lee in the hit NBC sitcom "My Name is Earl" (2005-09). Following supporting turns in Steven Soderbergh's World War II mystery, "The Good German" (2006), and as a Hollywood manager in "Americanizing Shelley" (2007), Bridges co-starred in the video game feature film adaptation, "Max Payne" (2008), playing a former cop and mentor who helps the titular antihero (Mark Wahlberg) find the people responsible for killing his family and partner. On the small screen, Bridges earned an Emmy Award nomination in 2009 for Outstanding Guest Actor in a Comedy Series for playing handyman Eli Scruggs on an episode of "Desperate Housewives" (ABC, 2004- ). Earlier that year, he shared a Grammy Award with Cynthia Nixon and Blair Underwood for Best Spoken Word Album for his reading of Al Gore's An Inconvenient Truth. In another acclaimed guest turn, he played Detective George Andrews – who decides to undergo a transformation into Detective Georgette Andrews – on an episode of "The Closer" (TNT, 2005-2011). His performance earned Bridges an Emmy Award nomination for Outstanding Guest Actor in a Drama Series. He continued amassing Emmy nominations as a guest star with his performance as the old boyfriend of family matriarch Nora Walker (Sally Field) on "Brothers and Sisters" (ABC, 2006-2011).
The above TCM overview can also be accessed online here.