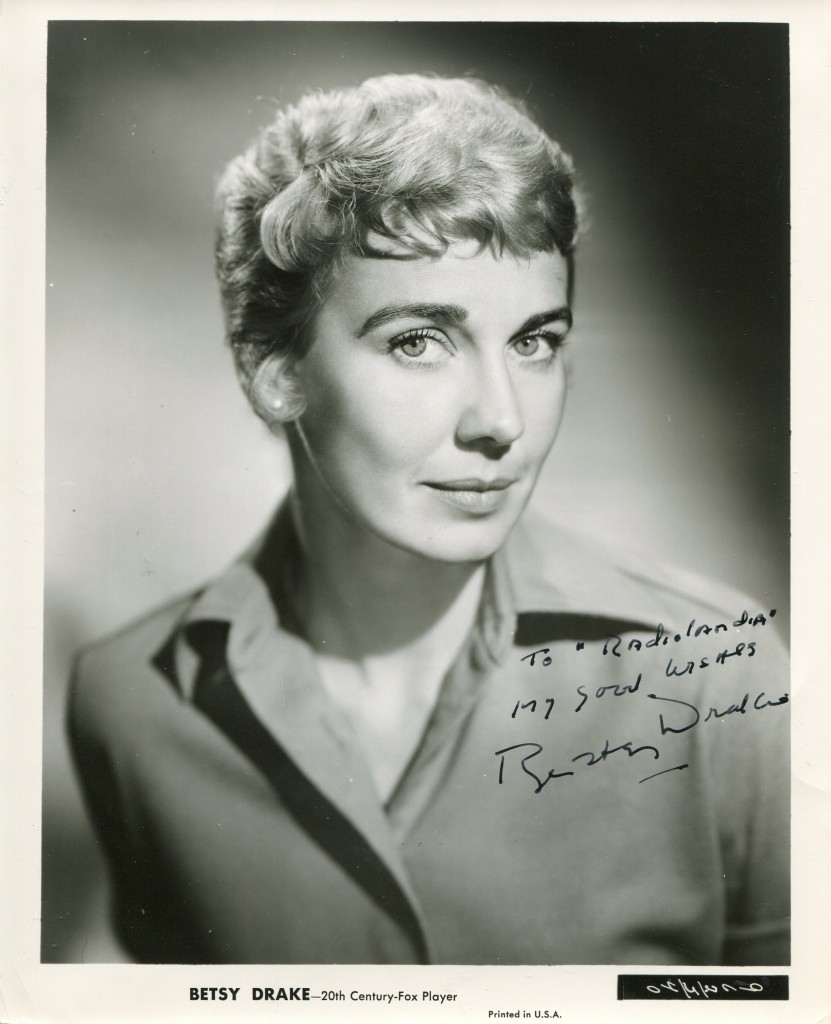 Betsy Drake was born in 1923 in Paris of American parents.   She made her film debut in 1948 in "Every Girl Should be Married".   Other films include "Dancing in the Dark" with William Powell and "Will Success Spoil Rock Hunter" with Jayne Mansfield in 1957.   She was at one time married to Cary Grant.   She died in 2015 at the age of 92.
IMDB entry:
Was a first-class passenger on the Andrea Doria along with 
Ruth Roman
, and her son Dickie. Was saved from the ship after going onto the port side of the ship and finding that side's boats useless because of the severe list. She was later rescued from the sinking liner.
She lost over $200,000 worth of jewelry as well as a book manuscript she was working on in the Andrea Doria accident in July 1956.
Her grandfather, Tracy C. Drake, and his brother built the Drake Hotel in Chicago.
"Telegraph" obituary:
Betsy Drake, who has died aged 92, was an actress who became the third, and most long-lasting, wife of Cary Grant.
Grant had first set eyes on Betsy on the London stage in 1947, and when, by coincidence, they both found themselves on the Queen Mary returning to the United States, he effected an introduction. When the liner docked in New York, Betsy bolted into the heart of the city to get away from him, but he sought her out. Within months he had persuaded her to move to Los Angeles, where she signed with RKO and David O Selznick and then found screen stardom opposite Grant in Every Girl Should Be Married (1948), as a woman in pursuit of her romantic prey.
Fan magazines of the late 1940s reported a fairy-tale courtship. The pair made headlines when they flew to Arizona to marry on Christmas Day 1949, with their pilot and Grant's best man, Howard Hughes. Betsy Drake went on to appear in starring roles in Dancing in the Dark (1949) with William Powell, Pretty Baby (1950) with Dennis Morgan, and Room for One More (1952), with her husband, before she decided to put her marriage ahead of her career.
Grant's first marriage, to the actress Virginia Cherrill, had lasted only a year, and his second, to the Woolworth heiress Barbara Hutton, ended after three years. But as far as the public was concerned, he and Betsy had perfected the ideal marriage, and Betsy was often asked for her advice on how to maintain a happy relationship. She was at her husband's side in Cannes in 1954 while he made To Catch a Thief with Alfred Hitchcock, and in 1956 she travelled to Spain to join him on the set of The Pride and the Passion.
But it was there she realised her husband was falling in love with his co-star Sophia Loren. Furious and upset, she ran off before the press found out and sailed back to New York on the ill-fated Italian liner Andrea Doria, which collided with another ship off the coast of Nantucket and capsized. Betsy Drake was one of the 1,660 passengers and crew rescued. She lost $200,000 worth of jewellery and, although she was physically unharmed, the disaster seems to have had a huge psychological impact.
The actress Rosalind Russell later recalled that Betsy Drake "simply stopped functioning, either as an actress or in any other field in which she had once been interested".
Things went from bad to worse after Sophia Loren came to America to star with Grant in the romantic comedy Houseboat (1958). Betsy Drake had written an early script for the film, hoping that it would be a vehicle for her and Grant. But Grant insisted the script be reworked with Sophia Loren playing Betsy's role.
Looking for a way to alleviate her emotional turmoil, Betsy took the advice of a friend who recommended she try a new therapy called LSD. She became a fervent convert and persuaded her husband that he might benefit from it too. Grant became involved in some 100 therapy sessions over several years and became the hallucinogenic drug's most visible advocate several years before Dr Timothy Leary. Indeed Leary recalled that it was reading about the actor's use of the drug that persuaded him to give LSD a try.
Betsy Drake credited LSD with giving her the courage to leave her husband. "After an LSD session, one morning in bed while we were both having breakfast, Cary asked me a question and I said, 'Go f— yourself'," she recalled. "He jumped out of bed, buttoning the top of his pyjamas, his bare bottom showing, and slammed the bathroom door. That was the true beginning of the end."
She and Grant were divorced in 1962 after 13 years of marriage.
Betsy Gordon Drake was born at Neuilly-sur-Seine, near Paris, on September 11 1923 to wealthy parents. Her grandfather had built Chicago's Drake and Blackstone hotels. After the crash of 1929 the Drakes returned to Chicago, where Betsy was parked at the Drake with a nanny while her parents lived at the Blackstone. They soon divorced and Betsy's mother suffered a nervous breakdown. Betsy spent the rest of her childhood being shuttled between relatives in Washington DC, Virginia, and Connecticut.
She found solace in acting and, after dropping out of high school, made the rounds of New York auditions, modelling and understudying on Broadway until she was cast by Elia Kazan for a production of Deep Are the Roots, opening in London. It was there that she was spotted by Cary Grant.
When rumours circulated that Grant was gay, Betsy Drake memorably replied to the effect that they were too busy making love for her to ask (she used an earthier expression). But she reflected later that she felt he had never loved her: "I lost myself trying to please him. The only way we could see to save us was by getting into yoga and LSD, but that didn't work either."
She and Grant, who married twice more, remained friendly. Meanwhile her experiences with LSD led her to take an interest in mental health and she began volunteering at hospitals for the mentally ill. In the early 1970s she published a novel and enrolled at Harvard, earning a Master's of Education in Psychology.
Betsy Drake eventually moved to London. She never remarried.
Betsy Drake, born September 11 1923, died October 27 2015
The above "Telegraph" obituary can also be accessed online here.