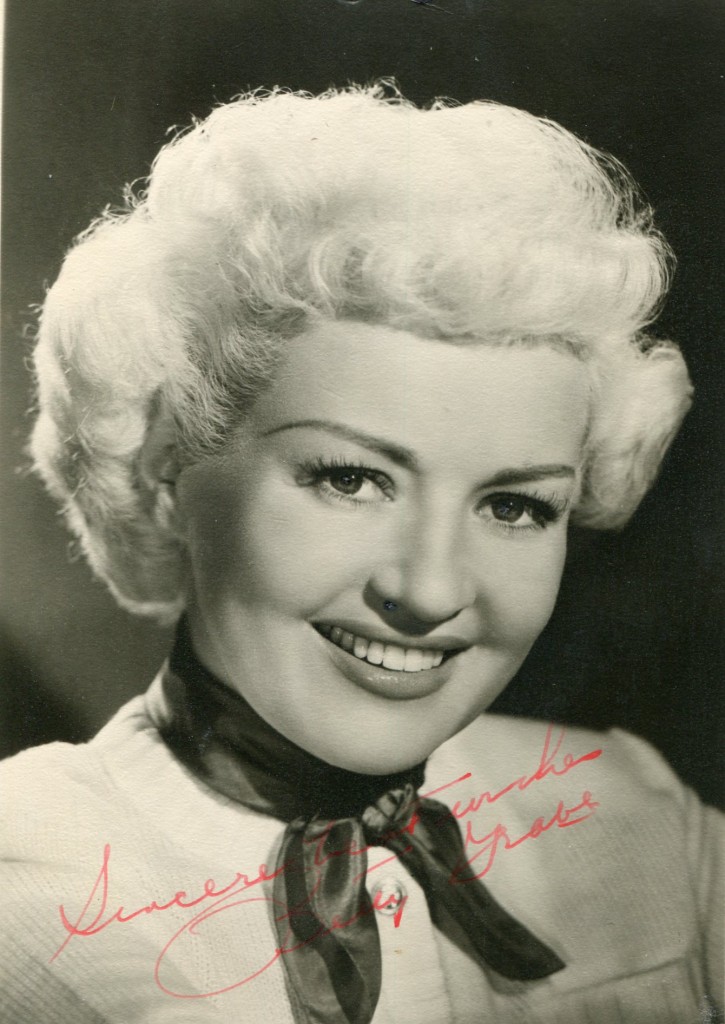 Betty Grable, the Force's Sweetheart was born in 1916 in St. Louis, Missouri.   She was a supporting player in Hollywood films of the 1930's bu came into her own in the early 1940's in a series of 20th Century Fox musicals including "Down Argentine Way", "Tin Pan Alley" and in 1941, "Moon Over Miami".   She starred with Victor Mature in the film noir "I Wake Up Screaming".   She was one of the most popular of stars during World War Two.   Her film career lasted until the 1950;s when she made "How to Marry A Millionaire" with the up and coming repacement Marilyn Monroe.   Betty Grable continued her career on the stage and in supper clubs.   She died in 1973.
TCM Overview:
The biggest box office star of the 1940s and the most desired WWII pin-up girl, acting-singing-dancing triple-threat Betty Grable became the stuff of Hollywood legend after her studio reportedly insured her famously gorgeous legs for $1 million with Lloyd's of London – the same legs that were captured in one of the most iconic photographic images of the 20th century. After a decade of toiling with minor roles in dozens of films, Grable rose to fame with the musical "Down Argentine Way" (1940). From there it was on to a string of hits alongside leading men that included Victor Mature, Cesar Romero and Dan Dailey in such films as "I Wake Up Screaming" (1941), "Coney Island" (1943) and "Mother Wore Tights" (1947), respectively. So desired was the bubbly blonde that bandleader Harry James became the most envied man in America when he famously wed the pin-up queen in 1943. Grable single-handedly caused Twentieth Century stock to soar for a solid decade before the girl-next-door's Technicolor reign began to wind down. Even as the sun was setting on Grable's movie career by the early 1950s – as had her desire to continue to make movies – she enjoyed one final hit as she passed the torch to her successor and fellow Fox contract player, Marilyn Monroe, in "How to Marry a Millionaire" (1953). Grable gracefully retired from film two years later and enjoyed a brief run in a hugely successful Broadway mounting of "Hello, Dolly!" in 1967 before her untimely passing six years later. While some of the films in her incredibly prolific canon may not have stood the test of time, there was no denying the joy Betty Grable brought to many fans, both at home and abroad, during that pivotal decade in American history.
Born Elizabeth Ruth Grable on Dec. 18, 1916 in St. Louis, MO, she was the youngest of three children born to parents Lillian Rose Hofmann and John C. Grable. Having set her sights on stardom for young "Betty" early on, formidable stage mom Lillian enrolled her daughter in ballet and dance lessons at the age of three. Ten years later, Lillian took Betty out West in search of fame, soon securing her 13-year-old a job as chorus girl in the musical "Happy Days" (1929). Being a minstrel show, the blackface Betty wore in her film debut helped to cover her age. However, after a forged identification card was discovered by the producers of her next film, Betty was let go. In a further effort to mask her underage daughter's youth, the wily Lillian dyed Grable's brown hair a striking platinum blonde. It was a signature look the entertainer would maintain throughout her entire career. Soon, more jobs came her way, with work as a Goldwyn Girl for producer Samuel Goldwyn in the Eddie Cantor Western musical "Whoopee!" (1930) – in which she led the film's opening number "Cowboys" – and "Kiki" (1931), starring former silent film star Mary Pickford. After being assigned the stage name of Francis Dean, Grable went on to sing and dance in a series of short projects that included "Crashing Hollywood" (1931) and "The Greeks Had a Word for Them" (1932).
Grable at last appeared under her own name with a small role in the film "Probation" (1932), and continued to appear in small roles for various studios in such projects as "What Price Innocence?" (1933) and the Academy Award-winning Fred Astaire-Ginger Rogers musical "The Gay Divorcee" (1934). Broad acclaim and recognition eluded her, however, and during a period in which she continued to toil away with small roles in unremarkable productions, a 21-year-old Grable married former child star Jackie Coogan. Fortune smiled on the young actress, who at the time was considering an early retirement from show business, when her role in the 1939 Broadway production of Cole Porter's "Du Barry Was a Lady" brought Grable the acclaim she had doggedly pursued for so long. After the short-lived marriage to Coogan – with who she appeared in the aptly-titled "Million Dollar Legs" (1939) – ended in 1940, the actress' disappointment was counterbalanced by a leading role in "Down Argentine Way" (1940). A Technicolor musical extravaganza co-starring Don Ameche and Carmen Miranda, it became a smash hit and turned Grable into a bona fide movie star. Musical comedies like "Tin Pan Alley" (1940) and "Moon Over Miami" (1941) capitalized on her success, while projects such as the noir "I Wake Up Screaming" (1941) gave her the rare opportunity to tackle dramatic material.
Over the following decade, Grable became the top female star of the 1940s – and third overall, behind Bing Cosby and Bob Hope – in films that accentuated her hard-earned ability and fan appeal. "Song of the Islands" (1942), "Springtime in the Rockies" (1942) and, of course, "Pin Up Girl" (1944) capitalized on the star's iconic status as a photo favorite of millions of servicemen during the Second World War. It was during her reign that Grable posed for her famous bathing suit pin-up photo, which was taken by studio photographer Frank Powolny in 1943. It was later rumored that the particular pose and angle from behind were chosen to hide the fact that Grable was pregnant at the time by the most "envied man in America." That same year, she married for a second time to popular bandleader and trumpeter Harry James. Although this union would last for a substantial 22 years and produce two children, it was, by all accounts a marriage fraught with strife and infidelities.
Even in peacetime, Grable's success continued apace, with popular fare such as "Mother Wore Tights" (1947) – featuring her favorite co-star, Dan Dailey – "That Lady in Ermine" (1948) and "My Blue Heaven" (1950). Despite having fallen off the box office exhibitors list for the first time in 10 years two years earlier, Grable was still more than capable of holding her own on screen opposite cinema sirens Marilyn Monroe and Lauren Bacall in "How to Marry a Millionaire" (1953). As her once irresistible box office draw began to wane, so too did Grable's relationship with studio executives at 20th Century Fox, and by the mid-1950s she began a transition to television and stage work. Her final big screen appearance came in the form of the forgettable crime comedy "How to Be Very, Very Popular" (1955), a film most notable as being the picture Marilyn Monroe refused to take part in. It also gave Grable the excuse to retire from movies. She would go on to make a smattering of appearances on television programs such as "Star Stage" (NBC, 1955-56), and in 1967 took over for Carol Channing in the long-running hit Broadway musical "Hello, Dolly!" Having divorced from James in 1965 after years of heavy drinking, gambling and infidelity on both their parts, Grable entered into a relationship with Bob Remick, a dancer several years her junior. Although never married, the two remained together until Grable's death from lung cancer in 1973 at the age of 56.
By Bryce Coleman
TCM overview can also be accessed online here.