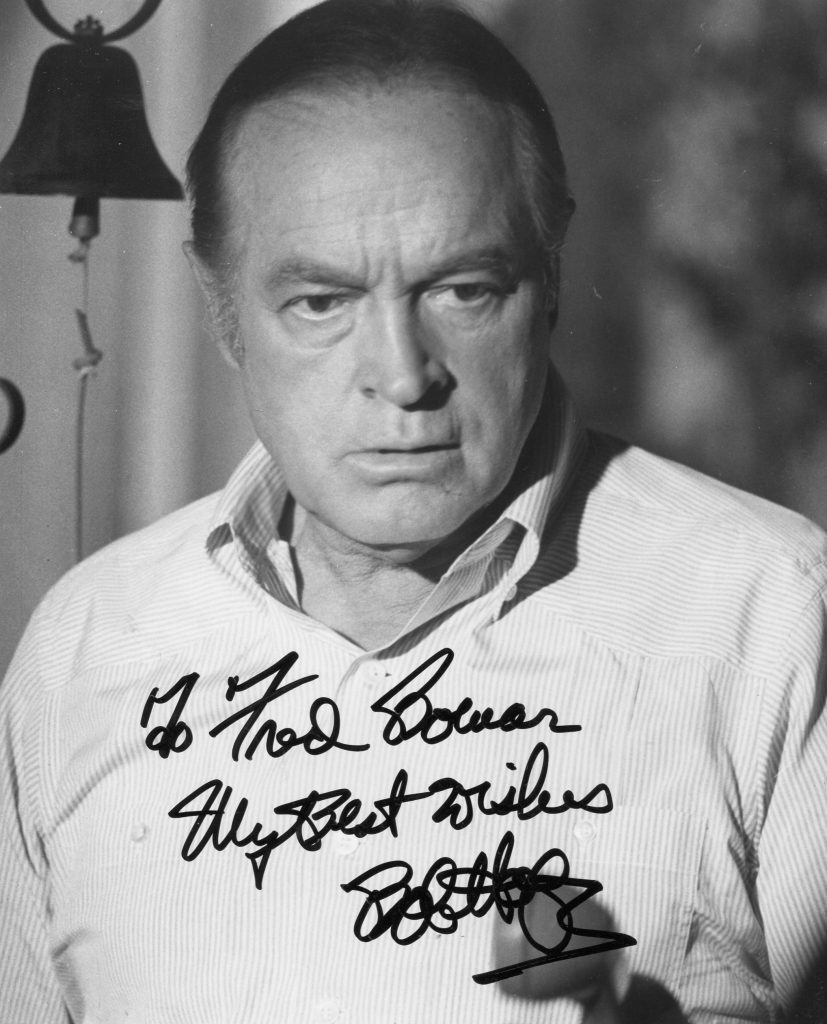 Bob Hope was one of the best loved comedians on film.   He was born in London in 1903.   His family moved to the U.S. when he was an infant.   He bagn his long career on film in 1934 in the short "Going Spanish".   Throught his career he starred in such movies as "The Big Broadcast of 1938", "The Cat and the Canary", "My Favourite Blonde" in 1941, "The Princess and the Pirate" and "The Road to Hong Kong".   His leading ladies included Madeleine Carroll, Lucille Ball, Audrey Dalton, Hedy Lamarr and Lana Turner.   He died in 2003 at the age of 100.
Over the course of a career that spanned more than 60 years, actor-comedian- humanitarian-noted golf enthusiast, Bob Hope came to be regarded as not only a legendary entertainer, but a veritable American institution. Getting his start on the vaudeville circuit of the late-1920s, he eventually broke through on the Broadway stage in such productions as 1933's "Roberta" and 1936's "Red, Hot and Blue." He began hosting his own long-running radio program on NBC the following year and by 1938 had made the jump to Hollywood. Although he would eventually appear in more than 50 feature films, the funnyman with the ski-slope nose would be most remembered for his wise-cracking antics alongside his perfect foil Bing Crosby and their sarong-clad lust object Dorothy Lamour in "Road to Singapore" (1940) and the successful franchise it spawned. In addition to the seven highly popular "Road to " movies, Hope also proved to be a top box office draw as a solo act in comedies like "The Princess and the Pirate" (1944) and "The Paleface" (1948). Beginning in the early-1940s and continuing well into the 1990s, Hope – ever-present golf club in hand – was a welcome comic relief for troops stationed abroad in times of war and peace as he tirelessly toured with the USO during World War II, the Korean and Vietnam wars and beyond. By the time the venerable entertainer reached his 100th year, generations of fans could only express their gratitude with a refrain from Hope's most popular tune, "Thanks for the Memories."
Born Leslie Townes Hope on May 29, 1903 in Etham, London, U.K., he was the fifth of seven sons born to William Henry Hope, an English stonemason, and Avis Townes, an aspiring concert vocalist of Welsh descent. William and Avis brought their young family to the U.S. in 1907, soon settling in Cleveland, OH. Throughout his youth, Hope took on a wide variety of odd jobs to bring in extra money – everything from running deliveries and selling newspapers, to hustling pool. From an early age, however, it was clear that young Leslie had ambitions as an entertainer. He took dance lessons after school, often picking up an added bit of income as a street performer near Cleveland's Luna Park. In his teens, Hope even dabbled in professional boxing – going by the moniker of "Packy East" – prior to starting a vaudeville dance team at age 18 with his girlfriend. A later act with friend Lloyd Durbin had Hope opening for future silent film star Fatty Arbuckle at the Bandbox Theater. One year later, he and his latest partner, George Byrne, toured the East Coast extensively, playing several major venues in New York. Hope and Byrne made their Broadway debut with bit parts in the 1927 musical comedy "Sidewalks of New York," although they did stay with the production long. On the advice of their agent, the comedy duo took some time to retool their act with a show in Pennsylvania. When a last-minute request put Hope on stage as the show's emcee, he suddenly discovered he was funnier on his own. By 1929, Hope had adopted the unassuming first name of Bob – he felt it had a certain "Hi'ya fellas!" quality to it – and become a solo act.
Hope returned to Broadway with another small role in the musical, "Ballyhoo of 1932" and again in the 1933 musical comedy "Roberta," which brought him recognition as the smart-aleck crooner, Huckleberry Haines. He made his film debut with the educational short "Going Spanish" (1934) and continued with small efforts like "Paree, Paree" (1934) for the New York based studio, Vitaphone. More work on Broadway came his way with 1934's "Say When" and a year later, "Ziegfeld Follies of 1936." Most importantly for Hope's career, however, was the Cole Porter musical comedy "Red, Hot and Blue" with Ethel Merman and Jimmy Durante in 1936. With his popularity on the rise, the showman started his lengthy career in radio in 1937 as the star of "The Woodbury Soap Hour" for NBC then signed on for "The Pepsodent Show Starring Bob Hope" the following year. Taking on several new sponsors and names throughout the coming years, Hope remained on the airwaves continuously for nearly two decades. Not surprisingly, word of his performance in "Red, Hot and Blue" attracted the notice of Hollywood, and by 1938 Hope had made the move west to Tinseltown.
Impressed by Hope's crackerjack comic timing, Paramount Pictures soon signed him up for his first starring role in a major feature film, "The Big Broadcast of 1938" (1938), opposite W.C. Fields, Martha Raye and future co-star, Dorothy Lamour. It was in this film that Hope first sang the nostalgic ballad "Thanks for the Memories" for the first time – a song that would become closely associated with the comedian throughout the remainder of his showbiz life. Hope dove into his nascent movie career with his usual gusto, appearing in no fewer than six films over the next two years, among them the lively comedy-mystery "The Cat and the Canary" (1939), co-starring Paulette Goddard. His next project unexpectedly altered the trajectory of Hope's film career in ways he never could have imagined. Paired with wildly popular crooner Bing Crosby, he starred in the fast-paced comic travelogue, "Road to Singapore" (1940). Originally meant as a vehicle for actors Fred MacMurray and Jack Oakie, it was then offered to the husband and wife team of George Burns and Gracie Allen. When they also declined, the studio gave it to Hope and Crosby with popular exotic actress Lamour brought in to the mix for sex appeal. The duo's combination of slapstick and witty banter as couple of conmen scheming for a quick buck and Lamour's affections was an instant hit with audiences and officially made Hope a Hollywood movie star.
Hope regularly made Hollywood's list of Top Ten box office stars throughout the '40s and early '50s, sometimes coming in second only to the ever-popular Crosby. Hope's onscreen image quickly became that of the comical, quipping coward caught in adventurous situations that – following a series of well-crafted hijinks – lead to him making good and winning the hand of his leading lady. In this vein, he reteamed with Goddard for the comedy hit "The Ghost Breakers" (1940), a film said to have helped inspire Walt Disney in the creation of his Haunted Mansion theme park attraction. Hope, Crosby and Lamour soon reunited for "Road to Zanzibar" (1941), the success of which all but assured the string of "Road to " movies that followed. Hope continued with a winning mix of solo films and "Road" pictures with such efforts as "My Favorite Blonde" (1942), "Road to Morocco" (1942), "The Princess and the Pirate" (1944), "Road to Utopia" (1945), "My Favorite Brunette" (1947) and "The Paleface" (1948). In the latter film, Hope performed the Oscar-winning song "Buttons and Bows" – his biggest hit recording.
Hope first appeared on television in 1947 when he inaugurated the opening of the first West Coast television station, KTLA Los Angeles, and had appeared on Ed Sullivan's "Toast of the Town" (CBS, 1948-1971) – later known as "The Ed Sullivan Show" – in 1949. But it was not until he hosted the musical-variety program "The Star Spangled Revue" (NBC, 1950) that he truly appreciated the medium and the visibility it could afford him. Though never committing to a regular weekly show, Hope was seen frequently as a guest host on the spin-off program "All Star Review" (NBC, 1950-54) and the similarly-themed "The Colgate Comedy Hour" (NBC, 1950-55). He made a memorable guest star appearance on the most popular sitcom of the day, "I Love Lucy" (CBS, 1951-57) and took a seat opposite the Great Carson many times on "The Tonight Show with Johnny Carson" (NBC, 1962-1992). Ultimately, Hope became best known on television for his many "Bob Hope Specials" which found him hamming it up with celebrity guests like Frank Sinatra and Brooke Shields and performing duets with popular female vocalists like Olivia-Newton John. His Christmas specials from 1970 and 1971, filmed in Vietnam in front of U.S. troops, drew some of the highest ratings of the dozens of "Bob Hope Specials" the beloved comedian made for NBC over more than three decades.
In 1941, Hope began his lifelong commitment to entertaining U.S. troops when he performed for soldiers stationed at California's March Field. By 1943, he was traveling with a USO troupe, performing for Allied soldiers throughout war zones in Europe and the South Pacific, often risking his life in the process. In 1948, he entertained military personnel stationed in Berlin for the first time. It was a yearly tradition he continued for nearly three more decades. Hope's dedication to the troops continued through the wars in Korea and Vietnam, even extending to the Gulf War more than 40 years later. Dubbed "America's No. 1 Soldier in Greasepaint" by the media, Hope held personal relationships with every Commander in Chief from FDR to Bill Clinton, had both a Navy ship and Air Force plane named after him, and was later named the first Honorary Veteran in a act of Congress. An avid golfer since being introduced to the sport in the 1930s, Hope's ever-present golf club – carried like a walking stick – became the iconic image of all of his USO performances.
The mainstay of Hope's career, however, remained the motion picture. Still one of Hollywood's more dependable box office draws, he impersonated the titular lothario to hilarious effect in "Casanova's Big Night" (1954) then displayed his considerable talent as a dancer opposite revered Hollywood hoofer James Cagney in the vaudevillian biopic "The Seven Little Foys" (1955). While Hope enjoyed a reputation among his contemporaries as one of the more congenial stars, his outsized personality reportedly clashed with the notoriously acerbic Katharine Hepburn – his co-star in the Cold War comedy, "The Iron Petticoat" (1956). Accused by screenwriter Ben Hecht of reducing Hepburn's role to increase the size of his own, Hope endured a rare commercial failure with "Petticoat." A far more amiable relationship existed on the set of his international comedy alongside European beauty Anita Ekberg and cherished French comedian Fernandel in "Paris Holiday" (1958). He appeared opposite his friend Lucille Ball in the critically-acclaimed "The Facts of Life" (1960), a surprisingly sardonic romantic-comedy dealing with infidelity.
Although 10 years had passed since their last outing, Hope and Crosby hit the trail once again for "The Road to Hong Kong" (1962). Infused with bits of James Bond-esque intrigue, it featured young starlet Joan Collins in a role that would have traditionally gone to Dorothy Lamour, although Lamour was seen briefly in a cameo, reportedly at Hope's insistence. Times and tastes had changed, however, and the latest – also the last – Hope-Crosby "Road" movie failed to generate much attention with filmgoers. The trend continued, with Hope's solo offerings "Call Me Bwana" (1963), "I'll Take Sweden" (1965) and "Boy, Did I Get a Wrong Number!" (1966) being examples of lesser late-career efforts. Hope's final starring role came with "Cancel My Reservation" (1972), a comedy-mystery co-starring Eva Marie Saint. And although "The Road to the Fountain of Youth," was in the planning stages at the time, Crosby's sudden death in 1977 put a definitive end to the long-running franchise. No one was more devastated than Hope, who grieved for his onscreen partner for years. Hope hosted the Academy Awards ceremony for one last time the following year – a duty he had performed 12 times since 1940. His not-so-subtle feigned lust for a statuette of his own became a running gag during these stints, with Hope famously quipping during the 1968 broadcast, "Welcome to the Academy Awards, or, as it's known in my house, Passover." Although never nominated specifically for his acting work, Hope was presented with several honorary Oscars over the years, including a Jean Hersholt Humanitarian Award.
At the spry age of 82 and after appearing in more than 50 feature films, Hope delivered one more cameo in, "Spies Like Us" (1985), a globe-trotting comedy starring Chevy Chase and Dan Aykroyd that owed much to Hope and Crosby's "Road" movies. Following the airing of his final television special, "Bob Hope . . . Laughing with the Presidents" (NBC, 1996), he formally and amicably ended his association with NBC, one that had lasted for nearly 50 years, declaring himself "a free agent" with his usual optimistic good humor. In his twilight years, Hope continued to enjoy his greatest passion outside of longtime wife Dolores Hope – the game of golf. One of the country's biggest proponents of the sport – which he waxed poetic about in Confessions of a Hooker: My lifelong Love Affair with Golf, just one of his 16 published books – the Bob Hope Desert Classic, held yearly in Palm Springs, became a staple on the Pro Am circuit.
Hope's interest in sports, however, was not limited to golf. For a time he held a portion of ownership in both the Los Angeles Rams and San Diego Chargers NFL franchises. Never forgetting his hometown, he was also a co-owner of his beloved professional baseball team, the Cleveland Indians. Long considered one of Hollywood's richest performers, his investments and holdings in oil, real estate and dozens of other business ventures led to an estimated net worth of as much as $500 million. Wealthy as he was, Hope was also revered as one of entertainment's greatest philanthropists, raising millions of dollars for charities via the Desert Classic and acting as honorary chairman for the non-profit group, Fight for Sight. Cited by the Guinness Book of World Records as the most honored entertainer of all time, the more than 2,000 accolades Hope received during his lifetime included a Kennedy Center Award, the Medal of Merit, a Congressional Medal, and the Distinguished Public Service Medal of the U.S. Department of Defense, the highest award the military can bestow upon a civilian. The U.K.-born Hope was knighted by the Queen of England in 1998 and appointed a Knight Commander of the Order of St. Gregory by Pope John Paul II that same year. The fact that Hope was given four stars on the Hollywood Walk of Fame for his work in film, television, radio and theater came as no surprise.
With his eyesight having deteriorated to the point that he could no longer read cue cards during a performance, Hope made few public appearances after the turn of the century. In 2000, he was admitted to the hospital for gastrointestinal bleeding and again in 2001 to recuperate from pneumonia. But despite two separate prematurely released obituaries in the years just preceding it, Hope celebrated his 100th birthday in May 2003. Although too frail to make an appearance for a public celebration, the comedian was reportedly overwhelmed by the outpouring of affection that came in from all corners of the globe. Two months later, Hope died quietly from complications due to pneumonia at his home in Toluca Lake, CA on the evening of July 23, 2003. With his wife of nearly 70 years by his side, Hope's death brought to a close one of the town's happiest marriages, but more importantly, one of Hollywood's greatest success stories, with the comic having excelled in every genre and been the object of affection generation after generation.
By Bryce P. Coleman
The above TCM overview can also be accessed online here.