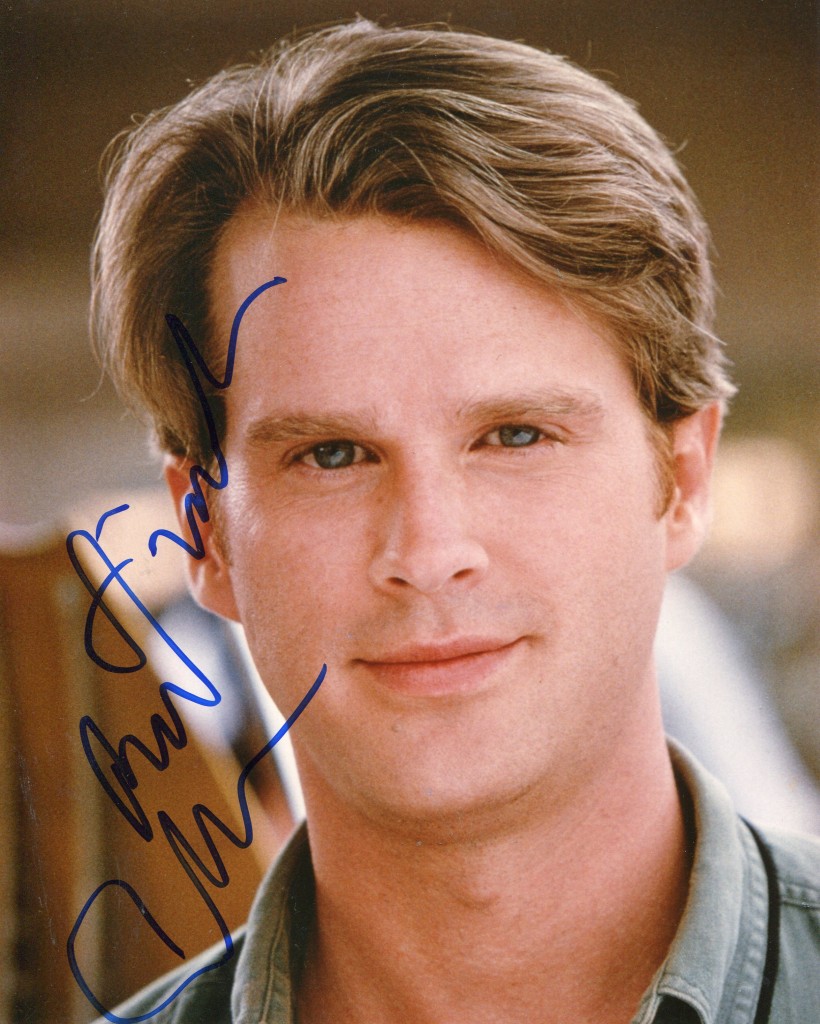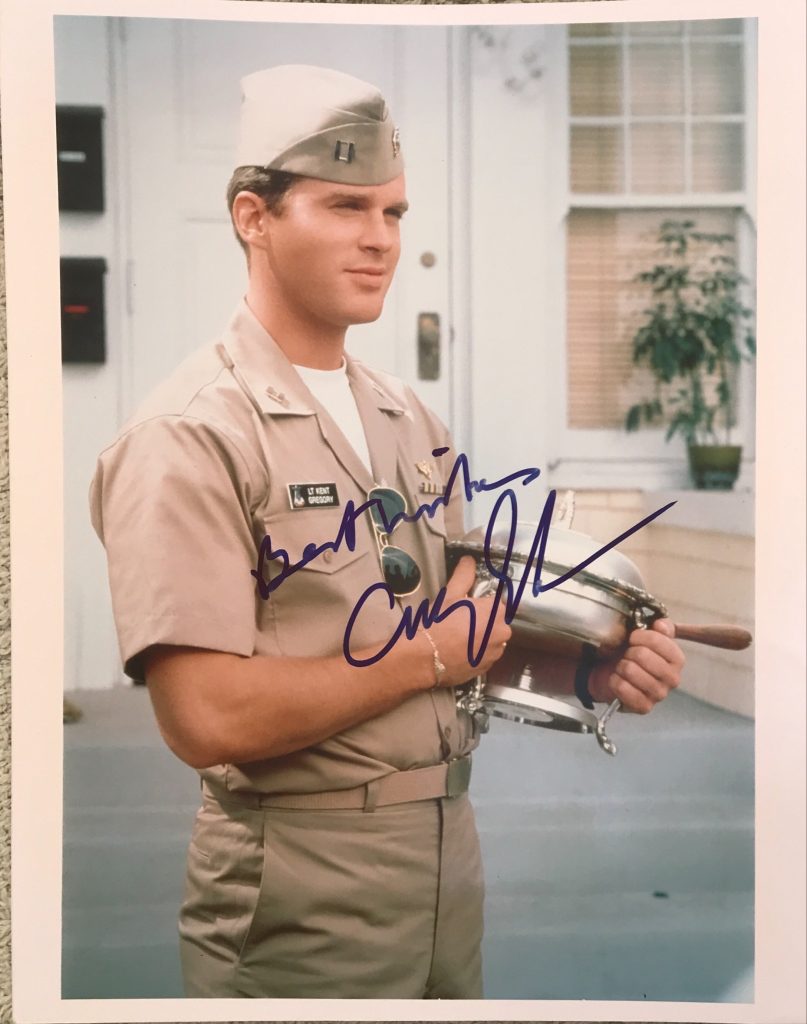 Cary Elwes was born in London in 1962.   He made his film debut in 1984 with Rupert Everett and Colin Firth in "Another Country".   He went on to star in "The Princess Bride", "Hot Shots", "Twister" and "Robin Hood; Men in Tights".
TCM overview:
Revered for his charming lead performance in Rob Reiner's classic fairy tale, "The Princess Bride" (1987), British actor Cary Elwes went on to find success largely in supporting roles in a variety of genres. He showed a career-long interest in period films, donning medieval tights again in the satirical "Robin Hood: Men in Tights" (1993), which solidified his believability as a genuine swashbuckler throwback, a la Errol Flynn. In his higher profile Hollywood work, the actor appeared as Tom Cruise's rival in "Days of the Thunder" (1991) before sending up the action film genre in "Hot Shots" (1991). He supported Jim Carrey in the comedy "Liar Liar" (1997), chased storms in "Twister" (1996), and while he was initially typecast for his dashing, patrician air, Elwes' later career was marked by darker roles in genre material like "The X-Files" (Fox, 1993-2002), "Saw" (2004) and "The Riverman" (A&E, 2004), the latter of which saw him portraying infamous serial killer Ted Bundy. The actor's charm and humor was still on display, however, with animated voice work on the CGI adaptation of "A Christmas Carol" (2009) and a recurring role as the roguish Pierre Despereaux on the TV dramedy "Psych" (USA Network, 2006- ). By turns dashing, sinister or downright silly, Elwes maintained a well-earned reputation as one of the most dependable and versatile actors of his generation.
The youngest son of painter Dominic Elwes and interior designer Tessa Kennedy, Elwes was born Ivan Simon Cary Elwes on Oct. 26, 1962. Following his parents' divorce, the child of privilege split his time between London, where his mother lived, and his father's home in Spain. His stage debut at age six in "Robin Hood" foretold his film breakout decades later, but prior to that, a teenaged Elwes moved to New York City where he studied acting at Sarah Lawrence College, the Lee Strasberg Institute, and The Actors' Studio. His first few film appearances were in British productions like "Another Country" (1984), about elite students at a British public boarding school in the 1930s, and the period drama "Lady Jane" (1986), where he garnered attention for his romantic turn as a highborn adolescent opposite Helena Bonham Carter. Among those who saw the newcomer's potential as a modern-day Errol Flynn was filmmaker Rob Reiner, who courted Elwes to star as a farm boy-turned-swashbuckling hero in his hilarious fairy tale "The Princess Bride" (1987). A moderate box office success at the time, film's popularity grew with the advent of home video and cable television, and by the end of the 20th century it was revered as a true comedy classic.
Elwes continued to display a penchant for historic productions with his supporting role as the second-in-command to Union officer Matthew Broderick in the Civil War epic, "Glory" (1989), directed by Edward Zwick. He remained in the public eye as Tom Cruise's arrogant rival in the car racing hit "Days of Thunder" (1991) and parodied the Cruise hit "Top Gun" (1986) in Jim Abrahams' "Hot Shots!" starring Charlie Sheen. Although Elwes' portrayal of Lord Holmwood got lost behind the grand visuals of Francis Ford Coppola's "Bram Stoker's Dracula" (1992), he managed to rebound with a dead-on parody of Errol Flynn – by way of Kevin Costner – as a slightly dim denizen of Sherwood Forest in Mel Brooks' zany spoof, "Robin Hood: Men In Tights" (1993). Fast-forwarding to modern American suburbia, Elwes was cast as a journalist who finds himself the object of affection of his landlord's sociopathic teen daughter (Alicia Silverstone) in "The Crush" (1993), which was popular with the MTV crowd, thanks to the debut of its young music video starlet. In a more menacing turn, Elwes had a leading role in adventure filmmaker Stephen Sommers' adaptation of "Rudyard Kipling's The Jungle Book" (1994), starring as a corrupt British officer whose greed and arrogance spoil the jungle boy's idyllic existence.
Tapped again to play the thorn in a hero's side, Elwes was seen as the corporate-sponsored rival to Bill Paxton's salt-of-the-earth storm-chaser in "Twister" (1996), the second most popular film of 1996 and an expertly crafted action film from Jon de Bont. Elwes gave a strong performance as a detective hot on the trail of a missing woman (Ashley Judd) in the thriller "Kiss the Girls" (1997). That same year, he also had a supporting role in the blockbuster Jim Carrey comedy "Liar Liar" (1997) and voiced the blind hero of the animated "Quest for Camelot" (1998). While Elwes' television appearances were rare, a spate of screen projects in the late 1990s included his casting as a whistle-blower out to expose the U.S. military's profligate spending in the satire "The Pentagon Wars" (HBO, 1998), as well as portraying Apollo 11 astronaut Michael Collins in Tom Hanks' Emmy-winning HBO miniseries, "From the Earth to the Moon" (1998). Shortly thereafter, Elwes starred as a British military officer who befriends an IRA terrorist in the Showtime telefilm, "The Informant" (Showtime, 1998).
Independent filmgoers saw Elwes deliver a turn as famous British thesp John Houseman in Tim Robbins' period drama "Cradle Will Rock" (1999), which he followed by portraying German cinematographer Fritz Arno Wagner in "Shadow of the Vampire" (2000), a fictionalized take on the filming of the 1922 German masterpiece, "Nosferatu." Elwes' portrayal of early entertainment figures was rounded out with his role as 1920s film mogul Thomas Ince, who died under mysterious circumstances, in "The Cat's Meow" (2002) from Peter Bogdanovich. Elwes returned to television with a recurring role as an FBI agent on the final season of Fox's sci-fi hit "The X-Files" (Fox, 1993-2002), and kept his offerings dark with a follow-up portrayal of serial killer Ted Bundy in the A&E film, "The Riverman" (2004).
Elwes' biggest box office haul in years resulted from the ultra-violent horror film "Saw" (2004). That same year, he gave a lighter villainous performance in the fairy tale-like romantic comedy, "Ella Enchanted" (2004) starring Anne Hathaway. While the actor remained busy in the new century, his appearances were mostly in little-seen low budget films, with the exception of his portrayal of the pontiff in "Pope John Paul II" (CBS, 2005) and the lead alongside Eliza Dushku in the thriller "The Alphabet Killer" (2008). Elwes' profile enjoyed a rise during the 2009 holiday season when he lent his voice to "A Christmas Carol" (2009), Robert Zemeckis' big-budget retelling of the classic tale starring Elwes' former co-star, Jim Carrey. The seemingly indefatigable Elwes also appeared for the first of several times as the elusive, charismatic art thief Pierre Despereaux in a 2009 episode of the comedic mystery series "Psych" (USA, 2006- ). After settling a legal dispute with the film franchise's producers over profits owed him from the first movie, Elwes returned as Dr. Lawrence Gordon in "Saw 3-D: The Final Chapter" (2010). Although his character had survived the first film, Dr. Gordon's fate remained a lingering mystery throughout the series until "Saw 3-D" revealed the grim secret life he had been living during the intervening years.
Elwes went on to portray more doctors, albeit in much lighter fare, with supporting turns in the romantic comedies "No Strings Attached" (2011) and "New Year's Eve" (2011). Following guest spots in 2012 episodes of the cable series "Leverage" (TNT, 2008- ) and "Perception" (TNT, 2012- ), Elwes was seen in the critically-assailed children's fantasy "The Oogieloves in the Big Balloon Adventure" (2012), a film that set a box office record as the lowest grossing wide-release movie of all time. Fortunately, Elwes was able to relive happier cinematic memories when he and his former castmates reunited for a 25th Anniversary screening of "The Princess Bride" in October of that year. Following the event, the actor spent time on the talk show circuit discussing the continued appreciation of a production that, while only a middling success at the time of its release, had grown to become one of the most beloved family films of its era and certainly remained the role by which he would always be measured.
 The above TCM overview can also be accessed online
here.