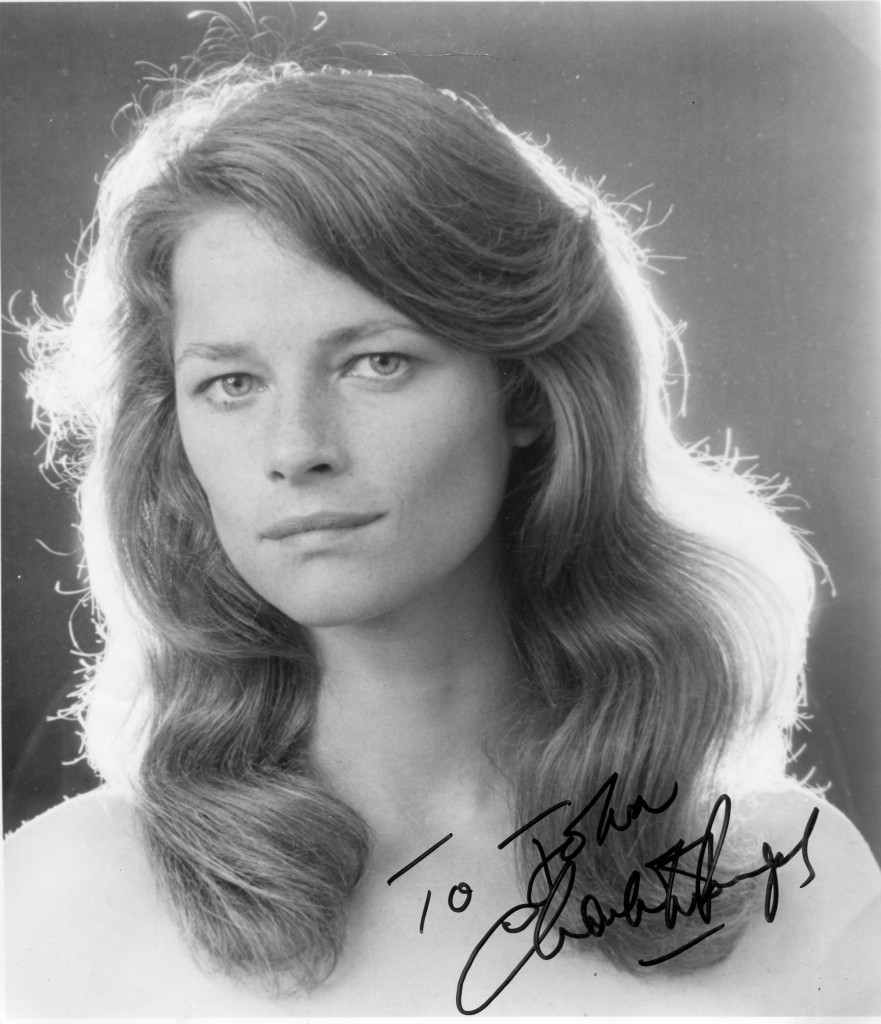 Charlotte Rampling began her film career in the 1960's and became a delight of the critics with some key films in the 1970's and 80's. Her first film was the Boulting Brothers "Rotten to the Core". She supported Alan bates, James Mason and Lynn Redgrave in "Georgy Girl". In 1969 she made"The Damned" in Luchino Visconti" and then later in Hollywood "Farewell My Lovely" opposite Robert Mitchum and "The Verdict" with Paul Newman.
TCM overview:
An alluring presence in features and on television since the 1960s, actress Charlotte Rampling defined sexual freedom and fearlessness over the ensuing decades in such films as "Georgy Girl" (1966), "The Damned" (1969), "Vanishing Point" (1971) and "The Night Porter" (1974). Though her immediate appeal was her physicality, Rampling became a cinematic icon in the 1970s, thanks to a screen presence that was at the same time confident, passionate and reserved. After star turns in "The Verdict" (1982) and "Angel Heart" (1987), her star waned in the late 1980s due to personal turmoil, though she rebounded in the late 1990s as Aunt Maude in "Wings of a Dove" (1997). Rampling went on to impress audiences with performances as Miss Havisham in "Great Expectations" (BBC, 1999), as well as critical darlings "Under the Sand" (2000) and "Swimming Pool" (2003). As she entered her sixties, Rampling's career was in full bloom, with steely supporting turns in "The Duchess" (2008) and "Never Let Me Go" (2010). The definition of class for many a moviegoer the world over, Rampling's formidable body of work made her one of the most respected actresses on two continents.
She was born Tessa Charlotte Rampling on Feb. 5, 1946 in the village of Sturmer, in Essex county, England. Her father was Godfrey Rampling, a Royal Army officer and three-time gold medalist in the 400 meter and 4×400 meter relays in the 1932 and 1936 Summer Olympics, while her mother, Anne Isabelle Gurten, was a painter from France. Her childhood was spent in transit, moving throughout the U.K., France and Gibraltar with her father's reassignments. She was educated in part at the Jeanne d'Arc Academie Pour Jeunes Filles in Versailles, which she later described as a lonely experience due to the language barrier. Happiness was found in a cabaret act she enjoyed with her older sister, Sarah, who died by her own hand in Argentina in 1967 after the premature birth of her daughter. She briefly studied Spanish at a college in Madrid before dropping out in 1963 to travel with a cabaret troupe. Upon her return to England in 1964, she modeled to support herself while learning the craft of acting at the Royal Court Stage School. At 17, she made her television debut in a commercial for Cadbury's chocolates; her feature debut came with a bit role of a water skier in Richard Lester's 1965 film "The Knack And How to Get It." More supporting roles preceded her breakthrough in "Georgy Girl" (1966) as Lynn Redgrave's glamorous yet shallow flatmate, who gives up her baby to pursue a hedonistic life. The character's combination of icy beauty, open sexuality, and disregard for responsibility – which the press dubbed "The Look," per a comment from her frequent co-star, Dirk Bogarde – would serve as a template for many of her future performances.
Rampling's smoldering intensity was best served in roles that required her to plumb the depths of the human experience. In Luchino Visconti's "The Damned" (1969), she was the wife of a German company's vice president, who paid for his opposition to the Nazi regime by being sent to the Dachau concentration camp with her children. Her Anne Boleyn in "The Six Wives of Henry VIII" (1972) also trod a delicate line between seductiveness and sadness as she attempted to bend the will of Henry (Keith Michell) to hers before meeting her fabled end. Her most famous role during this period was in "The Night Porter" (1974), Liliana Cavani's controversial film about a Holocaust survivor (Rampling) who became immersed in a sado-masochistic relationship with an SS officer (Bogarde) while interned at a camp, only to resume their tortured couplings years after the war. The film was condemned and celebrated with equal fervor during its release, but all parties agreed that Rampling's performance, which featured her in feverish scenes of morbid fetishism, was the film's highlight. The picture did much to cement Rampling as the thinking man's sex symbol, as did a 1973 layout for Playboy shot by Helmut Newton and a widespread rumor that she lived in a ménage-a-trois with her then-husband, publicist Bryan Southcombe, and male model Randall Laurence.
"Night Porter" would prove a difficult film to surpass for any actress, but Rampling wisely sidestepped the problem by focusing on films that satisfied her as an actress, rather than those that simply generated more publicity. She criss-crossed the Atlantic on numerous occasions, playing an alluring femme fatale who ensnared Robert Mitchum's world-weary Philip Marlowe in "Farewell, My Lovely" (1975), then made her American TV debut as Irene Adler, the ideal woman for Sherlock Holmes (Roger Moore) in the 1976 TV movie "Sherlock Holmes in New York" (NBC). Little needed to be said about films like "Orca" (1977), which pitted Rampling against a killer whale, but these were largely forgotten in the wake of pictures like "Stardust Memories" (1980), writer-director Woody Allen's bittersweet tribute to his cinematic idols, Federico Fellini and Ingmar Bergman, with Rampling cast as a psychologically troubled former lover of Allen's whose memory of her he simply cannot shake. Rampling also shone in a pivotal role in Sidney Lumet's "The Verdict" (1982) as lawyer Paul Newman's lover, whom defense attorney James Mason hired to keep track of him.
In the latter half of the decade and for much of the 1990s, Rampling stepped away from Hollywood product, preferring to – or, perhaps, finding more opportunities in – international films with a decided arthouse bent, including collaborations with Claude Lelouch with "Viva le vie" (1984) and Nagisha Oshima, who cast Rampling as a diplomat's wife who left her husband for a chimpanzee in "Max mon Amour" (1986). In 1985, she was nominated for a French Cesar as the mistress of a murder victim who seduced inspector Michel Serrault in Jacques Deray's "On ne meurt que 2 fois." There were also supporting turns in American features, most notably as a victim of a grisly murder in Alan Parker's "Angel Heart' (1987) and the moribund remake of "D.O.A." (1988).
During this period, Rampling also suffered from depression, which led to a nervous breakdown in the early 1990s. Therapy helped her emerge from this dark period and, quite possibly, made it possible to deal with the very public fallout from tabloid reports that revealed numerous infidelities committed by her second husband, composer Jean Michel Jarre. The dissolution of their marriage came about in 1997, the same year the Oscar-nominated "The Wings of the Dove" (1997) was released; her most widely-seen film in years, she was cast as Helena Bonham Carter's cautious aunt who was determined her young charge would not follow in the footsteps of her disgraced mother. The worldwide success of "Dove" launched a revival of interest in Rampling, who soon resumed a steady and impressive schedule of quality projects. She was a ravishingly ruined Miss Havisham in the BBC's 1999 adaptation of "Great Expectations," then joined Alan Bates and Gerard Butler in Michael Cacoyannis' 1999 film version of Chekhov's "The Cherry Orchard."
Her most substantive work during this period, however, came in partnership with French director Francois Ozon. Their first collaboration, 2000's "Under the Sun," gave her talent a magnificent showcase as a woman crippled by grief and doubt over her husband's mysterious disappearance. Critics raved over the complexity of her performance, which explored unsettling depths of denial in its attempt to make sense of the tragedy, and for her work, Rampling received her second Cesar nomination. Her sophomore project with Ozon, 2003's "Swimming Pool," was a deeply personal project for the actress, as it allowed her to finally come to terms with her sister's suicide. Rampling and her father had kept the truth about Sarah's death from her mother for decades, until her own death in 2001; in the aftermath, Rampling began to develop a better understanding of her sister's life and actions, and used her as motivation for her performance in "Swimming Pool." She even used her sister's name for her character, a mystery author plagued by writer's block whose retreat to a country house in France is interrupted by a seemingly unhinged young woman (Ludivine Sagnier) who claimed Sarah was her mother. Another critical success, the film brought Rampling a third Cesar and a European Film Award for Best Actress.
As Rampling reached her sixth decade, her career showed no signs of slowing down. A fourth Cesar nod came in 2005 with "Lemming," a psychological thriller with Rampling as the neurotic dinner guest whose arrival signaled an explosion of ill feelings and violence. More prominent turns followed, including that of Keira Knightley's chilly royal mother in "The Duchess" (2008), a self-loathing woman who endured a one-night stand with paroled child molester Ciaran Hinds in Todd Solondz's "Life During Wartime" (2009), and an instructor at a mysterious boarding school in Mark Romanek's well-received "Never Let Me Go" (2010). Rampling also made news during this period for launching a lawsuit in 2009 to prevent the publication of a biography, penned by a close friend, that detailed her emotional travails in the wake of her sister's suicide and the infidelities inflicted upon her by Jarre.
Meanwhile, Rampling starred "Rio Sex Comedy" (2010) opposite Bill Pullman and Fisher Stevens, and joined an ensemble cast for the biblically-themed drama "The Mill and the Cross" (2011). After playing the mother of Kristen Dunst and Charlotte Gainsbourg in Lars von Trier's "Melancholia" (2011), she narrated the animated box office hit, "Cars 2" (2011), before earning critical kudos as the dying matriarch of a family struggling to maintain control over the affairs of those around her in "The Eye of the Storm" (2011), co-starring Geoffrey Rush and Judy Davis. From there, Rampling was the superior of a Secret Service agent (Sean Bean) determined to stop a suicide bombing in the taut British thriller "Cleanskin" (2012). She went on to earn critical praise and A SAG award nod for her turn as a mother whose daughter investigates her past as a World War II spy in the made-for-cable movie "Restless" (Sundance Channel, 2012), which was adapted from William Boyd's award-winning novel.
The above TCM overview can also be accessed online here.