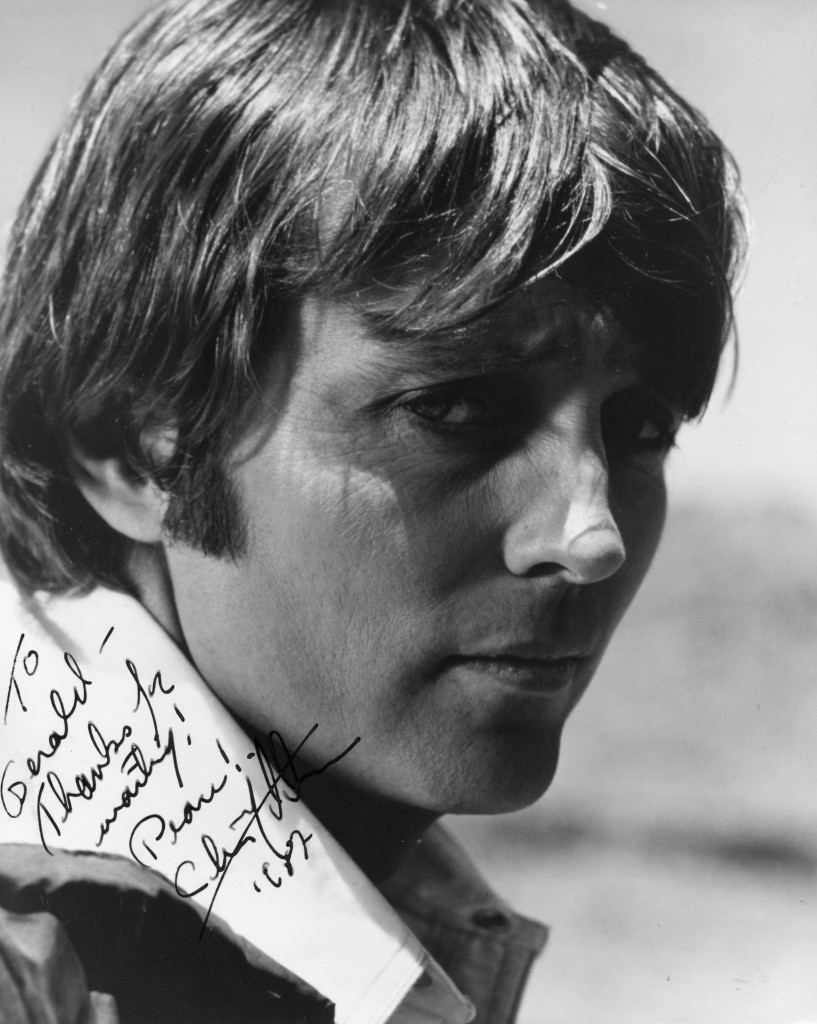 Chris Mitchum is the son of actor Robert Mitchum. He was born in 1943 in Los Angeles. He was a popular actor in the 1970's and his movies include "Chisum", "Rio Lobo" and "Big Jake" all with John Wayne.
Gary Brumburgh's entry:
Christopher Mitchum is the second son of actor Robert Mitchum destined, like older brother James Mitchum, to follow in the footsteps of his famous dad. Chris grew up avoiding the limelight and was educated at the University of Pennsylvania (1962-1966), attending Dublin's Trinity College as part of his Junior Year Abroad program. He attained a BA at the University of Arizona before developing a serious interest in filmmaking. He began as an extra while at the University of Arizona working in westerns at Old Tucson (1966-1967). That led to to acting jobs on the TV shows Dundee and the Culhane (1967) starring Britisher John Mills and The Danny Thomas Hour (1967), which featured Sammy Davis Jr.. Chris worked as a "gofer" in two of his father's westerns in 1969 before receiving his big acting break. He auditioned for John Wayne and won a small role in the western Chisum (1970) as Billy the Kid's sidekick. Duke introduced him to directorHoward Hawks, who screen-tested Chris and gave him a starring roles in Hawks' last film,Rio Lobo (1970). Chris saddled up one more time with the Duke in Big Jake (1971) before striking out on his own. With such a strong foundation now formed and fully equipped with his father's laid-back good looks and adventurous nature, Chris proved to be an assured action lead. After a long dry spell, however, he was told by the casting director of Steelyard Blues (1973) that she could not interview him because he had worked with Wayne. In those highly political times, Chris' career took a downturn and he went to Europe to find work. The films he found, however, were of a lesser grade and quite violent in comparison to his father's sturdy work, with such obvious titles as Death Feud(1987), SFX Retaliator (1987), Aftershock (1990), Striking Point (1995) and Lycanthrope(1999). He was popular in such foreign market as Spain, Hong Kong, Indonesia and the Phillipines, however, so he continued to churn out product there including Master Samurai(1974), Chinese Commandos (1975), American Commandos (1986) and Final Score(1986). Chris actually prefers writing these days and co-penned the screenplay for Angel of Fury (1992). After a noticeable absence, he filmed a role recently in son Bentley Mitchum's horror yarn The Ritual (2009). Chris' son, who also produced, wrote and directed, is part of a third generation of acting Mitchums, which includes older daughterCarrie Mitchum.
– IMDb Mini Biography By: Gary Brumburgh / gr-home@pacbell.net