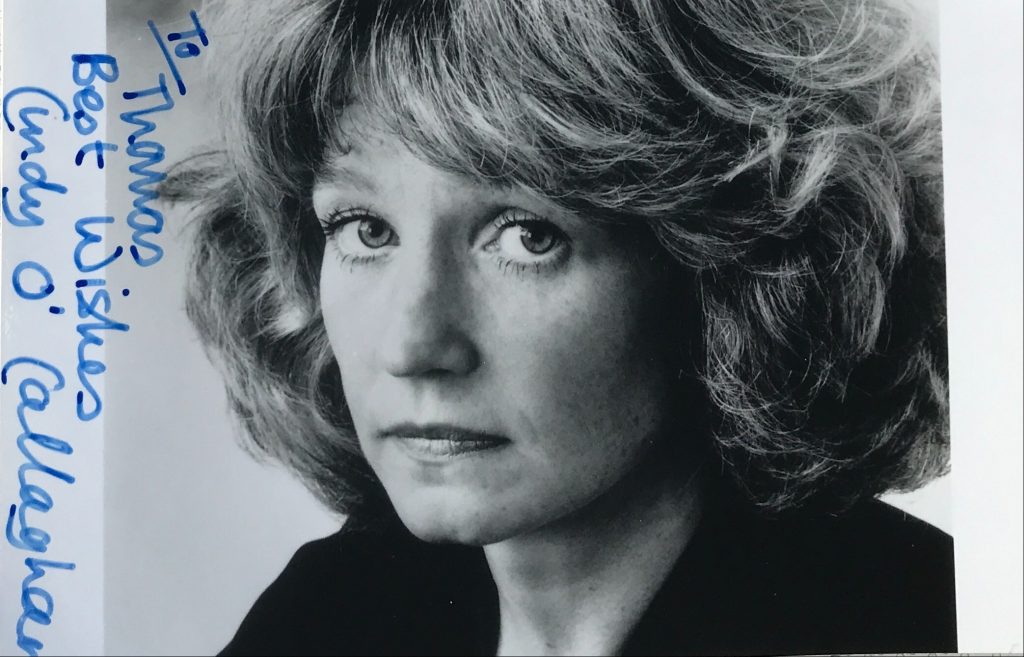 Cindy O'Callaghan was born in Ireland in 1956. In 1971 she was brought to Hollywood by Walt Disney studios to film "Bedknobs and Broomsticks" with Angela Lansbury. She returned to England to continue her studies. Her other film appearances include "Hanover Square" in 1979. In 1980 she starred in the television series about nursing entitled "Angels".
"Wikipedia" entry:
O'Callaghan is probably most famous for her childhood role of 'Carrie Rawlins' in the Disney classic film Bedknobs and Broomsticks (1971), where she starred opposite Angela Lansbury and David Tomlinson. She has commented "filming Bedknobs was an incredible adventure. There I was, a working class girl from West London suddenly living on a film set in Los Angeles. My mum, who came with me, would race to the studio canteen every morning and then shake with excitement when celebrities like Rock Hudson came in to get their breakfast. I was just as star struck. I had to go to school for two hours every morning before filming, and would often be sitting in class next toDonny Osmond, whom I had a big crush on. We lived in a council house in London, but in Hollywood we had a plush apartment with its own pool. I got the role after casting directors trawled schools looking for children with London accents. I was asked to attend an audition at Pinewood, where I had to stand up and tell a funny story. I talked about how horrible my older brothers were to me. I was a big fan of Mary Poppins and couldn't believe I was going to be in a Disney film. When I returned to Britain, my school friends were massively jealous and stopped talking to me. It marred the premiere for me. After a few unhappy months, I decided to use my fee of £3,000 to attend a private school that specialised in drama."[2]
O'Callaghan managed to maintain—in her own words—"an averagely successful career", doing lots of theatre as well as television work.[2] She has appeared in numerous television programmes throughout the 1970s, '80s, '90s and early 2000s, including ITV's The Bill, Casualty, Specials, Boon, Rumpole of the Bailey, Woof! and as Linda Kennedy in the BBC soap opera Triangle, among others. She has also appeared in films, including Hanover Streetand I.D.
More recently she is known for her role as Andrea Price—the "boozy" mother of Natalie Evans (Lucy Speed)—in the BBC soap opera EastEnders (1994–1995; 1999).[3] This was O'Callaghan's second role in the soap, having previously played Stella — the mistress of Ashraf Karim — from 1989-1990.
O'Callaghan attended university in 2000, and in 2004 it was reported that she had given up acting to become a child psychologist. She commented "Four years ago, I decided to go to university and am now training to be a child psychologist. I just wanted to do something that was more fulfilling."[2] However, O'Callaghan has appeared on television since this time, in the 2005 documentary The 100 Greatest Family Films, where she discussed the movieBedknobs and Broomsticks, along with co-stars Angela Lansbury and Ian Weighill, who played Charlie Rawlins in the film.
The above "Wikipedia" entry can also be accessed online here.