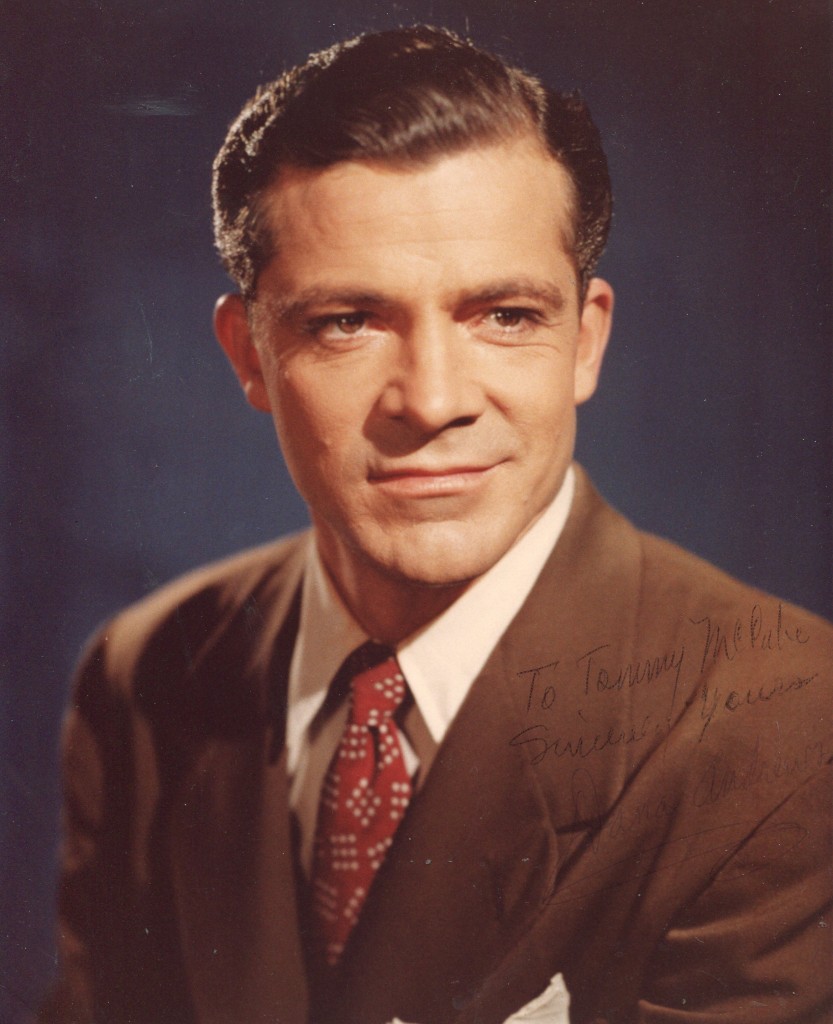 "In "Crash Dive" Dana Andrews was Tyrone Power's submarine commander, playing said the 'New York Times' with commendable second lead charm'.   The chief requirement of second leads was that they did not swamp the star and Andrew's experience not overpowering Mr Power and others may well have conditioned his subsequent star career.   He served his purpose.   He never got in anybody's way.   His sober-citizen appearance made it's own mild contribution to the texture of the films in which he appeared.   He projected a certain authority, grave-faced and grave-voiced, a certain masculine concern and an air of restrained heroism – all qualities used well in hos two best film, "The Ox-Bow Incident" and "A Walk in the Sun".   He is so good in both ( in each curiously, as a doomed leader) thus one must assume he only reacted with enthusiasm to the tougher assignments.   Most of his parts were routine, and maybe it is a pity – you cannot be sure, there is a case to be made that no one who started as a second lead ever amounted to much as a star.   What one recalls best about Andrews is a wry chuckle.   It is hardly a very individual characteristic." in David Shipman's "The Great Movie Stars – The International Years" (1972).
Dana Andrews had a very long and prolific career from his debut in 1940 until his final movie in 1984.   In the 1940's he had many major movies such as "Laura" in 1944 with Gene Tierney,"State Fair" with Jeanne Crain and "Fallen Angel" with Alice Faye and Linda Darnell.   He was born in 1909 in Mississippi and he died in 1992.   He always reminded me of another of my favourite actors Joseph Cotten.
Adrian Turner's "Independent" obituary:
Carver Dana Andrews, actor, born Collins Mississippi 1 January 1909, married 1932 Janet Murray (died 1935; one son deceased), 1939 Mary Todd (one son, two daughters), died Long Beach California 17 December 1992.
THAT'S 'Day-Na', not 'Dah-Na', Andrews. Reading the name, most of today's generation of moviegoers would think Dana Andrews was a girl, like Dana Hill. But Dana Andrews was a real man, even if not quite a man's man in the way that John Wayne was. Perhaps if he had used his first Christian name, Carver, his screen career might have been different. Carver Andrews: scourge of the Pacific.
Andrews was the son of a minister of the church and several of his roles had a touch of piety or moral doubt in them. He was a handsome and sensitive actor, a bit like Ray Milland though less flamboyant than William Holden and less imposing than Henry Fonda. He hunkered down in his parts – dependable, plausible, often flawed and usually sympathetic. Accordingly, he was never nominated for an Academy Award.
Andrews came relatively late to acting. He had qualified as an accountant and worked briefly for Gulf Oil before hitching to Hollywood where he fetched up at the Pasadena Playhouse, a theatre known for drawing studio talent- spotters. And spotted he was, by Sam Goldwyn, who signed him on a seven-year contract. His first job for Goldwyn was to wear a tuxedo and loiter around David Niven, who was duelling with Goldwyn over terms. Niven was being offered the leading role in Raffles (1940) and Andrews's constant presence, being photographed in the costume of Raffles, was designed to intimidate Niven into signing his own new contract, which he quickly did.
As for Andrews, he made his debut in Lucky Cisco Kid (1940), third-billed as an Army sergeant. He was more prestigiously featured in William Wyler's The Westerner (1940) and Howard Hawks's comedy Ball of Fire (1941). Although Goldwyn kept him working, after five years of his contract Andrews knew his best chances were with other studios, such as 20th Century-Fox, who cast him as the articulate victim of a lynch-mob in The OxBow Incident (1943), starring opposite Henry Fonda. In 1944 Goldwyn loaned him out again to Fox for the leading role in Laura, one of the finest and most romantic thrillers ever made. Andrews at last found his screen identity as the insecure detective (not unlike the role later played by James Stewart in Vertigo) who becomes morbidly obsessed by the supposedly murdered heroine, played by Gene Tierney, who had previously appeared with Andrews in John Ford's Tobacco Road (1941).
Laura was a troubled production: the director Rouben Mamoulian, who took a superior attitude to the material, had been fired and his replacement, Otto Preminger, who was also producing the picture, viewed the footage and later proclaimed in his autobiography: 'The performances were appalling . . . Dana Andrews, and Gene Tierney were amateurish . . .' Preminger noted that Darryl F. Zanuck, the head of Fox, also 'hated Andrews' and called him 'an agreeable schoolboy'. But it was precisely this quality in Andrews's performance – a mixture of naivete and darker yearnings – that contributes to the film's menace and eroticism. Something of a critical failure at the time, though now a widely acknowledged masterpiece of film noir, Laura turned Andrews into a kind of movie star. To call him a second lead would be to diminish his talent.
His next major film has claims to being the greatest – pace Citizen Kane – Hollywood movie of the Forties. This is William Wyler's three-hour post-war epic The Best Years of Our Lives (1946), which served as the model for Oliver Stone's Born on the Fourth of July. The film called for three leading actors to play demobbed soldiers who return and readjust to life after the war. Fredric March and Andrews had not served in the war though Harold Russell had and lost both his hands (Russell, ignominiously, has recently been forced to sell his Oscar to pay for medical fees).
Andrews was superbly cast, drawing on all his reserves of inner torment: a soda jerk before the war, he becomes a highly decorated officer and returns to find that his wife, played by Virginia Mayo, has become a tart. He spends the entire movie trying to preserve a semblance of dignity and find a role in a country in which he has become a social outcast, even a foreigner. Few films have captured as well the shift in American society during this period and Andrews, however briefly, came to represent the bridge between the pre- and post-war US. Along with the war drama A Walk in the Sun, made the same year, this was the peak of Andrews's screen career.
Sam Goldwyn has been called a 'one-decade man', meaning that his best work was all achieved in the Forties, and this applies equally to Andrews who, with Farley Granger, was the last of Goldwyn's contract players. He began to have problems with alcoholism and the good parts began to dry up. New, aggressive and independent actors, such as Kirk Douglas, Burt Lancaster and William Holden, had arrived and Andrews was having to face the fact that he would be a supporting player for the rest of his career. Freed from his Goldwyn contact by 1949, he found freelancing difficult (the studio system was a great cushion for men like Andrews) and he toured the US in a stage production of The Glass Menagerie and, later, in The Odd Couple.
Some of us may remember him as the tea-planter Dick Carver (possibly a personal joke), trampled by elephants and Elizabeth Taylor in Elephant Walk (1954), or as the journalist in Fritz Lang's Beyond a Reasonable Doubt (1956) who foolishly confesses to a murder he didn't commit in order to write an expose on capital punishment. He busked in Europe, appearing in the cult British-made horror movie Night of the Demon (1957), and started to appear on television, even an afternoon soap called Bright Promise which started in 1969.
Occasionally, directors like Otto Preminger would call him back for a big-budget war movie like In Harm's Way (1965) and he was also amongst the top brass in another war epic, The Battle of the Bulge (1965). In Airport 1975 he pilots a small plane which ends up in the cockpit of a jumbo-jet. His last important screen appearance was as Red Ridingwood in Sam Spiegel and Elia Kazan's unjustly maligned version of F. Scott Fitzgerald's The Last Tycoon (1976).
Standing alongside John Wayne, Henry Fonda, Robert Mitchum and other higher- billed co-stars, his was a familiar face . . . but what is that man's name? But to recall Dana Andrews hypnotised by the portrait of Laura or working the soda fountain in The Best Years of Our Lives is to recall an actor who turned blandness into an art form.
:
S