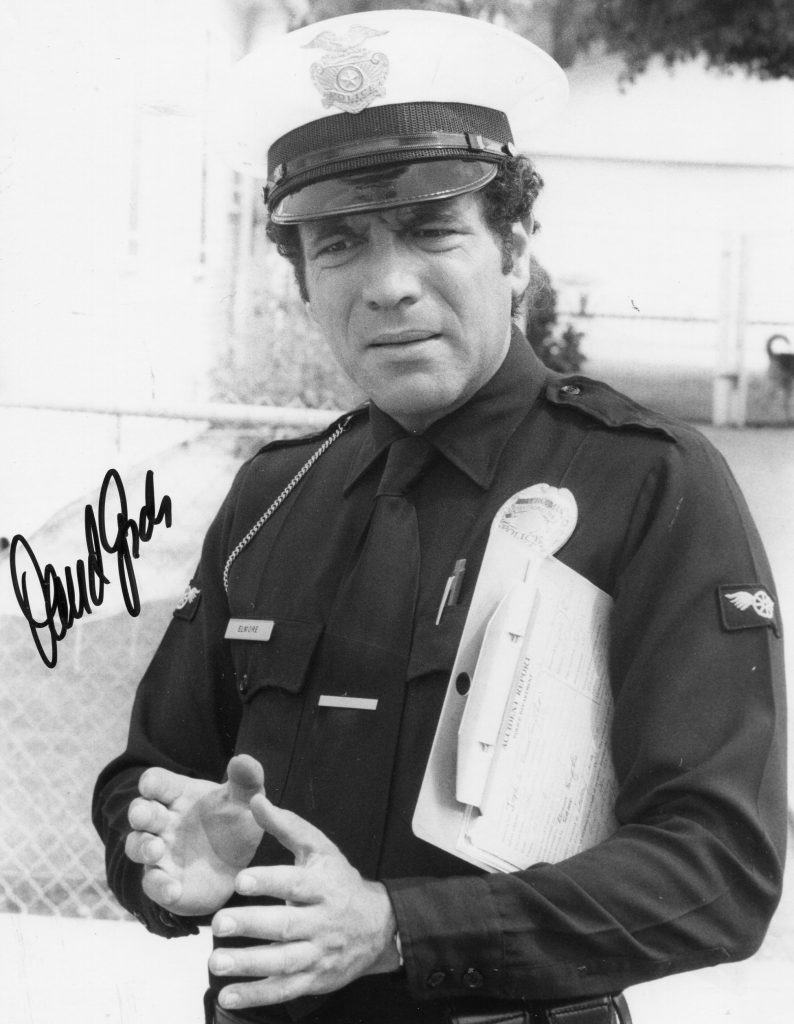 David Groh was born in 1939 in Brooklyn, New York. He was best known for his role as Joe husband of Valerie Harper in the hit 1970's TV series "Rhoda". His films include "Two-Minute Warning" with Charlton Heston and "Victory at Entebbe", He died in 2008.
Gary Brumburgh's entry:
David Groh's highly anticipated "marriage" to Valerie Harper on the seventh episode of the sitcom Rhoda (1974) was the highest rated episode of that show's entire run and it was this co-starring role that situated him squarely on the Hollywood TV map. Rhoda Morgenstern, the perennial bridesmaid, cynical plain-Jane and beloved Jewish-born jokester who was spun off from the classic comedy Mary Tyler Moore (1970) finally found her dream man in the form of virile, curly-haired, blue-collared Joe Gerard and audiences were ecstatic. Groh went on to equip himself quite well as the steady, mild-mannered foil to Rhoda's neurotic antics and busybody tendencies. The show, however, was not as great a success as expected and after three seasons the character of Joe was written out of the show. Concerned producers reasoned that audiences best loved Rhoda when she was a lovelorn bachelorette and that they could get more comedy mileage out of her character if she reverted back to single status. At the time, however, divorce was a serious issue and not as casually addressed in comedy as it is today. Audiences were perturbed that their beloved Rhoda would end up a divorcée; the series lasted only another year. David would continue steadily on stage and in independent films, but in a lesser light. Although he never found the same kind of attention again, for him it was more about the work.
Born David Lawrence Groh on May 21, 1939, the son of Jewish-Americans Benjamin (an architect) and Mildred Groh, he received his diploma from Brooklyn Technical High School, where was elected student body president. He subsequently attended Brown University with an early interest in engineering, but graduated Phi Beta Kappa with a degree in English literature. He apprenticed for a couple seasons at the American Shakespeare Festival in Stratford, Connecticut, and was a spear carrier in the Katharine Hepburn/Robert Ryan production of "Antony and Cleopatra" in 1960. This early encouragement led to further studies in London — courtesy of a Fulbright scholarship. David served in the Army for six months in 1963, and a year of reserve duty. Returning to his native New York, he sharpened his technique at the Actors Studio. Appearing around and about in such plays as "The Importance of Being Earnest," he finally marked his TV debut on a 1968 episode of the cult Gothic daytime drama "Dark Shadows" and made his film entrance in a prime role in the Italian-made feature Red Hot Shot (1970) [Red Hot Shot].
While continuing to add on-camera credits to his resume, notably a regular 1972-1973 role in the daytime drama Love Is a Many Splendored Thing (1967), it wasn't until he made a definitive move to Los Angeles in 1974 that his career suddenly accelerated. Within months he was cast alongside Valerie Harper in "Rhoda" and enjoyed three solid seasons as her handsome construction worker hubby. After he was phased out of the show, he found a sitcom of his own to star in with Another Day (1978) opposite Joan Hackett, but the family-oriented program lasted only a month in April. From then on he focused more and more on heavier dramatics. He portrayed the evil-minded D.L. Brock on the daytime soap opera General Hospital (1963) from 1983 to 1985, and later co-starred in the Roger Corman crime action series Black Scorpion (2001), while finding recurring roles on such programs as "Melrose Place," "Baywatch" and "Law & Order". Although he never made a strong showing on the large screen, David did appear in the films Irish Whiskey Rebellion (1972), Two-Minute Warning (1976) and A Hero Ain't Nothin' But a Sandwich (1978) in between assorted stage and TV assignments.
He returned strongly to his theater roots after the Rhoda hoopla and played both appealingly charismatic and slick, unsavory types. He made his Broadway debut replacingJudd Hirsch in the winning Neil Simon comedy "Chapter Two" in 1978. Down the road he appeared in an assortment of plays: "King Lear" (1982), "Be Happy for Me" (1986), "Road Show" (1987), "Beyond a Reasonable Doubt" (1989), "The Twilight of the Golds" (1993), "Mizlansky/Zilinsky" (2000), "The Waverly Gallery," "Gangster Planet" (2002) and "Blackout" (2003), to name a few. He was an admired fixture both in New York and on the smaller Los Angeles stages, and tried his hand at stage directing with a production of "Mango Mango" at the Lee Strasberg Creative Center Theatre in Los Angeles in 2000. In recent years, David appeared occasionally in support in independent features.
He developed a lifelong passion for early American furniture and folk art (which first blossomed as a youth visiting the Brooklyn and Metropolitan Museums and fully bloomed from his association with an acting teacher who was also a collector. ). David lived in Los Angeles at the time of his death from kidney cancer at age 68, and had one son, Spencer, from a prior 80s to Karla Pergande. His first marriage to Denise Arsenault was annulled. He and his surviving third wife, the former Kristin Andersen, were in the early stages of development on a new lowbudget film tentatively called "Lower East Side Story".
– IMDb Mini Biography By: Gary Brumburgh / gr-home@pacbell.net