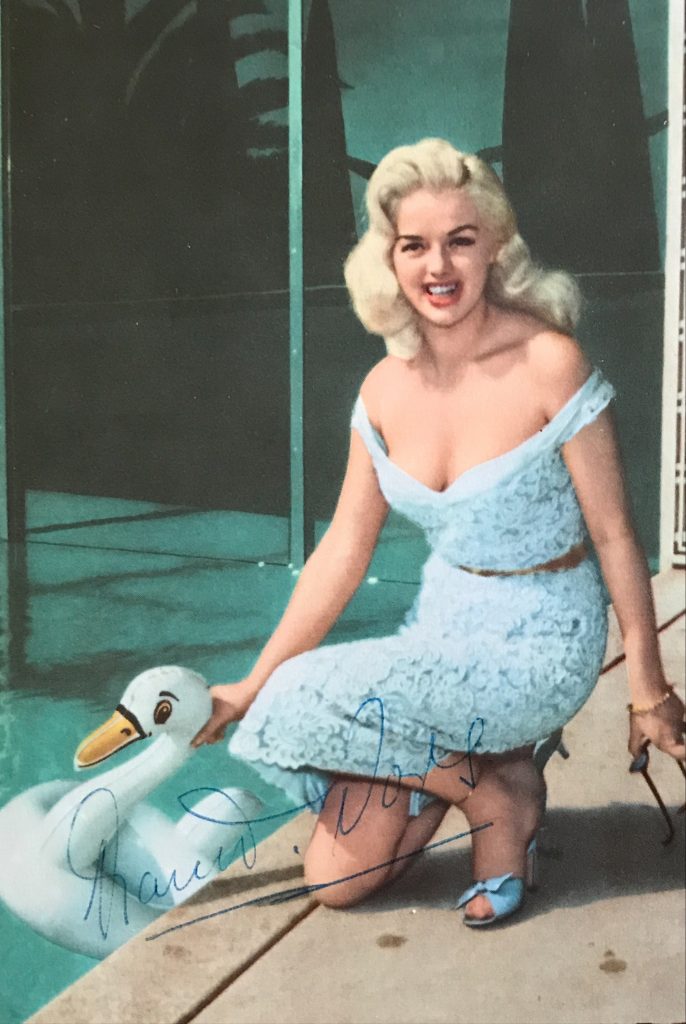 IMDB entry: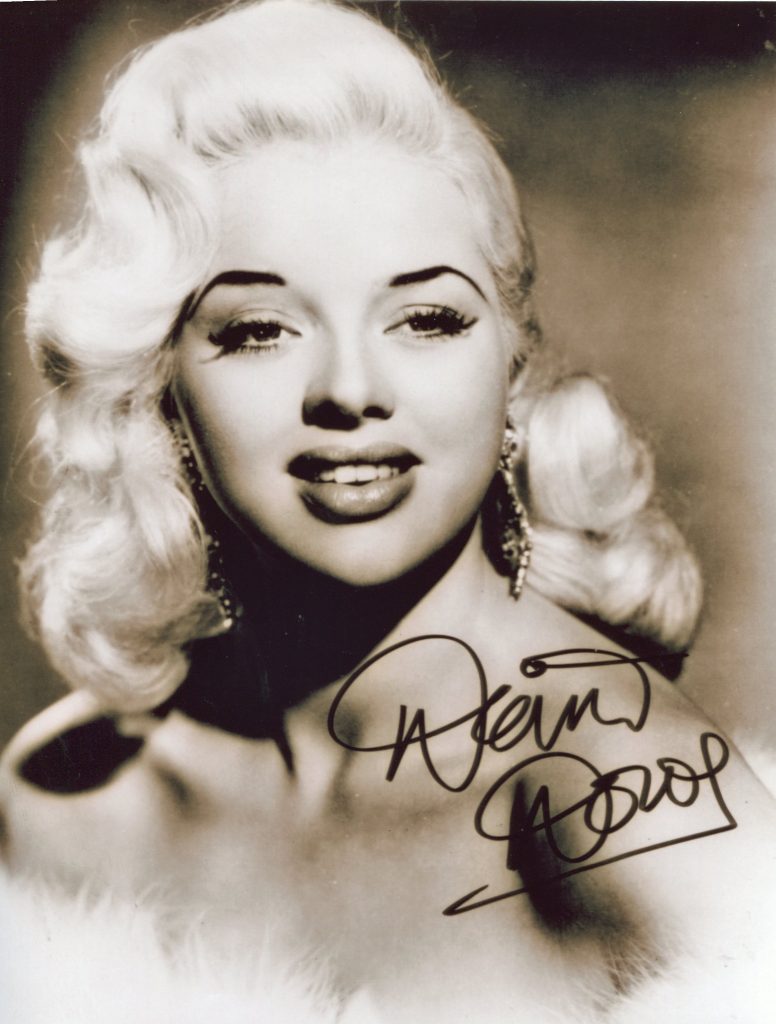 Diana Dors Tribute by David Shipman
Diana Dors was living demonstration that the British cannot make sex queens. In her heyday, sex on the British screen was mostly a matter of plastic macs and low necklines, but as real eroticism had little to do with either tarts or the amount of flesh exposed it can be said with certainty that she did not have much. She herself agreed, but she listened sufficiently to her advisors to let the 'blonde bombshell' tag get in the way of a real ability as a character actress. When she was young, she was very funny. She did a neat parody of the man-mad teenager, the nubile cousin who ogles the best man at the wedding breakfast, the office junior ready for a bit of slap and tickle behind the filing cupboard. She was the best thing about most of her early films." – David Shipman – "The Great Movie Stars – The International Years" (1972)
Diana Dors was promoted as Britain's answer to Marilyn Monroe. She did not have Monroe's vulnerability but had instead a cheeky cheerfulness which was very appealing. Born in Swindon in 1932 she made her film debut in "The Shop at Sly Corner" in 1948. Her best movie was "Yield to the Night" in 1955 and she was Hollywood bound after that. Her films in Hollywood were not successful although she made a good thriller "The Unholy Wife" with Rod Steiger and Tom Tryon. By 1958 she was back in the U.K. and pursued her career on home territory thereafter. She matured into a terrific character actress and gave a wonderful performance in Joseph Losey's "Steaming" in 1983 with Sarah Miles and Vanessa Redgrave. Sadly she died the following year aged only 52.
Diana Dors was born Diana Mary Fluck on October 23, 1931 in Swindon, Wiltshire, England. She and her mother both nearly died from the traumatic birth. Because of the trauma, her mother lavished on Diana anything and everything she wanted–clothes, toys and dance lessons were the order of the day. Diana's love of films began when her mother took her to the local movies theaters. The actresses on the screen caught Diana's attention and she said, herself, that from the age of three she wanted to be an actress. She was educated in the finest private schools, much to the chagrin of her father (apparently he thought private education was a waste of money). Physically, Diana grew up fast. At age 12, she looked and acted much older than what she was. Much of this was due to the actresses she studied on the silver screen and Diana trying to emulate them. She wanted nothing more than to go to the United States and Hollywood to have a chance to make her place in film history. After placing well in a local beauty contest, Diana was offered a role in a thespian group (she was 13).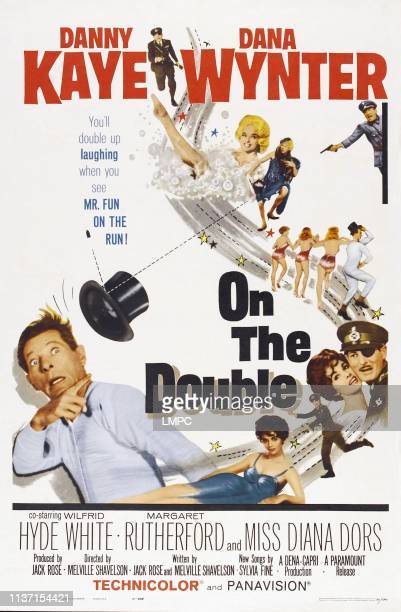 The following year, Diana enrolled at the London Academy of Music and Dramatic Arts (LAMDA) to hone her acting skills. She was the youngest in her class. Her first fling at the camera was in Code of Scotland Yard (1947). She did not care that it was a small, uncredited role; she was on film and at age 16, that's all that mattered. That was quickly followed by Dancing with Crime (1947), which consisted of nothing more than a walk-on role. Up until this time, Diana had pretended to be 17 years old (if producers had known her true age, they probably would not have let her test for the role). However, since she looked and acted older, this was no problem. Diana's future dawned bright in 1948, and she appeared in no less than six films. Some were uncredited, but some had some meat to the roles. The best of the lot was the role of Charlotte in the classic Oliver Twist(1948). Throughout the 1950s, she appeared in more films and became more popular in Britain. Diana was a pleasant version of Marilyn Monroe, who had taken the United States by storm. Britain now had its own version.
Diana continued to play sexy sirens and kept seats in British theaters filled. She really came into her own as an actress. She was more than a woman who exuded her sexy side, she was a very fine actress as her films showed. As the 1960s turned into the 1970s, she began to play more mature roles with an effectiveness that was hard to match. Films such as Craze (1974), Every Afternoon (1974), The Amorous Milkman (1975) and Three for All (1975) helped fill out her resume. After filming Steaming (1985), Diana was diagnosed with cancer, which was too much for her to overcome. The British were saddened when word came of her death at age 52 on May 4, 1984 in Windsor, Berkshire, England.
– IMDb Mini Biography By: Denny Jackson (qv's & corrections by A. Nonymous)
The above IMDB entry can also be accessed online here.
"Guardian" obituary from 1984:
Diana Dors, the actress who described herself as "the only sex symbol Britain has produced since Lady Godiva", died in hospital in Windsor last night.
Miss Dors, 52, was admitted to hospital on Saturday after collapsing at home with severe stomach pains. She underwent surgery for an intestinal blockage, but her condition deteriorated yesterday. Her husband, Alan Lake, announced her death.
She had twice beaten cancer over the past two years, undergoing surgery for the removal of tumours in 1982 and last year. She had also survived a near fatal attack of meningitis.
Diana Dors, the daughter of a railway clerk, became Britain's best paid actress by the age of 25. She married three times and had a glamorous career, but confessed that she never believed she was good-looking and longed for a quiet life.
Obituary
The young Diana Dors was very much a characteristic icon of the post-war austerity years. She managed to evince at once a pseudo-American allure and a reassuringly homegrown air of down-to-earth matiness.
Trained at stage school, she made her first film in 1946, when she was only 15. Blonde, ambiguously baby-faced, and (as the saying went) busty, she revealed a natural affinity with the screen. For the next several years, when the Rank Organisation was seeking to foster a Hollywood-style star system, she was kept busy not merely as a minor presence in an assortment of frequently indifferent films, but as an off-screen personality, thrust into the public eye, and into the tabloid press, at every opportunity.
By the early 1950s, she was being touted as Britain's Marilyn Monroe and had progressed to starring roles. Although these were often only pneumatic stereotypes, occasional films revealed her as an actress of real potential, particularly Yield to the Night, in which she played a condemned murderess in a story modelled on the Ruth Ellis case.
Before long, Hollywood beckoned, but once there she appeared only in a handful of pictures. Matrimonial and financial problems mounted and by the 1960s her career had taken a downward turn.
But she rallied in adversity, unabashedly trading on her name by touring the British club circuit, and gradually re-establishing herself in the cinema as a player of character roles.
During the 1970s her private life remained periodically fraught and her health deteriorated. But she carried on gamely, appearing in occasional films and also on TV.
The above "Guardian" obituary can also be accessed online here.