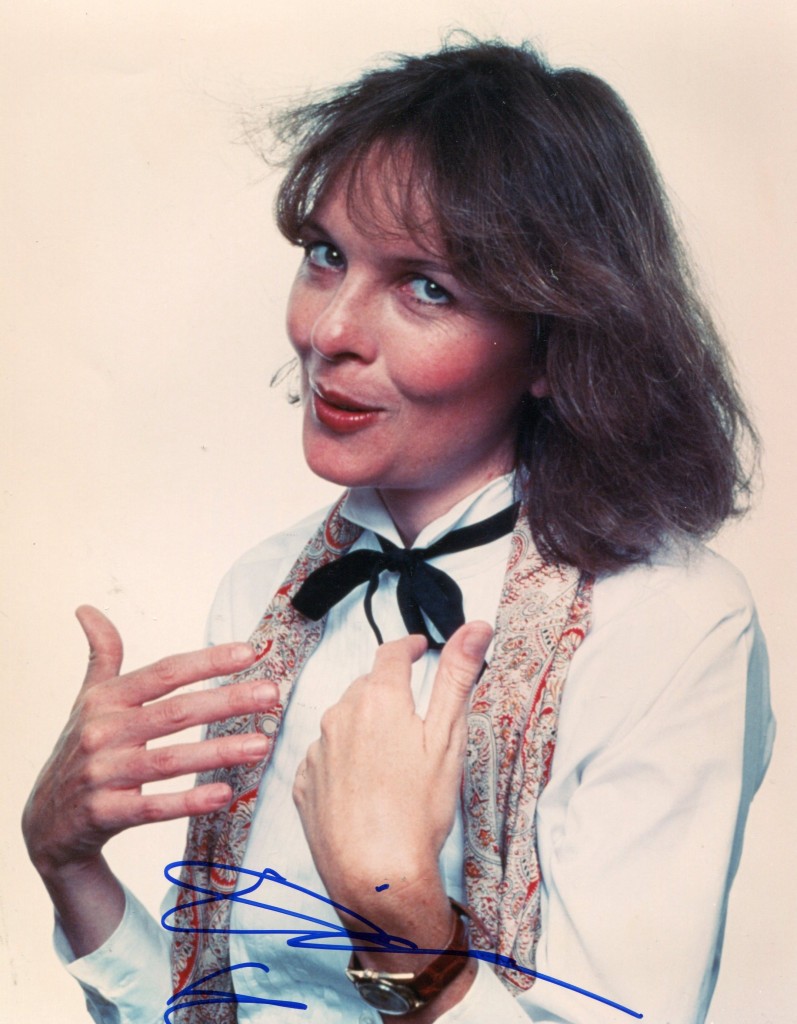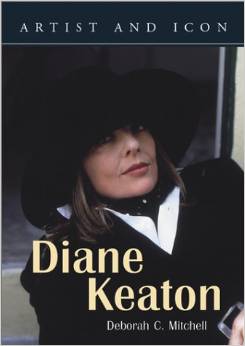 "'La-dee-dah' said Diane Keaton as 'Annie Hall'.   'Wow' and 'Oooh' and 'Oh' and 'Right' and 'Yeah', putting them into various permutations.   Her director and co-star Woody Allen had lived with her at one time and we all suspected that the film  was more autobiographical than they cared to admit in interviews.   We did'nt care either for it told us more than we needed to know: but since she won an Oscar for it we may say that this is the most valuable self-portrait of an Oscar winner that we have.   The films success was surely due to her: seemingly spontaneous, healthy looking, a free spirit bubbling with merriment  – and occasional doubts- 'Wow', /Right'. 'Yeah','Oh', 'Wo'". – David Shipman in "The Great Movie Stars – The Independent Years
 Diane Keaton was born in 1946 in California.   She made her film debut in 1971 in the excellent "Lovers and Other Strangers".   She also starred in several movies with Woody Allen such as "Play It Again Sam", "Manhatten" and "Annie Hall".   She also starred in "Reds" with Warren Beatty and Jack Nicholson.
TCM overview:
As a multi-faceted actress, director and producer, Diane Keaton received her start as a favorite actress – as well as off-screen girlfriend – of filmmaker Woody Allen, earning a Best Actress Academy Award for her breakout performance in "Annie Hall" (1977). Prior to that, she was the troubled wife of Michael Corleone in "The Godfather" (1972) and "The Godfather, Part II" (1974), and further displayed her dramatic chops as a promiscuous schoolteacher in "Looking for Mr. Goodbar" (1977). Following a role in Woody Allen's "Manhattan" (1979), she earned another Oscar nod for Warren Beatty's "Reds" (1981) and had another critical success with "Crimes of the Heart" (1986). Keaton made her directing debut with the documentary "Heaven" (1987) and segued into television with "The Girl with the Crazy Brother" (CBS, 1990). Along the way, she starred opposite Steve Martin in "Father of the Bride" (1989), reprised Kay Corleone for "The Godfather, Part III" (1990) and had her last role with Allen in "Manhattan Murder Mystery" (1993). Meanwhile, she scored a big hit with "The First Wives Club" (1996), directed the box-office dud "Hanging Up" (2000) and revived that failure with an acclaimed turn opposite Jack Nicholson in the comedy "Something's Gotta Give" (2003). By the time she starred in the romantic comedy "Morning Glory" (2010), the ever stylish Keaton was well known for showcasing powerful emotional journeys of typically non-conformist characters, while having made significant contributions to movies, television, photography, interior design and fashion.
Keaton was born Diane Hall on Jan. 5, 1946, and raised in Santa Ana, CA. The eldest of four kids born to an engineer and amateur photographer, Keaton displayed an enormous range of creative talent growing up, enjoying photography and designing her own clothes while appearing in school plays and harboring dreams of becoming a singer. She spent several years at local colleges after graduating from Santa Ana High School in 1964, but soon moved to New York City, where she studied at Sanford Meisner's renowned Neighborhood Playhouse. She sang on small nightclub stages, but her acting career was first to take off, and in 1968 Keaton landed a long Broadway run in the original cast of "Hair" (1968), where she became known as the one girl who declined to remove her clothes during the finale. The following year, she was cast in Woody Allen's Broadway production "Play It Again, Sam" (1970), earning a Tony Award nomination for the comedy and beginning a long working relationship (as well as romantic relationship) with writer and co-star Allen.
After making her feature debut in "Lovers and Other Strangers" (1970), Keaton had already earned an industry reputation for her eccentric leanings, and it was just that undertone that Francis Ford Coppola was looking for in the character of Kay Adams, Michael Corleone's innocent girlfriend in "The Godfather" (1972). Keaton teamed up with Allen on the big screen in the screwball futuristic comedy "Sleeper" (1973), reprised her role as the now-Mrs. Michael Corleone in "The Godfather Part II" (1974), and retreated to Allen's skewed world with "Love and Death" (1975). As Allen's film style evolved into studies of creative, intellectual New Yorkers, he brought Keaton with him and she became an Oscar-winning movie star with her co-starring role opposite him in the landmark "Annie Hall" (1977), a film loosely based on the pair's now defunct relationship. Keaton made a huge impact in the film, establishing her persona as a multi-dimensional modern woman, smart and culturally sophisticated, but grappling with emotional insecurities. The actress also unwittingly became a style icon whose penchant for men's vintage clothing and odd vest and hat pairings was widely adopted by the fashion world.
Later that year, Keaton gave another excellent performance in "Looking for Mr. Goodbar" (1977), where her free-spirited persona and ability to embody "mainstream" values added to the impact of her portrayal of a newly "liberated" teacher who forays into the gritty pre-AIDS singles bar scene. After accompanying Allen in the anguished "Interiors" (1978) of his first drama and co-starring as the off-putting know-it-all who eventually woos his character away from his teenaged girlfriend in "Manhattan" (1979), Keaton landed the meaty role of leftist writer-artist Louise Bryant in then-beau Warren Beatty's ambitious "Reds" (1981). Her complex portrait of lover, heroine and feminist earned her another Best Actress Oscar nomination and solidified her position at the top of Hollywood's A-list. Keaton left her flair for comic characters in the background, going on to give fine performances as strong-willed women in dramas "Shoot the Moon" (1982), "The Little Drummer Girl" (1984), and "Mrs. Soffel" (1984), where she starred opposite Mel Gibson as a prison warden's wife who falls in love with an inmate.
The casting of Jessica Lange, Sissy Spacek and Keaton as quirky Southern sisters in "Crimes of the Heart" (1986) did not transform Beth Henley's Pulitzer Prize-winning play into a hit film, but the actress did finally enjoy some mainstream success with Charles Shyer's "Baby Boom" (1987), a fluffy comedy she headlined about a devoted career woman suddenly saddled with a baby. Keaton's lifelong passion for photography eventually led her to directing, so in the late 1980s she began to get her feet wet with music videos and a documentary glimpse at the hereafter called "Heaven" (1987). Keaton rejoined Coppola and the "Godfather" team for the franchise's ill-received third installment, "The Godfather Part III" (1990) and retreated behind the camera to direct the made-for-TV movies, The CBS Schoolbreak Special, "The Girl with the Crazy Brother" (1990) and "Wildflower" (1991), and episodes of the drama series "China Beach" (ABC, 1988-1991) and "Twin Peaks" (ABC, 1990-91). Back on the silver screen, the mild comedy remake "Father of the Bride" (1991) marked the beginning of a new onscreen era for Keaton; one that often found her as matriarchs of upper middle class families.
Keaton played an eccentric writer involved with Presidential candidate Ed Harris in "Running Mates" (HBO, 1992) before a hilarious and long overdue re-teaming with Allen in "Manhattan Murder Mystery" (1993), a lighthearted caper whose real star was the pair's undiminished comic chemistry. Back on the small screen, she gave an Emmy Award-nominated starring performance in "Amelia Earhart: The Final Flight" (TNT, 1994), where she was appropriately coiffed for the period and bore a striking resemblance to the famous aviatrix who disappeared over the Pacific in 1937. Back in the director's chair, Keaton helmed her first fictional feature, "Unstrung Heroes" (1995), receiving mostly good notices for her examination of a boy's adventures growing up in an off-center Jewish family of the 1960s. In her first big hit since "Annie Hall" nearly a decade earlier, Keaton co-starred with Goldie Hawn and Bette Midler in Hugh Wilson's "The First Wives Club" (1996) and scored big for her wickedly witty characterization of one of a group of gleefully vengeful exes who have been replaced by younger counterparts.
That uptick in Keaton's profile led to an Oscar-nominated turn in Marvin's Room" (1996), an intimate exploration of family love and sacrifice which paired her and Meryl Streep as estranged sisters forced by circumstance to resume their relationship. With neither "The Only Thrill" (1997) nor "The Other Sister" (1999) finding an audience, the Disney Channel's "Northern Lights" (1997), for which she also served as executive producer, offered arguably her best role for the balance of the decade. As a smart, unsentimental and childless widow who unwillingly takes on the responsibility for her late brother's nine-year-old, Keaton allowed softer edges to emerge in her delightfully comic performance. Her second feature as director, "Hanging Up" (2000), revisited the sister dynamic, and this time she starred with Meg Ryan and Lisa Kudrow as siblings coping with the impending death of their father (Walter Matthau). After appearing in the all-star ensemble of the comic misfire "Town & Country" (2001) opposite ex-boyfriend Warren Beatty, Keaton scored on television in the amusing "Sister Mary Explains It All" (2001), playing a tough-as-nails nun facing a foursome of former students whose lives her teachings ruined.
Behind the scenes, Keaton served as the executive producer of the critically championed but little-watched series "Pasadena" (Fox, 2001), for which she also directed episodes. She went on to star in the CBS telepic "Crossed Over" (2002), the real-life story of a mother whose son was killed by a hit-and-run driver and overcame her grief and depression by befriending a woman on death row in Texas. A third quality telepic, the Lifetime movie "On Thin Ice" (2003) – based on the true story of a single, widowed mother who dealt drugs during a financial emergency only to late become an FBI drug informant – also earned kudos for Keaton as the lead. Keaton made a triumphant return to the big screen opposite Jack Nicholson in the over-50 romantic comedy "Something's Gotta Give" (2003). In one of Keaton's most endearing roles, she gave a bravura performance as a tightly wound novelist who finds herself falling in love with her daughter's much older, womanizing boyfriend (Jack Nicholson) after he suffers a heart attack at her house. Her palpable chemistry with her co-star, both on the screen and off, fueled the film's crowd-pleasing appeal and earned Keaton her fourth Oscar nomination as Best Actress (giving her a nod in four different decades), as well as a Golden Globe victory. It even led to rumors of life imitating art, with tabloids whispering of the seemingly ageless Keaton dating her younger co-star from the film, Keanu Reeves. They claimed to be simply friends.
In 2003, Keaton served as executive producer of "Elephant" (2003), director Gus Van Sant's much-praised exploration of a high school shooting, but returned to comic outings with the 2005 holiday film "The Family Stone" (2005), where she played the matriarch of a bohemian family who welcomes home her son (Dermot Mulroney) and his new girlfriend (Sarah Jessica Parker), a high-powered and controlling New Yorker who is greeted with awkwardness, confusion and hostility. As one of the few middle-aged actresses in much demand, the ever-fashionable 60-year-old, who was outspoken about her anti-plastic surgery stance, was even selected to become a spokesmodel for L'Oreal beauty products. The following year, she appeared opposite former teen singing sensation, Mandy Moore, in "Because I Said So" (2007), a romantic comedy about a well-intentioned but overzealous mother who goes on a mission to find the right man for her daughter. Unfortunately, the film was one of the worst reviewed of the year, with critics slamming Keaton for her choice in vehicle and accusing her of mining the onscreen neurotic act a bit longer than necessary. "Mad Money" fared slightly better with critics, though the implausible female-powered caper starring Keaton, Queen Latifah and Katie Holmes, disappeared from theaters within a few short weeks. Undaunted, the comedy of errors "Smother" (2008) gave Keaton slightly more to work with in her role as a flighty mom who moves in with her grown son (Dax Shepard) and his wife (Liv Tyler). She went on to play a morning show anchor opposite Harrison Ford in the underwhelming comedy "Morning Glory" (2010) and the following year released her memoirs, Then Again, which relied on her mother's private journals.
By Susan Clarke
The above TCM overview can also be accessed online here.