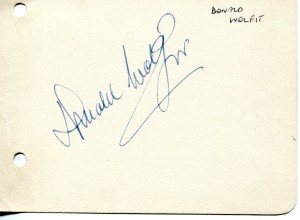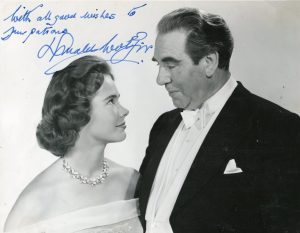 Donald Wolfit was born in 1902 in Nottinghamshire.   He became well known in Britian as a travelling actor/manager specialising in the works of Shakespeare.   His films include "The Ringer" in 1952, "Room at the Top" in 1959 and "Laurence of Arabia".   He died in 1968.
IMDB entry:
One of the great British stage actors of his era Donald Wolfit was noted for his magnificent portrayals of King Lear and Tamburlaine. Yet no actor of his generation was surrounded by more controversy. He was tempermental and difficult to deal with, enraged by criticism and tyrannical with the companies he led.
Although his talent was never in any doubt, critics often condemned his companies' poor supporting players and tasteless costumes. Even in death he had his critics. When Ned Sherrin, who organised a BBC television tribute to him, asked Sir John Gielgud to participate, he replied "I couldn't. You see we always regarded him as something of a joke."
Wolfit appeared in numerous theatre seasons at the Old Vic and Stratford-upon-Avon but preferred the life of a touring player and as the star of a vagabond troupe. He also appeared in many films and television plays. One of his most barnstorming performances was in the title role of the film Svengali (1954) in which, with his hypnotic real-life stare, he puts Hildegard Knef into a permanent trance.
The money from his film work helped to finance many of his stage productions. Wolfit is best remembered today as the inspiration for the film The Dresser (1983), in which Albert Finney plays a barnstorming actor-manager.
– IMDb Mini Biography By: Patrick Newley
The above IMDB entry can also be accessed online here.